Luminar Neo is a one-stop creative platform for amateur and professional photographers or hobbyists of all ages. It's a creative image editor for Mac and Windows PC driven by powerful AI technologies for fast and effective photo editing. The Luminar Engine has been specifically built to maximise performance and flexibility so you can achieve complex creative results easily. Edits that previously took hours to pull off years ago on landscapes, portraits and much more can now be performed effortlessly at the click of a button.
Its leading AI technologies and flexible workflow allow you to achieve professional-quality editing results quickly and easily.The Luminar Engine was built from the ground up to help creatives do more. Using artificial intelligence it analyzes your photos to unlock new, AI-driven editing possibilities, features presets for ultra-fast editing and can also be used in conjunction with the Luminar Share App available for iOS and Android smart phones. Seven professional extensions will also be released for Luminar Neo in November.
Luminar Neo is available to buy as a lifetime licence for $149 or for a yearly subscription of $119. Click here to get $10 off both packages. The pricing for the Extensions is included in the yearly subscription package, but costs an additional $299 for users with a Lifetime licence.
Relight AI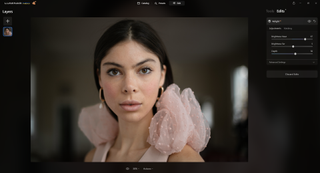 The Edit module has loads of fantastic AI powered editing tools such as Relight AI, which builds a precise 3D Depth Map of your 2D image. This means you can adjust lighting and colour temperature for far and near objects independently throughout the scene.
This is great if you want to give an underexposed portrait a boost without effecting the background. This can be refined further with Mask AI which automatically detects common subjects such as people, skies, architecture, water, mountains and such like, making it a super effective and fast way to mask off specific parts of your scene.
Mask AI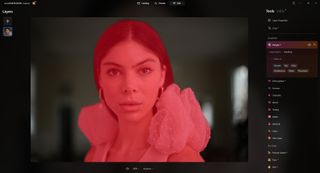 Now you can automatically create masks of objects with a single click. Mask people, skies, buildings, vehicles, water, plants, mountains, and both natural and artificial ground by clicking a single button.
The Erase Tool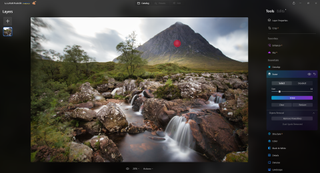 Another handy feature at your fingertips is the Erase Tool. While you can manually brush over any dust spots within your frame, you also have the option to click the buttons Remove Dust Spots and Remove Powerlines. We opened up this shot from Glencoe which had a few blurry spots on it from where water drops were on the lens during a long exposure. Clicking the Remove Dust Spots button did the hard work for us leaving us with a super easy tidy up job to finish it off.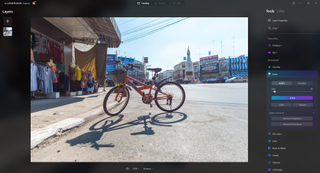 We were also keen to test the Remove Powerlines feature, also found in the Erase Tool panel. Powerlines can be a distraction to even the greatest landscape scenes and makes them look cluttered. Removing these lines is usually a laborious and complicated job with traditional spot healing and clone stamp tools.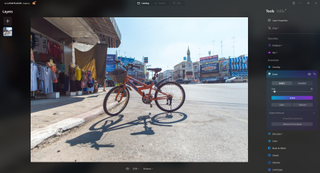 We were blown away by just how quick and easy Luminar Neo made removing the power lines from this image. In a single click the software quickly transformed the image and did most of the heavy lifting with only a very small amount of manual work required afterwards to make the image look perfect.
Using Layers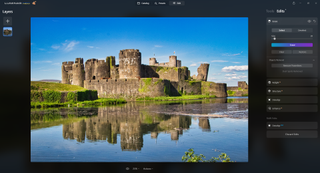 Each edit you make in Luminar Neo is created on a new Layer. This makes it easy to mask off individual adjustments using the Mask AI, and easily go back to any part of your edit to refine the settings or remove them. You can also create composites from several images and copy and paste your Layers to build up certain effects that you like.
Enhancing landscapes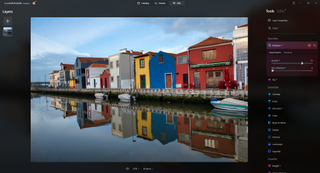 The Enhance AI tool is a perfect place to start for all images and works great with landscapes. With the Accent and Sky Enhancer sliders Luminar Neo quickly analyzes your photos and instantly improves the color quality, details, and tone by selecting the right color balance.
There's also Structure AI that allows you to unlock detail and clarity for images that pop and create an eye-catching composition around your subject. Structure AI increases image contrast and brings out more details, keeping human figures untouched.
Supercontrast is perfect for precise tonal contrast and accent replacements. Six AI controls allow for more definition in the highlights, midtones, and shadows for detailed images.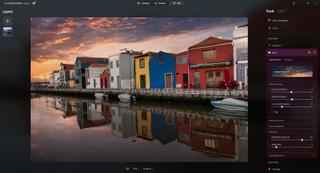 You can also make full use of Luminar Neo's class-leading sky replacement tools that automatically detect the sky area and provides you with a vast library of replacement skies from sunsets to blue skies, dramatic skies, starry night skies and much more. It also does a stellar job at flipping and adding the tones of your new sky into any reflections in the scene.
Quick edits for for portraits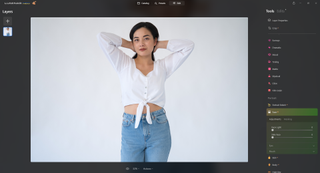 Portrait retouching traditionally can take a lot of time with many various processes required from skin retouching, raw processing, skin and body shaping, frequency separation, the list goes on. Luminar Neo makes all of the common portrait controls you need easy to change with a few sliders under the Portrait options. Face AI and Skin AI make it easy to fix skin imperfections while highlighting fantastic facial features.
You can easily relight someones face, mask them off with Mask AI, skin smoothing and shine removal as well as quick adjustments for the body and abdomen shape as well as face tuning.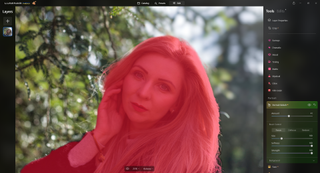 Our favourite feature is Portrait Bokeh AI which automatically masks off your subject and makes it easy to add more blur to your background with beautiful realistic bokeh as you can precise control over depth of field, softness, and glow.
Luminar Neo is available to buy as a lifetime licence for $149 or for a yearly subscription of $119. Click here to get $10 off both packages. The pricing for the Extensions is included in the yearly subscription package, but costs an additional $299 for users with a Lifetime licence.