In Amiata, a mountain between Maremma and the Val d'Orcia hills, one of the most beautiful Tuscan areas, there are a lot of traditional artisan trades that are slowly being lost to make way for more modern activities. The abandonment of these ancient crafts produces enormous cultural damage, depriving the historical centres of traditional references. So I have tried to freeze these figures over time to prevent them from being forgotten.
The goal is to safeguard and enhance traditional trades at risk of extinction, possibly by stimulating the hope of a generational change through the transfer of the acquired skills by the artisans themselves during their lives, avoiding losing value of these ancient crafts.
(opens in new tab)
All the images were shot on the locations these tradespeople carry out their work. Their habitat could not be anywhere other than the place where they carried out their crafts for years: from an ancient medieval castle for the chimney sweep, to a fenced pasture for the alpaca breeders.
The project lasted two years, due to the difficulties in finding, contacting and fixing a first meeting and then for arranging the shooting sessions themselves.
The Italian job
Initially I chose to spread this photographic experience online to give visibility and value to these people and to the areas in which the project had been developed. But thanks to a (partly unexpected) large demand, I was prompted to make a book out of it and distribute it through a popular European online bookstore. For now, sadly, Amiata has only been printed in Italian. However, an English version is on its way.
(opens in new tab)
Most of the project was realized with a Nikon Z 6, Z 35mm f/1.8 S, Z 50mm f/1.8 S and Z 24-70mm f/2.8 S. To be honest, in the end the only lens used was the 35mm, thanks to its lightness, large aperture, and incredible quality. The lightness of the Z 6 body, along with the compactness of the lenses and the quality comparable to much more expensive historical German brands, of which I am a strong admirer, convinced me to change to the mirrorless system after decades of using Nikon SLRs. Despite growing up in darkrooms surrounded by chemicals and film enlargers, having the exposure preview in the viewfinder, the image stabilizer, and this level of autofocus accuracy, is absolutely priceless.
(opens in new tab)
The memory that I will always carry with me will be of the people with so many stories to tell – the ones who have reached that age after a life of sacrifices, pursuing a path made of vocation and passion. I was able to share the meaning of the project and they all decided to participate with interest.
The only real challenge was to be able to reach an extreme degree of humility, so as not to disfigure giants like these people who, despite a thousand problems, have decided to stop working for a few hours to work with me, so I can shoot my imagery.
Read all about Michele's Amiata project (opens in new tab) in its entirety – and find out about the book.
Read more:
Best Nikon cameras (opens in new tab)
Best travel cameras (opens in new tab) in 2021
Best travel tripod (opens in new tab)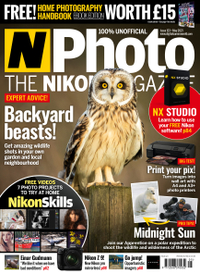 (opens in new tab)
N-Photo: The Nikon Magazine (opens in new tab) is a monthly publication that's entirely dedicated to Nikon users. For the best news, reviews, projects and more, subscribe to N-Photo today!
Subscribe today! (opens in new tab)