The best magnetic phone cases are becoming very popular with content creators, and are likely to be the future of smartphones. The desirability and ease of Magsafe and wireless charging on the go make the best magnetic phone cases pretty premium, but they don't have to be expensive, especially if you know where to look.
Having one of the best phone cases on the market isn't enough these days, as the latest and greatest trends in the world of smartphone cases now involve owning magnetically attachable and lockable mounted accessories that have been designed specifically for magnetic and MagSafe cases.
Magnetic cases aren't just limited to iPhone users either, if you have a Samsung, Google, Nokia, or any other third-party phone, there's no need for you to be left out of the magnetic smartphone accessory fad, and we're here to help!
Whether it's wireless charging through MagSafe or a snap-on magnetic power bank, a detachable kickstand for streaming at work, magnetic wallets for safekeeping your cards, or a grippy pop-socket - there are plenty of ways to make the most out of a magnetic case and its compatible accessories.
• Check out the best camera lens protectors for iPhone 14 Pro & Pro Max
If you're someone who is reluctant to upgrade your phone case in exchange for a magnetic one, let us put your mind at ease. If you don't use any mounting or locking systems with your smartphones such as a car holder, bike mount, specialist tripods, or filmmaking kits, then you probably don't need to invest in a magnetic phone case.
But that said, the beauty of the best magnetic smartphone accessories and cases is that they allow for variety, with the ability to swap out different tools and change mounts to support your lifestyle in whatever you do, whether it's biking, hiking, or if you simply prefer having something to grip on the back of your phone or add some weight to your device.
There are of course some other uses of magnetic cases that include the ability to attach magnetic smartphone accessories such as grips and wallets to the back of your phone, should you ever want to add a space to keep cards or have a useful stand for when watching YouTube.
In this guide, we've picked out the best magnetic cases, which can improve your comfort levels when holding your device and during your daily scrolling habits, and make things just a little bit easier for you to connect multiple stands and accessories for different purposes that all integrate with your smartphone.
The best magnetic phone cases in 2023
Why you can trust Digital Camera World Our expert reviewers spend hours testing and comparing products and services so you can choose the best for you. Find out how we test.
The best magnetic phone cases featured in this guide are mostly available for all flagship and recent smartphone models, however, if your phone is a little on the older side – it may be best to opt for a magnetic adapter instead to use with your regular phone case, as opposed to searching the internet for a magnetic case compatible with your specific device, should you desire to use magnetic smartphone accessories.
We'll break this down into sections for adapters vs cases, but first, if you have one of the recent iPhone generations (anything series 12 and above) then your smartphone should already be fitted with MagSafe, so owning a MagSafe case will only enhance the magnetic force that your device already has, and allow it to "snap-on".
MagSafe chargers are essentially just a newer take on Qi charging, and can also work with many Android devices, although certain fast charging features and functions are not guaranteed to work on older or third-party devices.
Best magnetic phone adapters in 2023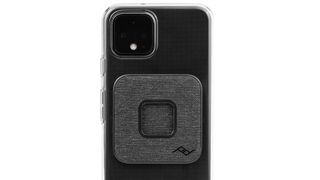 This adapter from leading photographic accessories manufacturer, Peak Design, is a universal take on its Everyday case (see option 3) that offers its own SlimLink™ magnetic locking and mounting technology, and is now accessible in a format for nearly any phone, applied to your regular phone case via 3M VHB adhesive.
Peak Design magnets are coated in a soft-touch nylon weatherproof fabric that not only acts as an ultra-strong and capable magnet, while able to attach accessories, but will also work flawlessly with all of Peak Design's range of mobile mounts and accessories created especially with photographers in mind.
The design of this adapter is low-profile and sleek, and it works with Apple MagSafe accessories, too! The only thing to be wary of with this adapter is that it will not attach very well to cases that are textured, silky, soft, porous, or rubbery - so it's best to avoid this adapter if your phone case is made from silicone or leather.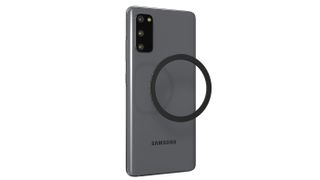 The benefit of using a ZAGG Mophie Snap Adapter is that you don't have to throw out a case that you really love, even if it isn't magnetic or Magsafe compatible. These ring adapters fit securely to the back of your phone case and allow for strong magnetic connectivity with a host of accessories and chargers.
The one downside to these adapters is they are quite raised with sharp edges, so if you like to fit your phone case snuggly in the palm of your hand, this discomfort is something to be aware of, although if you have a magnetic wallet or accessory attached then you would not feel the sharp ring.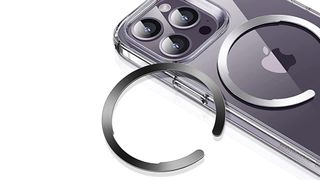 This MagSafe-compatible ring adapter from ESR ensures that the boring non-magnetic case that you love can now offer full-speed wireless charging and better connectivity. The company states that the ring itself is not a magnet, but it will attach to a magnetic wireless charger, and therefore the ring should not be placed directly onto the back of your phone, but to the outside of a standard case.
The Ring is designed to make a standard phone case MagSafe compatible, and cannot increase any charging speeds supported beyond the maximum of your phone, charger, and adapter. Wireless charging speed is determined by your phone model, and, this ring adapter from ESR will only increase charging efficiency by keeping your phone centered on the charger magnetically.
Best magnetic phone cases in 2023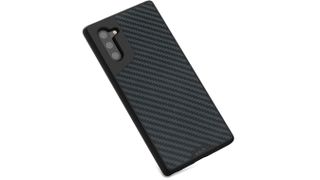 These powerful cases from Mous offer pretty much everything you could want in a magnetic phone case, especially for non-Apple devices. The limitless 3.0 series from Mous offers the same AiroShock™ impact technology across all of its phone cases, as well as soft microfibre internal lining, although it lacks a high-defense camera bump and rippled grip ribs that can be found on the Limitless 5.0 series.
The limitless 3.0 series is fitted with Mous' magnetic mounting technology called AutoAlign+™, and works flawlessly with the company's ecosystem of Limitless 3.0 accessories that include the Mous: Car Vent Mount, Suction Mount, Card Wallet, Flip Wallet, Wall Mount, and plenty more. All Mous phone cases also come with a Limited Lifetime Warranty.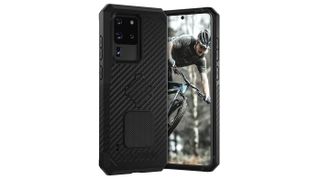 This magnetic phone case from Rokform offers durable and rugged protection for your smartphone and includes a strong industrial-grade built-in magnet that is powerful enough for attaching accessories and wirelessly charging your device.
The case also offers reinforced corners that are designed to be shock-absorbent, with a raised bezel around the edge of the case to provide six-sided, 360-degree protection for your smartphone. The dual layer of protection in Rokform's design is said to exceed Military Grade Drop Test Standards, (MIL-STD 801G-516.6).
A key selling point to Rokform cases is the integrated RokLock Twist Lock System that can be used to mount your device to your motorcycle, terrain vehicles, bicycle, car dash, or even a stroller using Rokform's range of compatible mounts that are sold separately. The brand also offers a 2-year warranty on its entire catalog, with 5-star customer service and support should you ever face any issues.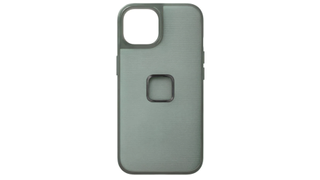 The Peak Design Everyday phone case range is designed with photographers in mind, and there's nothing everyday about it at all. This case incorporates a full rubberized shock absorbing bumper, plus a protective lip around the screen and camera unit offering protection, as well as a 2 meter (6ft) drop and shock protection.
There's also a Loop model to choose from for an easy finger grip, as well as Peak Design's own SlimLink magnetic attachment technology, a built-in locking system that is compatible across all PD cases and accessories.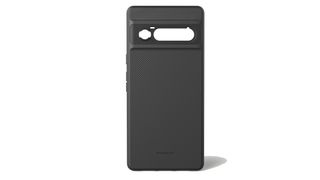 These cases from Moment are designed with a premium microfiber inner lining, plus a ribbed rail design that offers 10ft of protection, plus an updated dielectric constant material that can improve 5G wireless performance.
Moment cases are all built with a super strong (M)Force magnet array that is compatible with the complete range of Moment's Mounts for MagSaferange of accessories, as well as generic magnetic accessories, so you have the option to mount your phone in almost any situation.
• If you're an iPhone user, you may want to take a look at our other guides that include the best iPhone power banks, plus the best iPhone keyboards and you'll probably want one of the best iPhone chargers, while not forgetting the 10 best iPhone accessories you didn't know you wanted!