The best 240Hz monitors are the ultimate in gaming displays, offering faster refresh rates for smoother visuals and reduced ghosting, motion blur, and latency. That makes for crisper and sharper individual frames and buttery-smooth visuals overall, to give you a more responsive and immersive gaming experience. So if you're serious about your PC gaming, if you design and develop games yourself, or you stream games on Twitch, they're well worth investigating.
That said, they're not necessarily the best choice for every gamer. Competitive gamers will benefit most from faster refresh rates, which help give you a winning edge. And more generally, gamers with a penchant for fast-paced games will benefit from smoother, more realistic action, as will game designers who are working on such games.
Those who enjoy narrative-driven or adventure games, however, will benefit less. And a 240Hz refresh rate also won't make much difference if you're mostly performing productivity tasks. Panel size, color coverage, and response time are also things to consider when choosing whether a 240Hz monitor is right for you.
To help you choose, we've scoured the marketplace for the best 240Hz monitors for every user, need, and budget. Here are our top picks.
The best 240Hz monitors
Why you can trust Digital Camera World Our expert reviewers spend hours testing and comparing products and services so you can choose the best for you. Find out how we test.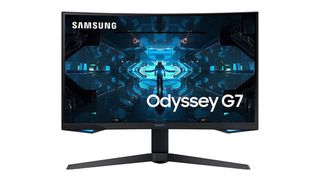 We reckon the Samsung Odyssey G is the best 240Hz monitor for value today. It delivers a fantastic and speedy gaming performance with its 240Hz refresh rate, 1ms response time, and G-Sync and FreeSync built-in.
It also boasts a luxurious design, and comes with 125% sRGB color gamut, which should be more than sufficient for video game designers and game streamers looking to color correct their content. Everyone, meanwhile, will benefit from that above-average contrast ratio of 2,500:1, which preserves more details in those areas where there are bright highlights and very dark shadows.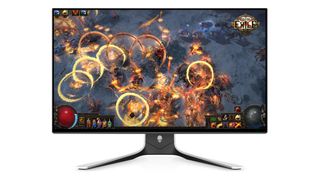 Want something more compact than a 32-incher? The 27-inch Alienware AW2721D is another great all-rounder at a mid-range price, offering a good balance of features, performance and price point.
For a sub-$700/£700 price of entry, you're getting that 240Hz goodness with a 1440p resolution, DisplayHDR 600 and Nvidia G-Sync technology. However, it's the 98% DCI-P3 color gamut and 450 nits of typical brightness that content creators will appreciate the most.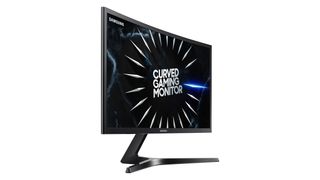 Priced at under $400 in the US and below £300 in the UK, the 24-inch Samsung C27RG5 is an excellent option for budget-minded gamers looking to up their monitor's refresh rate game. It's an older VA panel and tops at 1080p resolution, but it won't look dated, especially if speed is more important than resolution.
The contrast ratio is great at 3,000:1, so even though there is no HDR support, you're still getting a lot of details in the brightest and darkest areas of the PC games you're tackling. Plus, it comes with Nvidia G-Sync for a smoother experience and a 1500R curvature for a deeper immersion. We wouldn't use this for any creative professional work, but it's great for gaming.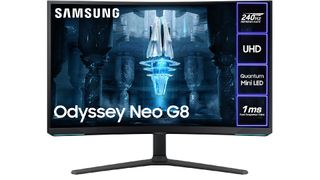 Until recently, having a high refresh rate on your monitor meant compromising on resolution. But last summer Samsung changed all that with the Samsung Odyssey Neo G8, a 32-inch screen which offers both 240Hz and 4K resolution. It also boasts a 1,196 Quantum Mini LEDs, which are brighter and more versatile than conventional backlighting systems. These come close to the kind of picture provided by OLED technology, with up to 2,000 nits of brightness, and 1ms response times.
Of course, this monitor is pretty expensive, plus you'll need a powerful gaming card to run AAA games at 4K. Also note that while there are two HDMI 2.1 ports, a DisplayPort 1.4 port and two USB 3.2 Gen 1 ports, there's no USB-C.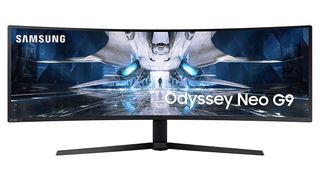 If you want a monitor that's an absolute behemoth in size and features, the Samsung Odyssey Neo N9 is the dream. This 49-inch panel with an 32:9 ultrawide ratio give you massive screen real estate to play video games, create content, and multitask.
There's a lot to love here – its 125% sRGB, 92% Adobe RGB and 95% DCI-P3 color coverage, Quantum HDR2000, 1,000,000:1 contrast ratio and 1000R curvature make it a magnificent beast. Of course, it comes with a behemoth price tag as well. But, if you've got the funds, it's worth the splurge.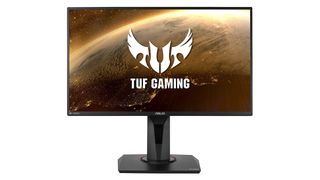 Want a smaller screen? The 24.5-inch Asus TUF Gaming VG259QM is a terrific 240Hz monitor for gaming. It's affordable, and 99% sRGB color gamut, 1ms response time, 400 nits of brightness and DisplayHDR 400. Competitive gamers, meanwhile, will appreciate the fact that it comes with Adaptive-Sync and Asus' ELMB and Extreme Low Motion Blur technology, which it can run simultaneously to minimize ghosting and tearing considerably.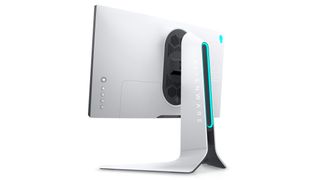 The Alienware AW2521HFL is a great option if you're looking for an IPS panel that offers viewing angles and color representation superior to a VA panel. In terms of resolutionb, this one is limited to 1080p. But its 99% sRGB color gamut and a 400-nit brightness mean you're getting vivid colors in its 25-inch panel. It also comes with a few extras, including a USB hub with four USB downstream ports and that stunning Alienware design. Its smaller panel also means it's a great option for folks with a smaller gaming setup.
How we test monitors
We evaluate a monitor with particular attention given to its core image quality, including brightness, contrast, color vibrancy and accuracy. While this can - and will - be assessed by the experienced eye of our professional reviewer, some manufacturer screen specs can only be definitively judged by an 'electronic eye' - a monitor calibrator. Where possible, a calibration device will be placed on the screen to verify its advertised color space coverage, brightness output and consistency, and factory color calibration accuracy. Beyond image quality, we'll also scrutinise the monitor's display and data ports to ensure acceptable connectivity, and will give a thorough assessment of build quality, including the range of ergonomic adjustment in its stand. Only then will we determine if a screen is worthy of use by a discerning imaging or video enthusiast.
Read more:
The best monitors for photo editing
The best monitors for video editing
The best ultrawide monitor
Best USB-C monitors for photo editing
The best monitor stands
Best keyboard for video editing
Best webcam for home working
How to edit videos: video editing tips