Picking a travel camera to take with you on a trip is as tricky as working out what to pack. Most of us like to travel light, so ideally you'll want a camera that doesn't take up much space and won't make your shoulder ache through carrying it around all day (though maybe our guide to the best camera bags and cases can help with that).
UPDATE: Things move fast in the camera market, and it's been a busy year for new travel cameras. Some of our favorites have been updated, some have come down in price – see the best cheap camera deals – and we've shuffled our list to include the very latest and best travel cameras, including the Panasonic TZ200 and Canon G1 X III.
But when you choose a camera for travel you don't want to compromise on image quality, either. You may be going to to places that you might not get the chance to see again, so you'll want to take a camera that does them justice – otherwise, you might just as well snap away with a smartphone. (These are now getting very good, to be honest, so you might want to read our guide to the best camera phones if you want to travel really, really light.)
You'll also want a camera that can shoot a whole range of subjects in a whole range of conditions, from a sun-baked beach to a dimly-lit market, from distant mountains to close-ups of exotic cuisine. So can't you use a long-zoom bridge camera for that? You can, but these are pretty big and bulky to take away on holiday, and for most people it's worth sacrificing a little zoom range to get a much smaller camera.
If you're embarking on a holiday for adventure rather than relaxation, you might want to take a tough camera rather than a delicate DSLR, but if you're backpacking on a budget, a cheap DSLR camera or mirrorless body could be the perfect compromise. You might also want to save a bit of space for a good travel tripod, because this will let even a modest camera get great results in a huge range of conditions.
Read more: Best cameras for kids
Decisions, decisions! Luckily, we've narrowed them down to a list of ten top travel cameras. Each is ideal for a particular type of photographer and a particular style of travel, and we reckon one of these cameras will prove to be your perfect travelling companion.
The best compact camera for travel right now
1. Panasonic Lumix TZ200/ZS200
A 15x zoom range and a 1-inch sensor packed into a pocket-sized body
Type: Compact | Sensor: 1in | Megapixels: 20.1MP | Lens: 24-360mm f/3.3-6.4 (equiv.) | LCD: 3in fixed touchscreen, 1.24 million dots | Viewfinder: EVF | Maximum continuous shooting speed: 10fps | Max video resolution: 4K | User level: Beginner/enthusiast
Big zoom for a pocket camera
High-quality 1-inch sensor
Built-in electronic viewfinder
Sharpness falls at full zoom
If you're going travelling, the last thing you want is to be weighed down with kit – but at the same time you'll want a camera that can capture any kind of subject and get as close as possible to the quality of a 'proper' camera. That's what the best 'travel' cameras get right, and the TZ200/SZ200 is right at the top of the tree. It replaces the older TZ100/SZ100, which is still on sale and one of our past favourites. The TZ200/SZ200 keeps the same 1-inch 20-megapixel sensor you get in many of the best compact cameras but adds in an even longer-range 15x zoom lens. This covers a 24mm wide-angle view right up to a long-range 360mm equivalent telephoto setting. It's the longest you'll get in a pocket camera with a sensor this big. The TZ200/SZ200 produces excellent JPEGs images straight from the camera and has the option of raw shooting and and 4K video. A macro mode lets you focus on subjects just 3cm away, and Panasonic's 4K photo mode can generate 8K images from burst sequences shot at 30 frames per second. With the 4K Photo mode you can even choose your focus point AFTER you've taken the picture.
2. Sony RX10 IV
More than just a 'bridge' camera, the RX10 IV brings real power and quality
Type: Superzoom compact | Sensor: 1in | Megapixels: 20.1MP | Lens: 24-600mm f/2.4-4 (equiv.) | LCD: 3in tilting, 1.44 million dots | Viewfinder: EVF | Continuous shooting: 24fps | Max video quality: 4K and Full HD | User level: Enthusiast/Expert
Excellent, stabilised optic
Great image and video quality
Uprated autofocus
Expensive for a bridge camera
At first sight, the Sony RX10 IV looks like a very big, expensive and not very unusual long-zoom camera, but you need to look closer, because what Sony has actually made is perhaps the world's first 'professional' bridge camera – and if you don't mind the extra bulk, it's the supreme tackle-anything travel camera. It features a 20-megapixel 1-inch sensor to deliver far higher image quality than the typical bridge camera, married up to a long-range 24-600mm equivalent f/2.4-4 lens that doesn't just offer a faster maximum aperture than a typical bridge camera, but uncharacteristically good image quality at its maximum zoom setting. This is where nearly all long-zoom cameras fall down, but the RX10 IV stays sharp right through its focal range. Its predecessor the RX10 III is also a favourite of ours and still on sale at a lower price. But that camera's autofocus grew sluggish at high zoom settings and while recording video, while the RX10 IV adds a far faster and more powerful hybrid AF system adding no fewer than 315 phase detection AF points.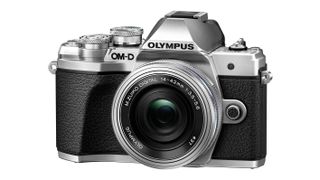 3. Olympus OM-D E-M10 III
A brilliant little mirrorless camera you can slide into a jacket pocket
Type: Mirrorless | Sensor: Micro Four Thirds | Megapixels: 16.1MP | Screen: 3in tilting touchscreen, 1.04million dots | Viewfinder: EVF | Max burst speed: 8.6fps | Max video resolution: 4K | User level: Beginner/enthusiast
Very compact body
Extensive external controls
Tiny 14-42mm 'pancake' zoom
Only 16.1 million pixels
Olympus has been pretty quiet recently as many of its rivals have been busy launching or announcing full frame mirrorless cameras. By contrast, Olympus is sticking with its Micro Four Thirds format, based around a sensor a little smaller than the APS-C format. The key advantage of this format is that both the cameras and the lenses can be corresponding smaller – and the OM-D E-M10 III is a little gem that we think is one of the best mirrorless cameras out there. Despite its small size, it packs in a twin-dial control layout that enthusiast will admire, 5-axis in-body stabilization, 4K video and a wide selection of Olympus's rather good. Art Filters – perfect for adding a little atmosphere and an Instagram-ready look to your photos. Make sure you get this camera with the 14-42mm EZ 'pancake' lens, though, not the cheaper but larger 'regular' 14-42mm kit lens. The EZ lens offers a 3x zoom range in a super-slim barrel and is the perfect complement to the E-M10 III.
Read more: Olympus OM-D E-M10 III review
4. Panasonic GX80
The GX80 offers a rangefinder-style photography at an everyday price
Type: Mirrorless | Sensor: Micro Four Thirds | Megapixels: 16.0MP | Lens: Micro Four Thirds | Screen type: 3in tilting touchscreen, 1,040,000 dots | Viewfinder: EVF | Continuous shooting speed: 8fps | Max video resolution: 4K | User level: Beginner/enthusiast
Retracting 12-32mm lens
Good lens choice
Neat rangefinde design
Smaller sensor than APS-C
The Wi-Fi-enabled Panasonic GX80 has a small and light camera body, and the fact that it comes with such a dinky, retractable 12-32mm f/3.5-5.6 G VARIO ASPH. kit lens – equivalent to 24-64mm in 35mm terms – means that the overall package remains compact. You can even squeeze the GX80 into a large pocket, a downsizing that's partly enabled by the Micro Four Thirds sensor. Most controls are accessed via buttons and menus, rather than dedicated dials, although physical controls include a tilting screen with touch-sensitivity, and a pop-up flash alongside a hotshoe. High-ISO images are a little on the noisy side and long exposures are limited to a maximum of two minutes, but these are small points. Overall, the GX80 makes a highly effective travel camera, with a good range of controls at a very reasonable price.
5. Nikon D5600
This tiny DSLR is travel friendly but bulky next to some of the others herew
Type: DSLR | Sensor: APS-C | Megapixels: 24.2MP | Lens mount: Nikon F | Screen type: 3.2in vari-angle touchscreen, 1,037,000 dots | Viewfinder: Optical | Continuous shooting speed: 5fps | Max video resolution: 1080p | User level: Beginner/enthusiast
24MP sensor gives great quality
Bright and clear optical viewfinder
Efficient retracting kit lens
Bigger than rival mirrorless cameras
The Nikon D5600 looks and feels bulky compared with other cameras here, despite having a reputation as a relatively small and travel-friendly DSLR. We tested it with the AF-P DX Nikkor 18-55mm f/3.5-5.6G VR kit lens, which has a space-saving retractable design though much larger than a pancake zoom. Nikon's AF-P lenses also make live view autofocus noticeable faster. The D5600 benefits from a fully articulated touchscreen and Wi-Fi, NFC and Bluetooth. The 24.2MP APS-C sensor, EXPEED 4 processor and 39-point phase-detection autofocus system deliver good performance, and while contrast-detection autofocus for Live View and movie capture is fairly slow but not too shabby for a DSLR. Image quality is very pleasing, with punchy colour, impressive dynamic range and good retention of detail. If you're getting this for travel, take a look at Nikon's compact and lightweight 10-20mm f4.5-5.6 G AF-P DX VR ultra-wideangle lens.
Read more: Nikon D5600 review
6. Canon EOS Rebel SL2 / 200D
Canon's travel-friendly DSLR has power and versatility too
Type: DSLR | Sensor: APS-C | Megapixels: 24.2MP | Lens mount: Canon EF-S | Screen: 3in tilting touchscreen, 1,040,000K dots | Viewfinder: Optical | Continuous shooting: 5fps | Movies: 1080p | User level: Beginner
Dual Pixel CMOS AF system
Massive lens range
Vari-angle touchscreen
Larger than rival CSCs
Canon's most recent EOS 2000D and 4000D models aren't quite the same step-up on previous models we may have hoped for, but the Canon EOS 200D – the next model along in the line – is a decidedly sweeter proposition for the photographer on the move. Its body, while a little larger than those of many mirrorless models, is still small for a DSLR, and the flip-out screen is clear and very sensitive to touch. With Dual Pixel CMOS AF on board, the camera focuses brilliantly when using live view or when shooting videos, with smooth focus transitions in the latter shooting mode. The presence of Wi-Fi and NFC make it ideal for sharing images on the fly too, and the fact that you get in-camera Raw processing means that you can make multiple edits of your images without needing to lug around a laptop. It's a shame it doesn't offer 4K video, but it's an understandable concession on an otherwise highly capable camera.
Read more: Canon EOS 2000D review
7. Olympus PEN E-PL9
Perfect for blogging, vlogging and influencing, the E-PL9 has hidden power
Type: Mirrorless | Sensor: Micro Four Thirds | Megapixels: 16.1MP | Screen: 3in tilting touchscreen, 1.04million dots | Viewfinder: No | Max burst speed: 8.6fps | Max video resolution: 4K | User level: Beginner
Easy selfies with 180-degree screen
Super-slim 14-42mm kit lens
Great selection of Art Filters
No viewfinder
Serious photographers might not approve of the E-PL9's lack of a viewfinder, but if you've just upgraded from a smartphone you won't miss it one bit – but you will love the E-PL9's touch-sensitive screen and the way it can flip through 180 degrees for easy selfies. This is the perfect camera for Instagram, Facebook and Pinterest, and is equally at home snapping landmarks, night scenes, pets, cityscapes and cocktails on the beach. Beneath that fashion-conscious exterior, though, there's a powerful little camera with proper auto, semi-auto and manual exposure control, interchangeable lenses and a very decent Micro Four Thirds sensor with in-built image stabilization. The E-PL9 can also shoot smooth 4K video.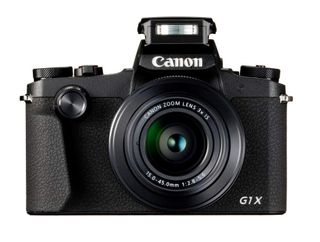 8. Canon PowerShot G1 X III
A DSLR sensor in a camera that fits in your pocket AND it has a zoom lens
Type: Compact | Sensor: APS-C | Megapixels: 24.2MP | Lens: 24-72mm equivalent f/2.8-5.6 | Screen type: 3in vari-angle touchscreen, 1,040,000 dots | Viewfinder: EVF | Continuous shooting speed: 9/7fps | Max video resolution: 1080p | User level: Enthusiast/expert
Excellent image quality
Super-compact body
DSLR-level controls
Lens drops to f/5.6 at full zoom
We're not quite sure how Canon crammed a DSLR-size APS-C sensor into such a small body, and then made a 3x zoom lens that retracts so far that the G1 X III easily fits into a coat pocket when it's switched off. And yet this sensor and lens combination produces excellent sharpness right through the zoom range and right to the edges of the frame. You'd be thrilled to this image quality from a DSLR, never mind a pocket camera. There is a price to pay, though, both financially and in terms of this lens's maximum aperture. It's a handy f/2.8 at its widest zoom setting but this rapidly shrinks to f/5.6 at full zoom. So the G1 X III isn't perfect – it doesn't shoot 4K video, either – but for the travelling photographer who wants the best possible quality in the smallest possible package, it's just superb.
Read more: Canon PowerShot G1 X III review
9. Panasonic Lumix LX100 II
Its multi-aspect Micro Four Thirds sensor makes this flagship Lumix unique
Type: Compact | Sensor size: Micro Four Thirds | Megapixels: 17MP | Lens: 24-75mm, f/1.7-2.8 (equiv.) | LCD: 3in fixed, 1,24 million dots | Viewfinder: EVF | Continuous shooting: 11fps | Max video resolution: 4K | User level: Enthusiast/expert
Multi-aspect ratio sensor
Fast f/1.7-2.8 lens
4K video, 4K Photo modes
Only 17 megapixels
The trouble with big sensors is that you need big lenses to go with them, so there goes any kind of pocketability – except that Panasonic has really hit the sweet spot with the LX100 II. It combines a Micro Four Thirds sensor not much smaller than the ASP-C sensors in mode DSLRs with a compact body and miniaturised lens assembly that powers down in to a camera body slim enough to carry around anywhere. The LX100 II is a brand new version of the original LX100 which was, admittedly, starting to show its age. The new model has a 16-megapixel 'multi-aspect' sensor, which means that you can use its native 4:3 aspect ratio, the 3:2 ratio used by most DSLRs and mirrorless models or a 16:9 'wide' format without cropping the image and losing pixels. With an external shutter speed dial, lens aperture ring and aspect ratio switch, the LX100 II is a dream camera for enthusiasts and experts.
10. Olympus TG-5
It will withstand water, knocks and bashing around better than you will!
Type: Compact | Sensor: 1/2.3in | Megapixels: 12MP | Lens: 25-100mm (equiv.) f/2.0-4.9 | LCD: 3in, 460k dots | Waterproof: 15m/50ft | Shockproof: 2.1m/7ft | Freezeproof: -10ºC/14°F | Max video resolution: 4K | User level: Beginner/enthusiast
Raw shooting and 4K video
Excellent tough credentials
Pocket-sized dimensions
LCD screen only 460K dots
It might not have the zoom range of the cameras above, or the large sensors of the cameras below, but if your travel adventures are either water-based or generally of the rough-and-tumble variety, the TG-5 is probably a better fit. With waterproofing, crush-proofing, shockproofing and freeze-proofing on board, the TG-5 will withstand a lot more abuse than the average compact, but it's not only its tough credentials that impress. Raw shooting and 4K video recording are two rarities on waterproof compacts, while the 12MP sensor had its pixel count deliberately lowered over the previous model to make it produce better-quality images with lower noise. It was a brave move by Olympus, but a refreshing one too.
More great buying guides