The best photo books are a wonderful way to get some of those photos on your phone or hard drive the attention they deserve. Photo books (or photobooks if you prefer) are not just a great way of showing off your pictures, they make fantastic personalized gifts too for friends and family.
Digital photography has revolutionized the way we take pictures, however there's still something very special about the tactile experience of physically flicking through a photo album. But if printing photos to put in a traditional photo album is too last-century for you, why not try a photo book instead?
• See advice on how to choose a photobook service
The best photo books are fully customizable books that feature your photographs printed directly on the cover and inside the pages. They're surprisingly easy to create using the lab's online software, and are the ideal memento or gift to celebrate or remember a special event.
The best photo books in 2020
Printique (US)
Mixbook (US & UK)
Picaboo (US)
Shutterfly (US)
Snapfish (US)
Wagreens Photo (US)
Mimeo Photo (US & UK)
Bob Books (UK)
Cewe (UK)
Photobox (UK)
Best photo books in the US
1. Printique
Best photo book for professionals
Ships to: USA, Canada | Cover options: Hardcover, softcover, leather, die-cut, fabric | Paper options: Luster, glossy, silk, deep matte, linen and pebble | Sizes: Landscape, square, portrait
Excellent print quality
Good value for money
Professional service
Can't be edited after adding to cart
More expensive than some
Printique is the online service of Adorama, a professional photo store in New York. And the company's expertise in photo printing is obvious in the quality of its products and finish it delivers. If you're looking to create a professional photography portfolio, you'd be hard-pushed to find a better photo book service to do it.
The best photo book options are available in square, portrait and landscape format, in 14 different sizes, plus there are six paper weights to choose from. All of the hardcover, fabric, and leather photo books options have pages that lay flat, which, unlike other companies on this list, Printique doesn't charge extra for.
The Printique photo editor interface looks a little busy, but is fairly intuitive and easy to use, clearly highlighting book edges, where and how to upload images and add special features including stickers, shapes and frames. The only slight downside to this service is the lack of editing options after a product has been added to the cart, so make sure you're completely finished creating your book before doing so.
2. MixBook
This is the best value photo book
Ships to: Worldwide | Cover options: Soft, glossy, matte, leather | Paper options: Semi-gloss, pearl finish, ultra-thick premium matte | Sizes: Landscape, square, portrait
Simple-to-use software
High quality prints
Cheaper options available
When it comes to providing the best photo book service, Mixbook is certainly a tough one to beat. Not only are its products available to ship worldwide, Mixbook often runs sizable discounts, making its range of photo books (and other products such as photo calendars or photo prints) a veritable steal.
The Mixbook software is incredibly easy to use - you don't have to download anything, as it's all done in your internet browser. There are nearly 400 fully customizable templates, backgrounds and stickers to choose from, which enables you to create a perfectly polished photo book that will impress anyone who sees it.
Mixbook photo books come in three versatile paper types, semi-gloss, pearl finish and an ultra-thick premium matte paper for its lay flat photo book option.
We ordered a 8.5x8.5" Classic Square Glossy Hardcover Photo Book. We found the process of creating a Mixbook photo book simple and easy to navigate, with plenty of customization options available for each of the many templates Mixbook offers. Uploading images to the site was simple, and arranging them on the pages didn't take long at all.
However, when the photo book arrived we did have a few issues with the quality of the front cover of the book. There was some fringing on edges of the image and the logo. While it wasn't immediately obvious, it was definitely noticeable when inspecting at close quarters. In addition, the colors were inaccurate on the cover as well. While the original image used for the cover photo had been graded with warm oranges, the printed cover skewed more red.
However, most of our issues were with the cover of the book. The images printed on the inside were true-to-color and printed nicely. Plus, the design and layout of the book were genuinely beautiful and helped bring the photos to life.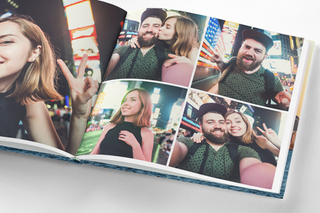 3. Picaboo
Professional photo books with excellent customisation options
Ships to: Worldwide | Cover options: Glossy, standard | Paper options: Standard, lay flat, Premium Lustre | Sizes: Landscape, square, portrait
Good print quality
Excellent customisation
Easy to use
Not the highest print quality
Picaboo's print quality might not quite be on par with others, but what it lacks (only slightly) in finish, it makes up for in features and customization options.
Its software is super-easy to use, with features such as backgrounds and clip art option easily located to help you achieve the desired look. The print quality is of a high standard, and the added option to polish photos to help them match backgrounds goes a long way to helping get that professional finish.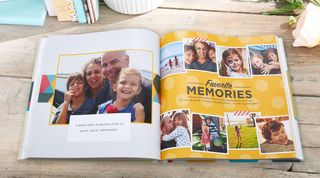 4. Shutterfly
Quality printing and lots of add-ons for the perfect finish
Ships to: Worldwide | Cover options: Hardcover (matt/glossy), die-cut in cloth, leather | Paper options: Standard matte, ultra-thick satin finish | Sizes: Landscape, square, portrait
Simple to use
Lots of templates
Finish can be inconsistent
A brilliant all-rounder, Shutterfly is another of the best photo books services to offer really simple to use software to help create a great-looking book. There are loads of templates and backgrounds to choose from, as well as a Make My Book service, with which you provide Shutterfly designers with details of your requirements and they do all the hard work for you.
Shutterfly also offers a number of great discounts throughout the year, so if your need for a photo book isn't immediate, a good offer is always just around the corner.
5. Snapfish
A reliable, simple-to-use photo book service
Ships to: Wordwide | Cover options: Softcover, hardcover, matte hardcover, hardcover (glossy), hardcover lay flat | Paper options: Standard, glossy, lay flat | Sizes: Landscape, square, portrait
Affordable
Easy to use
Guided design process
Can lack photo quality
Probably one of the best-known photo book services, Snapfish has been in the image business for the past two decades, so its staff know a thing or two about photography services. Evidence of which is clear in its simple drag-and-drop photo book editor, which guides you through every part of the creation process, including how to pick from over 120 themes.
Snapfish is another company that offers money-saving deals all year round, so you're highly likely to get a good price on your next photo book. It's worth noting that these price reductions are an attractive opportunity, but if it's a real high-end professional finish that you're after, you might want to opt for one of the other services on this list.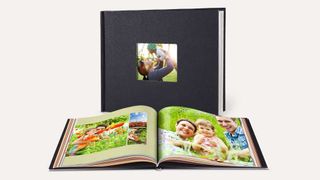 6. Walgreens Photo
Turn your memories in to a beautiful page-turner with ease
Ships to: USA | Cover options: Softcover, hardcover, linen, leather, premium lay flat | Paper options: Standard, glossy, lay flat | Sizes: Landscape, square, portrait
Fast service
Easy to use editor
Affordable
Lacks quality comparatively
Walgreens Photo is one of the best photo book sites to use to make a quick and simple custom photo book. And by quick we mean the same day if you're able to pick it up. Its easy-to-use editor means you can put your design together in no time, and with the company constantly running discount offers, it won't break the bank either.
If you want a photo book in a hurry, you always run the risk of sacrificing quality. And while other services on this list undoubtedly offer a superior finish, Walgreen's still offers a very decent service in terms of print production and value for money.
7. Mimeo Photos
Despite fiddly software, you can't beat Mimeo's quality
Ships to: USA, UK | Cover options: Softcover, hardcover | Paper options: Standard
Great quality
Inside photos true to color
Cover photo colors not quite accurate
Have to download an app
Mimeo Photos is a bit of an oddity on this round-up, as you can't actually buy a photo book from their website. Instead, you have to download an app in order to design your book and place your order - and the service is only available on MacOS. However, despite these admittedly frustrating roadblocks, we were actually very pleased with the quality of the photo book that we received.
Mimeo Photos is as a third-party Photos app extension for MacOS, allowing you to create and edit an Apple Photo project to be printed. There are over 50 theme options, including well-known Apple favorites and you can customize layouts and backgrounds for your own personal touch. You can also apply edits, adjustments and filters to any photo directly within the app's design page.
Once we'd downloaded the app extension, the software itself was relatively easy to use. However, it should be said that there didn't seem to be a marked enough difference between this system and other online-based systems to justify having to download an entirely new app for your computer.
However, where Mimeo Photos really shone was in the quality of the book we received. We ordered a hard cover book, which arrived with an attractive dust jacket (although the cover image was also printed on the actual cover of the book as well).
The only gripe we have about this book was that the saturation seems to have been pushed up for the front cover image, as the skin tones on both the dust jacket and the hard cover itself became a luminescent orange. However, the photos inside the book were beautifully printed. They were nice and sharp, with none of the fuzziness experienced in cheaper options. Unlike the front cover, the colors also printed accurately.
If you have a Mac computer, you want a great quality photo book, and you don't mind downloading an app to get it, then we'd definitely recommend Mimeo Photos.
Best photo books in the UK
8. Bob Books
Superior quality, service and finish
Ships to: Worldwide | Cover options: Softcover, hardcover | Paper options: Classic, gloss, matte, lustre | Sizes: Landscape, square, portrait
Excellent quality
Editing software not the best
Barcode can't be removed
When it comes to the quality photo books, Bob Books is one of the best service providers in the UK. In the business of photo printing since 2006, the company has over a decade of experience, offering digital photographers the ability to create personally-customised, high quality photo books for every occasion.
Experts in the trade, Bob Books' quality is second-to-none, and at a price that is accessible for everyone. Photo books printed on premium 300gsm paper start at £24.99.
There's a variety of free tools to help you to create and print your own photo books, including Bob Designer Desktop software, an iOS app for iPhone and iPad, or PDF-to-book for design professionals. Only slight quibble is all books feature a barcode on the back cover, which cannot be removed.
9. CEWE Photoworld
High quality at a price that won't break the bank
Ships to: UK | Cover options: Soft, glossy, matte, leather | Paper options: classic, high-gloss, true matte, classic photographic, gloss photographic and matte photographic | Sizes: Landscape, square, portrait
Award-winning software
Affordable
Professional finish
Highlights cost extra
When it comes to the best photo book services in the UK, CEWE leads the way. Not only are the products affordable, the high-quality finish and range of options are second to none. A beautiful book starts with the right paper and CEWE has six luxury options to choose from, each of which has been selected for its quality and print suitability.
CEWE has it's own award-winning design software, for which you'll find a page dedicated to tutorials on how to create and make the most of your photo book design. There's also the ability, for an added cost, to get gold or silver highlights for any hardcover CEWE photo book.
All this plus a 24/7 UK-based customer service support team and a 14-day money-back guarantee makes CEWE a very attractive photo book option.
10. Photobox
The best photo book service for beginners
Ships to: Worldwide | Cover options: Softcover, hardcover, lay flat | Paper options: Standard (170 gsm), thicker paper (230 gsm) or high-gloss finish (on 204 gsm paper) | Sizes: Landscape, square, portrait
Affordable
Easy to use
Good for beginners
Not the best paper and print quality
Photobox is an online printing giant that almost always has generous discount offers available, so there's a good chance you won't pay the full price we've quoted. It also offers well-polished online book creation software that's easy to use with a helpful 3D book preview, plus plenty of layout, background and cropping choices.
This is great option if you're new to photo book creation, however more professional photographers will notice the slight lack in paper and print quality. Photobox also offers other photo services too, just in case anyone fancies a new mug or desk calendar?
Choosing a photobook
How to choose the best photobook service
There are many companies providing photo book services and deciding which one to use isn't easy, with each offering numerous book sizes, designs, and paper options. First you need to work out what purpose your photo book will serve and then determine which service best suits your needs. For example, creating a professional photography portfolio will require high quality paper and printing services to ensure no image quality loss.
But even high print quality isn't much good unless you're able to nail the layout and design. That comes down to each manufacturer's accompanying book creation software, and what tricks it will let you pull off. Here are five tips to help you get started:
• You don't need to prepare your pictures in any particular way. Regular JPEGs are fine.
• Some photo book services offer book design tools in your own web browser, others offer free apps you download and run on your computer.
• Your pictures may be cropped. This may apply if you're using multi-photo page templates or printing a picture right up to the edges of the page (borderless).
• Some books come with a lay-flat binding, which makes them easier to leave open.
• You will usually get a choice of paper finish. Glossy paper is good for contrast and color, matte paper is better at hiding fingerprints and reflections, soft-sheen lustre papers offer a good middle-ground compromise.
• We have listed our choice of the best US and UK photobook services – however many of these will ship worldwide.
Read more
Best photo frames in 2019: hang your images in style
Best digital photo frames
Best Christmas gifts for photographers
Best photo calendars: create your own 2020 calendar
The best photo printing online - where to order your photo prints
Best photo albums