Printique is one of the best services I've ever used when it comes to printing high-quality photo books, prints, posters, and canvases. If you're after a professional flawless finish, it's pretty much unbeatable but you do pay a high price for the top-notch service. We ordered a photo book, several poster prints in different finishes, a range of prints in different sizes and finishes plus a canvas print so could rate the quality, color accuracy, and finish across a range of products.
All the prices quoted in this review are accurate as of September 2023.
Printique: Products available
You can get a wide range of products printed at Printique that make perfect gifts or personal touches to your home. From classic canvas and posters, to sleek glass prints or eco-friendly wood prints, each print style has a range of sizes to choose from.
There is also a diverse choice of gift products including mugs, puzzles, photo books, calendars, and even things like water bottles, coasters, and acrylic blocks. We opted to choose more traditional products to review including poster prints, a canvas, a photobook plus photos to put in a photo frame or album.
Canvas prints
Starting at $29.99, Printique's canvasses are by no means the cheapest you can find but the quality is good and you can choose from a range of edges, sizes, and finishes. Canvases start at 8X8 inches and go all the way up to 30 x 40 inches. If you have a very specific size in mind which isn't listed you can also get custom sizes printed up to 30x30 inches.
Up close, the canvas quality doesn't look that good but that's just due to the texture of the material it's printed on. From a distance, the canvas prints really elevate your photos and add character to a room. If you have a blank wall you want to fill with several canvas prints you can use the canvas wall designer tool to envision how they will all look before placing your order.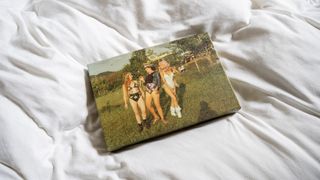 Poster prints
I was blown away by the quality, detail, and color accuracy of Printique's poster prints. Seeing your photos in large format completely transforms them into works of art - especially when framed. Choose from a range of superior-quality photo papers including luster, glossy, matte, metallic, and fine art. Sizes start at 16x20 inches and go up to an enormous 40x60 inches. Luster was our favorite finish as it gave a little bit of shine without being too reflective.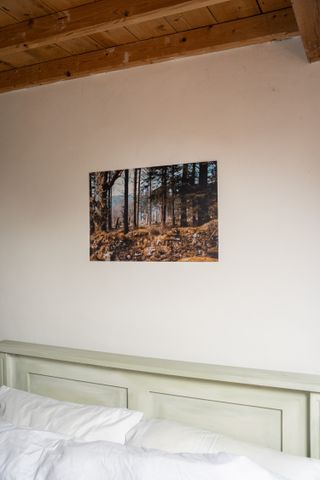 Photobook
A photo book is an incredibly touching gift but it's also a wonderful way of keeping all your memories from a special event in one place. We ordered a 10x8 inch, hardback 26-page photo book with a luster finish and compared to other photos I've seen, the quality is second to none. The images are pin sharp, the colors are exactly the same as the digital copies, and the pages are printed on high-quality paper.
If quality is the most important thing to you then Printique can't be beaten however you pay a pretty penny for the high standards. A mini softcover photo book (4x4 inches) starts at $14.99 while more professional-looking hardback books range from $38.99 to upwards of $86.99 depending on how many pages you want and whether you want a custom end page (unless you pay extra it is printed with the Printique logo).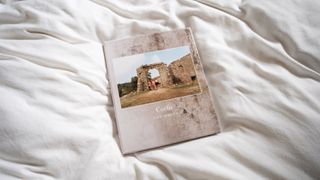 Photo prints
Again, photo prints from Printique are a little more expensive than other places starting at $0.32 for a 6x4-inch print but you get what you pay for. There are no printing lines, the colors are accurate, the images are not at all pixelated, and even photos taken on an iPhone 11 look pretty high-resolution.
Printed on silver halide photo paper and emulsion prints, you can choose from 15 different sizes, and 6 finishes and you can choose whether you want to include a border on your print.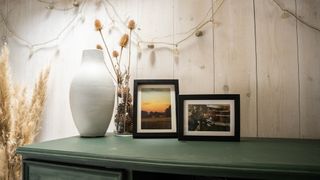 Printique: Usability
The website itself is easy to navigate, products are broken down into types (e.g. photo books, prints, wall decor, gifts, etc.), and within each section, you can choose specific items. Whatever you choose to get printed, prompts help you along the way to make sure you have uploaded the right resolution image in the right size. It also enables you to crop images online to better suit the product you want printed.
Uploading photos is incredibly simple and there are lots of ways you can do it. Either upload directly from your computer or import images from Facebook, Instagram, Google Photos, Dropbox, Lightroom, and Flickr. Once you've uploaded your images you can arrange them into galleries which are then stored on the Printique website so you can come back to them as you please.
The image uploader offers a vigorous process of double-checking that your images are cropped correctly so you don't get any nasty surprises when they arrive. So whether you're printing a canvas, a poster print, or a selection of smaller prints you can see an accurate preview before confirming your order.
Photo book designer
Designing the photo book is a little bit trickier but there are a wide range of templates to choose from if you don't want to design it completely from scratch. For those who are feeling extra creative, you can choose the blank option and then add images, text, stickers, and shapes by dragging and dropping them into place. At first, it doesn't seem like the most intuitive system as it doesn't move pictures across in their original aspect ratio but you can easily drag to resize.
Even for someone who has designed magazines in InDesign, I found the designer to be quite overwhelming. With over 2000 page backgrounds to choose from, more than 25 page layouts, and more than 20 fonts, you will be faced with a lot of decision-making.
Page backgrounds can be anything from a solid color which you select using a dropper tool to simple texture, repeating patterns, abstract colour washes or garish clip-art style pictures. There are lots of themed backgrounds too such as baby, Christmas, birthday, graduation, love and so many more but we thought simple is best when it comes to printing a photobook so we stuck with a classic white background throughout.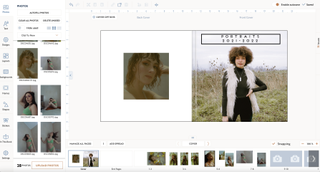 There is an option to auto-fill your pages but we found this cropped your images in the wrong place so you had to go through each one and correct them. We were impressed with the range of fonts including a range of classic and some more "trendy" ones to choose from. When designing the cover you can either opt for a classic plain white finish or pick from a range of abstract patterns, textures, floral prints, dots and so much more - we went for a stone effect finish and it looked very stylish.
If you want to add a frame to your image you might be surprised that Printique's frame options are rather limiting. Rather than framing your image with a simple border, Printique's frames crop your image into a shape such as a heart or a star - in our professional opinion they look quite tacky and we steered well clear opting to create a photo book with elegance.
While the design tool might be overwhelming every part of the process is fully customizable so that if you wanted each page to look completely different it would. If you're including text, be sure to triple-check before sending it off to print as the photo book designer doesn't spell check for you.
Printique: Shipping
Printique currently only ships within the US and to Canada. If you live in New York, you can pick up your order from either the Brooklyn or Manhattan pickup locations. If you opt to collect your order you will not be charged for shipping, otherwise, shipping is calculated depending on your order, how big it is, and how heavy it is.
Printique: Verdict
When it comes to quality, Printique will be hard to beat. It truly is a photo printing service for professionals and customers looking for a polished finish. If you have a lot of things to print and are conscious of cost, you might be better off with another service such as Mixbook as the balance of cost vs. quality is more appealing. But if you're after a fast turnaround, the best finish, and extensive customizable options Printique is perfect.