The Canon EOS Rebel SL3 is a APS-C crop sensor DSLR camera (sold as the EOS 250D outside North America) that comes packed with features and connectivity perfect for beginner photographers that want more flexibility in an interchangeable lens system without having to spend big bucks. That means a range of lenses can be purchased for use with the cameras for a wider choice of subjects and shooting styles
With entry-level DSLR cameras, most users are looking for flexibility and hence zoom lenses. Zoom lenses offer two real advantages: the ability to recompose without having to move the camera and it removes the need to swap over lenses while shooting, meaning photographers can travel lighter with fewer lenses.
Whether zoom or prime, each lens has its own set of unique characteristics in terms of optical quality and features. We've rounded up some of the best quality lenses suitable for the Canon Rebel SL3 (aka EOS 250D), choosing lenses that have minimal optical distortion, and limited color fringing – while offering good value for money.
Some lenses have additional and enhanced features such as image stabilization for steadying the scene while shooting at slower shutter speeds, and better lens coatings for reduced flare and ghosting when shooting toward the sun (or other light sources). It's also important to consider the quality of the dedicated autofocusing motors integrated into the lenses. Not only for speed and accuracy but also for silence when capturing video – whirring autofocus motors while videoing a scene isn't ideal.
The best lenses for Canon EOS Rebel SL3
Why you can trust Digital Camera World Our expert reviewers spend hours testing and comparing products and services so you can choose the best for you. Find out how we test.
Tamron has combined high-quality optical design with enhanced lens coating and Vibration Compensation (VC aka image stabilization) to provide an ultra-wide-angle zoom lens that's both lightweight and versatile for Canon shooters.
Low Dispersion lens elements linked with a Broad-Band Anti-Reflection coating retain sharpness and optical clarity whilst eliminating problems such as chromatic aberration and flaring. It has four stops of VC in the lens to allow for longer handheld shutter speeds without blurring and a 77mm filter thread means most filters, whether screw-in or slot-in, will fit without issue.
Read our full Tamron 10-24mm f/3.5-4.5 Di II VC HLD review for more details
For flexibility and at a reasonable price, there's no getting around the fact that the Canon EF-S 15-85mm f/3.5-5.6 IS USM has almost all other lenses beat. A zoom range that extends from wide-angle all the way up to telephoto focal lengths makes it suitable for almost any shooting scenario.
Aimed at beginners and enthusiasts this lens isn't the sharpest or most resilient lens in the world, and as an EF-S lens, this is only really suitable for crop sensor bodies, meaning photographers upgrading to full frame in the future will need to invest in new glass. But with four stops of image stabilization, a good autofocusing system powered by an UltraSonic Motor (USM), and a small form factor it's one lens you can leave on your Canon EOS SL3/250D and take anywhere.
Read our full Canon EF-S 15-85mm f/3.5-5.6 IS USM review for more details
As budget wide-angle lenses go for APS-C Canon cameras, the Canon EF-S 24mm f/2.8 STM is probably one of the most impressive. A wide aperture of f/2.8 lets attached cameras soak up the light – ideal for low-light scenes or fast-paced subjects that need to be frozen with fast shutter speeds.
Absolutely minute, this pancake lens is barely noticeable on the end of the Canon Rebel but its field of view combined with the crop factor on APS-C bodies provides an equivalent focal length of 38mm for natural-looking perspectives. The Stepper Motor Technology (STM) in the lens is near-silent and useful for some video work, too.
Read our full Canon EF-S 24mm f/2.8 STM review for more details
A lens every photographer should have in their camera bag at some point is a helpful 50mm lens – on a Rebel body, this equates to around 75mm. The Canon 50mm f/1.8 STM combines a low price point with an outstandingly wide aperture of f/1.8 for the most dreamy shallow depth of field and beautiful bokeh backdrops. Lightweight and small in size its portability makes it a great additional lens to pair with ultra-wide zooms or telephotos.
This prime lens is flattering for a range of photographic subjects, from portraits to landscapes, wedding details to food photography. The integrated STM speeds up autofocusing and keeps camera operation quiet no matter whether you're capturing stills or movies.
Read our full Canon EF 50mm f/1.8 STM review for more details
A macro lens is essential for extreme close-ups - and this compact version is designed specifically for Canon APS-C DSLRs. It offers full 1:1 magnification - which means that when at its minimum focus distance, the image recorded on the sensor is the same size as the subject itself. This makes it great for close-ups of flowers, insects, coins, and other miniature objects or details. But as with all macro lenses, it can be used for taking pictures of images at any distance - this becomes a great lowlight and portrait lens too.
While its 56mm equivalent focal length is maybe a touch short compared with rival macro lenses, it packs in useful macro-oriented features like a built-in LED light for throwing some extra illumination on your tiny subjects. In our full review, we found that the lens had a lot of impressive features to recommend it, like its speedy and precise stepping motor autofocus – though it's worth noting that we found sharpness to be a little lackluster at narrow apertures, which is a shame for a macro lens. Overall though, with a generous aperture of f/2.8, this is a solid buy, especially at second-hand prices. See other best macro lens options.
Read our full Canon EF-S 35mm f/2.8 Macro IS STM review for more details
With an equivalent focal length range of between approximately 112-480mm, the Canon EF 70-300mm f/4-5.6 IS II USM is a great choice for beginners and enthusiasts with crop sensor Canon bodies that want a little more reach.
It's the best telephoto zoom you can get without spending big bucks and is a good lens to complement the entry-level kit lenses that come with cameras like the Canon Rebel SL3/250D. Image Stabilization and USM autofocusing make it easy to produce reliably sharp images, even in low light, despite the limited aperture range throughout the zoom.
Read our full Canon EF 70-300mm f/4-5.6 IS II USM review for more details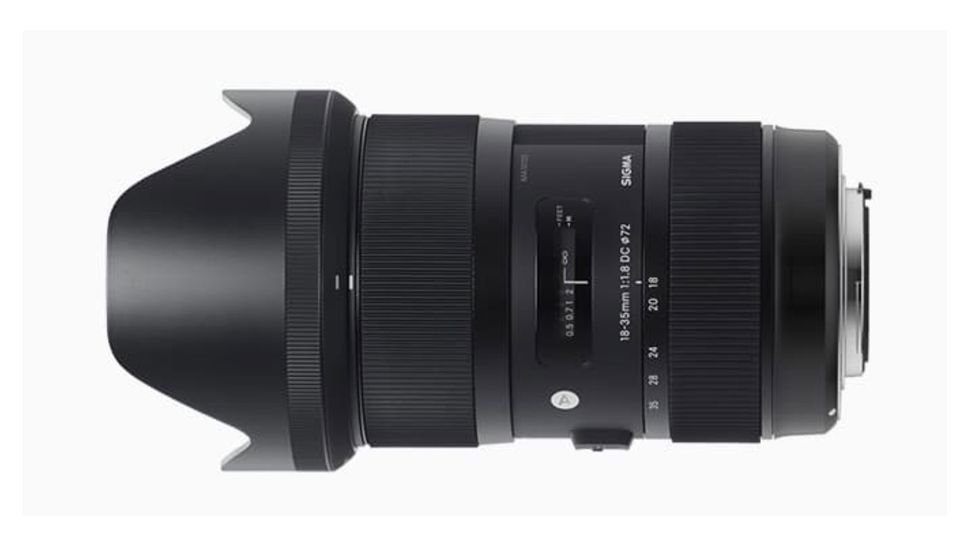 Although nearly a decade old, this versatile ultra-wide angle lens was the world's first f/1.8 constant aperture zoom lens for DSLRs and absolutely smashes low light performance. Typically, those who wanted to shoot apertures as fast as this would typically need to swap out their wide-zoom for a prime lens, but this lens offers greater flexibility in many shooting scenarios, especially for interior and astro photography.
Minimum focusing distance of 28cm means close-up subjects aren't out of reach.
It has improved durability through its tough brass bayonet mount. The HSM (Hyper Sonic Motor) ensures quiet, speedy autofocusing. A rounded 9-blade diaphragm in the lens prevents unwanted light source bursts and instead offers beautifully smooth bokeh.
Canon makes three different 85mm lenses for its DSLRs, as this focal length is often thought of as the best for portraits. This f/1.8 is not as fast as the other options - but its maximum aperture is perfectly adequate for blurring backgrounds and isolating the subject. And more importantly for many, it is by far the most affordable, and lightweight, option of the three.
Originally launched nearly 30 years ago for 35mm film SLRs, the lens has certainly stood the test of time and is equally viable for digital bodies.
The optical path is fairly simple, based on nine elements in seven groups, but includes Super Spectra coatings to reduce ghosting and flare. The ring-type ultrasonic autofocus system is fast, whisper-quiet, and has the usual full-time manual override with a purely mechanical linkage. Handling is good and the lens feels well-built although, typical of non-L-series models, it's not weather-sealed and you have to buy the hood separately.
Given the modest aperture rating, sharpness isn't particularly impressive when shooting wide-open but still sufficient for plenty of detail in the eyes. Color fringing and distortion are minimal. The quality of bokeh is very pleasing when shooting wide-open but the 8-blade diaphragm isn't quite as well-rounded as in some competing lenses, tending to give a noticeable octagonal shape to defocused points of light and bright objects when you stop down a little.
Read our full Canon EF 85mm f/1.8 USM review for more details
How we test lenses
We test lenses using both real-world sample images and lab tests. Our lab tests are carried out scientifically in controlled conditions using the Imatest testing suite, which consists of custom charts and analysis software that measures resolution in line widths/picture height, a measurement widely used in lens and camera testing. We find the combination of lab and real-world testing works best, as each reveals different qualities and characteristics.
Read more:
Best Canon cameras
Best Canon lenses
Best Canon wide-angle lenses
Best Canon telephotos