The Miofive 4K is a dash cam born out of a successful Kickstarter crowd-funding campaign that ended in 2021. The main feature here is 4K UHD resolution, but beyond that the Miofive also benefits from 64GB of integrated storage, fast 5GHz Wi-Fi for transferring footage to the company's own smartphone app, GPS, and a 2.2in IPS display.
There's also a battery, but at just 500mAh this is more for keeping the dash cam alive when it is accidentally unplugged, rather than completely cable-free option. A low-profile design means it doesn't take up too much space on your windscreen.
Other features include a seven-element lens with a 140-degree field of view, and Sony Starvis night vision technology.
Miofive 4K Dash Cam specifications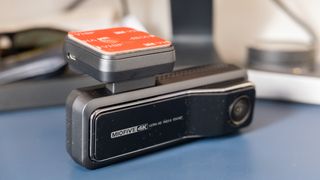 Resolution: 4K, 3840 x 2160
HDR: No
Field of view: 140 degrees
Display: 2.2in IPS
Battery: Yes, 500mAh
Voice control: No
Dimensions: 116 x 60 x 55mm
Weight: 145g
Key features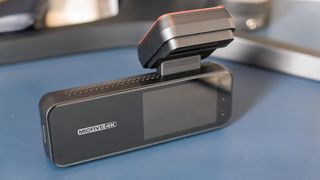 The big news here is 4K resolution. We have argued before that dash cams don't necessarily need so many pixels crammed into their footage, and parameters like exposure, stability and field-of-view are generally more important than outright resolution.
But here it feels like Miofive has incorporated a 4K imaging sensor without overlooking other key aspects, as we'll dig into in the next section.
Other key features include integrated GPS for accurate speed and locational data, and a battery for the ability to work without being tethered to a USB socket, albeit only for very short journeys. Unusually, the Miofive has 64GB of integrated storage instead of a microSD card slot, as used by almost all other dash cams. This type of storage, called eMMC, is claimed to have a lifespan 10 times longer than that of a microSD card, says the manufacturer.
Standout features also include 5GHz Wi-Fi for the quick transfer of video files from dash cam to smartphone – a must, considering the size of 4K recordings and how there's no removable microSD card to move files to a computer.
Build and handling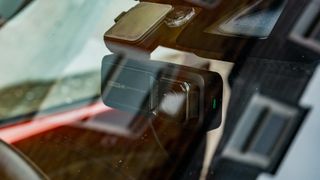 You can tell Miofive has thought about the design of this dash cam. Given how these devices are usually mounted high up on the windscreen, mostly behind the central mirror, it makes a lot of sense for the dash cam to be wide but shallow. This design means it should be out of sight in most vehicles, where it'll quietly get on with its job without distracting the driver.
Despite the shallow design, the Miofive still manages to house a 2.2in display that is perfectly adequate for navigating the camera's simple menu system and checking the camera's view. The latter is only really needed during initial setup, to ensure it's positioned correctly. But it's also convenient for quickly viewing footage captured by the camera, before transferring it to your smartphone for a closer look.
Overall, we think the Miofive has quite a sleek design compared to some of the more utilitarian dash cams out there, with a soft-touch plastic body, glossy front and back, and premium build quality. The integrated mount and hinge is compact, with a nice action but which only adjusts through about 30 degrees of movement; this should be enough for most windscreens, but could be an issue on older vehicles with more upright screens.
Performance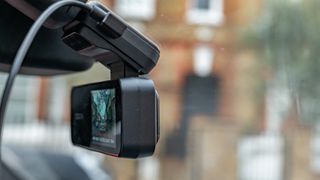 The 4K footage produced by the Miofive really is very good indeed. It is sharp and clear, with good color accuracy and carefully balanced exposure. We're still not entirely convinced that dash cam footage needs to be 4K resolution, but the results here are undoubtedly impressive.
The camera's simple operating system is easy to navigate via three touch-sensitive buttons next to the display, and Miofive's is one of the better dash cam apps we've used. A 5GHz Wi-Fi connection means footage transfers quickly to the app, and the process is all very straightforward.
However, 4K footage takes up a lot of space. Each one-minute portion of video captured by the Miofive weighs in at about 250mb when transferred to a smartphone, which means the integrated 64GB of storage is good for 4.5 hours of recording. This should be plenty, but the large size of 4K files is worth considering if you intend to record a lot of footage and transfer files frequently.
Verdict
We were pleasantly surprised by the Miofive. For a new company to launch its first product through a Kickstarter campaign, and for that product to be this good, is no mean feat. The dash cam is nicely designed, easy to use, and the 4K video footage it produces is top-drawer. Integrated storage will seem strange to anyone who is used to dash cams with microSD cards, but when paired with fast Wi-Fi tech it makes a lot of sense.
Don't be put off by Miofive's lack of track record. This is a quality dash cam.
Read more guides:
Best dash cams
Best front and rear dash cams
Best Uber dash cams
The best camera phones today
Best indoor security cameras
Best outdoor security cameras
The best action cameras
The best helmet cameras
Best backup camera