Nextbase has reimagined the dash cam. I know that's a big claim, but while it looks broadly similar to other dash cams on the outside, there are several significant differences when you delve under the hood.
Firstly, instead of being powered by a USB or 12V lighter socket, the Nextbase iQ connects to your car's OBD II port. These are found in the cabin of almost every vehicle and it gives the dash cam a constant supply of power, even when the car is turned off and without the need for the more complex hardwiring approach taken by others.
The iQ is also one of only a handful of dash cams to have a 4G connection. That means you can log into it from your phone while away from your car, where you can check in on your vehicle. The dash cam sends notifications to the app when the dash cam notices nearby movement or detects a collision while parked.
Add in 4K video recording, a second integrated camera for the interior, an optional third camera for rear-facing video, an emergency SOS function, and an upcoming feature that tracks the speed, distance, and trajectory of other vehicles, and the iQ promises to be one of the smartest dash cams ever made.
Nextbase iQ: Specifications
Resolution: 1080p / 1440p / 2160p
HDR: No
GPS: Yes
Connectivity: Wi-Fi, Bluetooth, 4G, OBD II (for power)
Voice control: Yes
Field of view: 140 degrees (forward), 180 degrees (cabin)
Display: Yes, but for status icons only
Battery: No
Parking mode: Yes
I've already covered most of the key features in the introduction, but it's worth focusing more closely on a couple of them here. Firstly, the power connection. I'm amazed that other dash cam companies don't all use the OBD II port because it's an easy way to tap into a constant source of power. Others can attach to the vehicle's fuse box (which is also possible with the iQ if you prefer), but that can make for a tricky installation.
With the iQ, I plugged it into the OBD II port of my car, which is beneath the steering wheel, then fed the power cable around the dashboard and to the top of the windscreen, where the camera mount attaches with adhesive. Now it fires up with the car, like any other dash cam, but it is also active while my car is parked and turned off. Nextbase says the iQ carefully draws power only when the car battery can deliver a certain voltage. When that voltage falls, the iQ shuts down. I've found no issues with power drain, or with my car not starting. Nextbase says the iQ should be able to run for several days at a time without the car being switched on.
Next up there's the 4G connection, which uses Vodafone in the UK and Europe, and T-Mobile in the US. This is included via a monthly rolling subscription priced from $9.99/£6.99 and gives access to live video streamed from the iQ to your smartphone, wherever you are in the world, and recordings (which are automatically uploaded to the cloud) are accessible via the app for 30 days. Paying for the more expensive $19.99/£9.99 tier increases this to 180 days and also adds the option for multiple user accounts and Emergency SOS, which contacts the emergency services with your location if you have an accident and don't respond to prompts from the iQ.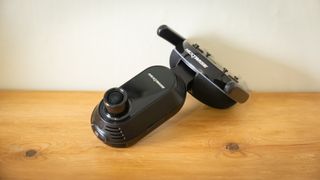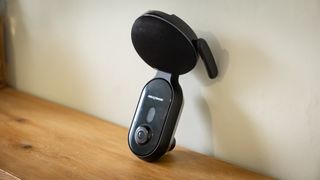 Nextbase iQ: Design & Handling
The iQ is pretty big for a dashcam, despite it not having a video display. Instead, there's only a small screen on the back for showing status icons like 4G signal strength. The two antennas can be positioned to face up or down, with the latter helping the iQ fit more neatly against the top of the windscreen. Although designed to fit behind the central mirror of most cars, it didn't fit behind mine. Admittedly, I drive a small car (a Mazda MX-5), but this means buyers in a similar position will have to put the iQ slightly to the side of the mirror, where it's more likely to partially block your passenger's view ahead.
All that said, the iQ feels very well made and certainly has the aesthetics of a premium product – and so it should, given the 4K example I'm reviewing here is $699 / £449. I also like how there's no distracting video display, and how a circular LED is used as a status light, like that of an Amazon Echo smart speaker. The dash cam's only button is for manually saving video and uploading it to the cloud (such as when you witness an accident but aren't directly involved).
There's a microSD card slot on the side and Nextbase includes a 64GB card in the box. Video is recorded here in both high and low resolution, so the iQ performs like a normal dash cam even if you decide not to pay the monthly fee.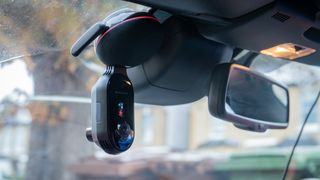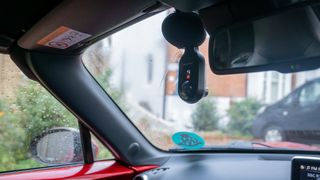 Nextbase iQ: Performance
Video quality from the 4K sample I'm reviewing here was superb, with great sharpness, accurate color, and a nicely balanced exposure. The system also works well at night, with infrared night vision used to help retain detail in the cabin after sunset. It's probably the best video quality I have seen from any dash cam, but then so it should be for the price. I haven't tried out the 1K ($499/£349) or 2K ($599/£399) versions to see how their quality holds up, but I suspect they will also perform well.
Also impressive is the iQ's power management, and how it neatly balances its need to function and my car's need to have enough voltage in the battery to start whenever I need it. Connecting to the iQ via the app usually works right away, providing both my phone and the dash cam have a half-decent 4G signal. It's just like checking on a home security camera, but one running from a cellular connection instead of Wi-Fi.
Notifications of potential threats, like someone lingering by the car, are quickly delivered to the phone app. If there really is a threat, you can activate an alarm from the app. Also quick is the iQ voice control system, which is used to enable Witness Mode. This starts a 30-minute video recording, uploads it to the cloud, and informs your pre-defined emergency contact, who is sent a link to view a live stream from the iQ. The microphone is also automatically turned on, and Witness Mode continues to function if the car is turned off. This feature could be useful if you're involved in road rage and feel threatened, or if you'd like a witness while talking to a police officer, for example.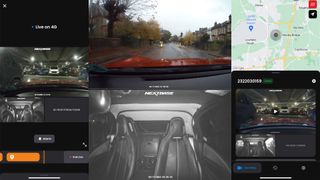 Nextbase iQ: Final Verdict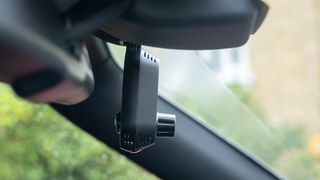 Four years in the making – and two years since it was first announced – the iQ is certainly one feature-packed dash cam. But instead of trying to wow with all sorts of driver assistance, the iQ focuses on what actually matters; it's a dash cam, but one that is easier to hardwire than most others, and with 4G that turns it into a security camera for your car.
It looks and feels like a premium product, the 4K footage is fantastic, and I found the 4G connection to be quick, stable, and mostly reliable. There's no getting away from the huge cost, especially if buying the 4K model, adding a rear camera (1440p resolution; prided at $199/£149), and going for the pricier of the two subscriptions (which are at least rolling and can be canceled at any time).
But for that high price, the iQ delivers something different from most other dash cams, and Nextbase also promises future improvements and upgrades via over-the-air software updates. With car theft a constant concern, especially in major cities, having a security camera in your vehicle adds an extra layer of protection, and it could also lower your insurance premium too.
See our guide to the best front-and-rear dashcams, and our guide to the best three-channel dashcams