Once upon a time, add-on phone lenses weren't all that they were cracked up to be – but the ShiftCam Videography ProLens Kit is actually pretty good. If you're a content creator that shoots mostly with your phone, these lenses are well worth investing in. It's no secret that cameras and lenses to shoot video can be expensive, so this relatively budget-friendly alternative will appeal to someone who doesn't have a lot of cash to splash.
Phones are so good these days that lots of on-the-go content creators are choosing to shoot with some of the best camera phones instead of the Best cameras for filmmaking or the best cameras for video. Not only does it make your shooting setup much smaller, but nearly everyone has their phone on them at all times – making it super convenient.
I only shot handheld using the 1.3x anamorphic lens and the 60mm telephoto lens, but I can only imagine that when paired with one of the best gimbals for your smartphone you've suddenly got a pretty powerful, pocket-sized video making tool. The universal adapter that you can use to attach the lenses to your phone even has an adapter on it, so you could attach a light or a mic.
Even handheld, so long as you've got a relatively steady hand, you can record some pretty impressive footage – and best of all, you get those beautiful anamorphic, horizontal lens flares when shooting with the 1.33x anamorphic lens. I think the 60mm lens is less exciting, but it is perfect for when you want to zoom in that little bit closer without using the digital zoom on your phone – and the quality is a lot better than your phone's standard lens.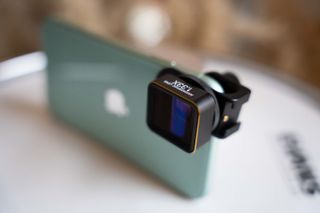 ShiftCam Videography ProLens Kit: Specifications
• 1.33x ANAMORPHIC LENS
Magnification: 1.33x
Angle: 113°
AR Coating: Multilayer
Deformation: -18%
Min Focus Distance: 70-90mm
Mount: M12 x P0.75
Weight: 33.1g
Length: 20.1mm
• 60mm TELEPHOTO LENS
Magnification: 2x
Angle: 48°
AR Coating: Multilayer
Deformation: -0.5%
Min Focus Distance: 10-15mm
Mount: M12 x P0.75
Weight: 80g
Length: 31.1mm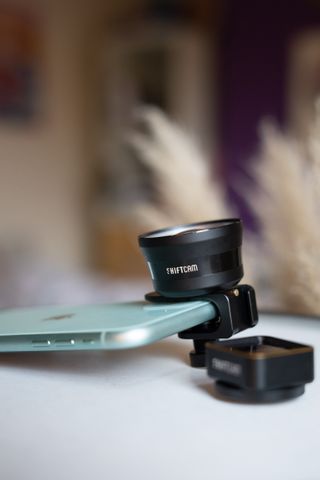 ShiftCam Videography ProLens Kit: Key Features
Both the 1.33x anamorphic lens and the 60mm telephoto lens have their place when creating cinematic video, but the anamorphic is definitely the more exciting addition. This is mostly due to the fact that it produces an effect you simply can't create in-camera, such as horizontal anamorphic lens flares and enabling you to shoot in a wider 21:9 aspect ratio.
The downside to it is that you will need one of the best video editing software packages such as Adobe Premiere Pro or Apple's Final Cut Pro in order to de-squeeze the footage and view it normally, but don't worry – the process is pretty simple and there are plenty of YouTube videos that can help.
If you're not too bothered about shooting ultra-widescreen footage, the 60mm telephoto lens will enable you to get twice as close to your subject without changing the proportions. Even though the telephoto lens is included in the Videography Kit, I found myself using it a lot more to shoot intimate portraits – not to mention you can't very easily combine the anamorphic footage and footage shot on the 60mm lens, as one has an aspect ratio of 21:9 and the other is the standard 16:9.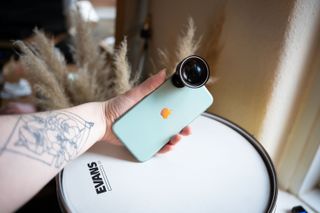 ShiftCam Videography ProLens Kit: Build and handling
ShiftCam has hit the nail on the head when it comes to the build and handling of its lenses. You might think that phone lenses would feel cheap, but you couldn't be more wrong. Both lenses in the Videography Kit have solid metal bodies with a very smooth finish. The 60mm telephoto lens comes with a hard, magnetic lens cap while the 1.33x anamorphic lens comes with a square rubber lens cap for protection.
I found it much easier to attach both lenses to my phone camera using the universal mounting system rather than the in-camera mounting system, as it didn't quite fit with my phone case and was fiddly to screw the lenses in. It does make the setup slightly larger, but it's easier to change – and the universal mount has the same quality metal build as the lenses, whereas the in-camera mounting system is made of plastic.
The one issue I had with the 1.33x anamorphic lens was that it was quite easy to knock the lens out of place, and I couldn't find a way to tighten it into position. This meant that some of the footage was unusable, as the lens flares went at a slight diagonal and things didn't align when I de-squeezed the footage in post.
ShiftCam Videography ProLens Kit: Performance
Watch: Sample video
Both lenses are capable of producing very good quality video, but the anamorphic lens is particularly impressive. I was pleasantly surprised by how good the lens flares looked and how much more cinematic footage seems just from being shot in a wider aspect ratio.
At first the anamorphic lens is a bit confusing to use, as you need to rotate it to ensure that it's recording in the correct ratio, but once you've sussed that out you shoot with it how you would regardless of whether you're using a mobile lens or not.
The 60mm telephoto lens is great for when you want to record something that's further away, for example a gig or performance. The one thing I am still struggling to work out is if there's a way to use both lenses to film one project. As far as I can tell it's not possible, since the 60mm telephoto lens records in an aspect ratio of 16:9 while the 1.33x has an aspect ratio of 21:9 once it's been de-squeezed, so standard footage wouldn't be wide enough to fit the frame.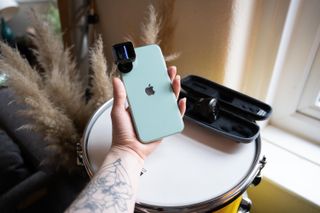 ShiftCam Videography ProLens Kit: Verdict
I really enjoyed using both lenses from the Videography Kit but, if i was going to choose just one to keep on me at all times, it would be the 1.33x anamorphic. There are a few reasons for this; not only does it make your footage look really cinematic, but it's also nice to be able to view it in a much wider aspect ratio and you can't achieve the effect it creates without it.
These lenses certainly aren't a substitute for using a dedicated video camera that comes with a range of codecs to choose from, but they are perfect if you're going away for the weekend or hopping on a flight where there are baggage restrictions. I wouldn't shoot something for a client using the lenses, but they are great for shooting videos to share with friends and family on social media.
For business owners who are looking to improve their social media content but aren't in a position to fork out for a photographer or videographer, this kit would be a viable alternative. It's certainly not going to replace a professional videography kit, but it's perfect for anyone who wants to dip their toes into the world of cinematography.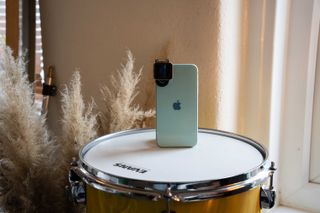 Read more:
Best free video editing software
Best iPhone for photography
Best LED light panels