In any landscape shot, the sky can be just as important as the landscape itself, but the different in brightness between the sky and the land can be an issue. Here's how to enhance and improve skies in Lightroom.
Welcome to the seventh instalment of our Lightroom series, first published in Digital Camera magazine (see below for subscription offers).
If you are already a Lightroom user, you could discover some new tricks and processes you haven't tried yet. If you don't use Lightroom, then scroll down to the bottom where you'll discover how to get it and which Adobe Photography Plan is best.
Note: This article was written for Lightroom 6. The panels and control have changed since then, but the tools and the concepts are the same.
When you shoot landscapes, you'll see that the sky in your photos is often much brighter than the ground. Traditionally, experienced landscape photographers use graduated neutral density filters, which have a darkened top with a clear bottom, in front of the lens. They're usually measured in exposure reduction, so you'll see one-stop graduated neutral-density filters for example. The tint is grey on these, so they don't change the colour in the sky.
These filters still have a place in digital photography to get the best look in-camera, but Lightroom allows you to recreate these filters digitally, with more options for changing the exposure or colour in the sky.
• See more Lightroom tutorials
1. Graduated Filter controls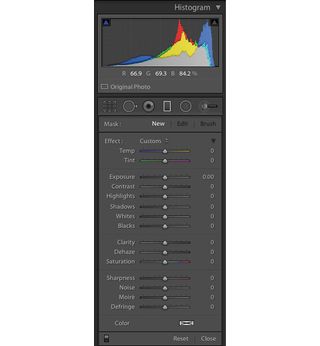 Open the Graduated Filter from the Toolstrip under the Histogram in Develop. You can also use the keyboard shortcut M. If you need to reset the current settings, double click on the Effect text.
2. Get the look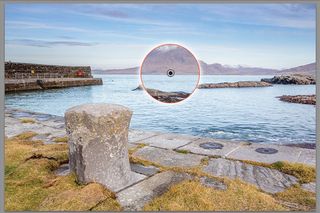 Click above the skyline and drag down until you're below it. If you want a hard line on the horizon, only drag a short distance. For a softer look, drag much further. To keep the filter straight as you drag, hold the Shift key. To change position, click and drag the pin.
3. The Dehaze slider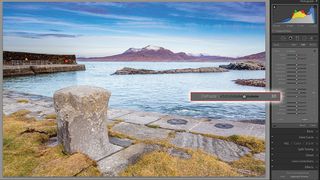 For skies, you should start with the Dehaze slider. This removes the haze, but at the same time increases contrast and saturation. It also darkens the area it works on, which is why it's good to use before or instead of changing exposure. I've gone for a value of 30 here.
4. Exposure slider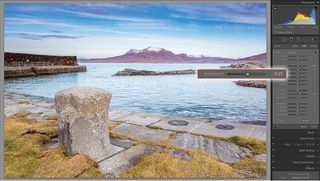 If Dehaze has darkened too much, or if you prefer the sky darker, go to Exposure and change it to get what you want. For this image, I increased the exposure subtly (+0.25) to bring better balance to the sky. (The original image did use a real ND grad filter but it wasn't strong enough. Dehaze has darkened it too much.)
5. Highlights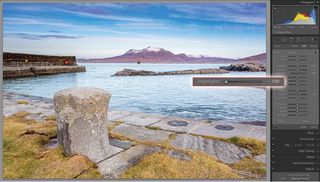 If there's a lot of cloud, you can pull the Highlights slider down to stop them being too bright. Don't be afraid to go the whole way down – you can always go back!
6. Contrast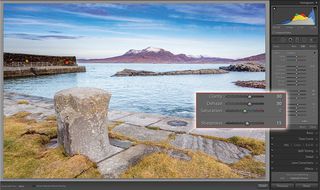 There a few other options worth using. Tweak Sharpness to better define the clouds (+15); view the image at 1:1 when changing this. Increase Clarity (+30) to boost local contrast. You may want to have a go at adjusting Contrast too.
Expert tip: Built-in Brush Tool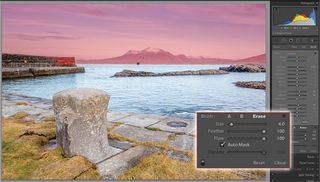 The Graduated Filter is a linear tool, so anything that's above the horizon will take on the effects you apply to the sky. Lightroom has a fix for this: in the Mask section, select Brush. From the Brush section that appears, select the Erase brush. Change Size and Feather to Taste. Generally I leave Flow and Density at 100.
Auto Mask should be on if the part you want to remove has hard edges. To make the Mask (the area where the Grad is working) more visible, press O to show a red overlay.
Use the Erase brush to remove the mask from the area you need to bring back. In this image, I'm clearing the mask off the pier to bring it back to normal. It's great for bringing foreground elements back to where they were before you applied the Graduated Filter.
About Digital Camera magazine
This tutorial originally appeared in Digital Camera Magazine, the monthly newsstand magazine for all photographers. Why not subscribe to a print edition, and have the magazine delivered direct to your door every month?
Alternatively, we have a number of different digital options available, including:
• Apple app (for iPad or iPhone)
• Zinio app (multi-platform app for desktop or smartphone)
• PocketMags (multi-platform app ideal for Android devices)
• Readly (all-you-can-eat digital magazine subscription service)
If you wanted a printed version of any of our most recent issues we have a selection of back issues to choose from in our online store.
How to get Adobe Lightroom
Adobe Lightroom is available in two versions: the regular Adobe Lightroom Classic CC designed for desktop users, which is what we cover in this series, and a new cloud-based Adobe Lightroom CC, which stores your files online and offers a similar but reduced set of features. For regular desktop users we recommend Adobe Lightroom Classic CC.
Adobe offers three subscription based Photography Plans which you can click on below. We recommend either the regular Photography Plan, or the Photography Plan (1TB) which costs more but comes with 1TB online storage in case you decide to go with Lightroom CC.
For this set of tutorials and for anyone who likes to work on a single main computer, we recommend the regular Creative Cloud Photography Plan. This is the cheapest way to get started AND it comes with Photoshop CC too.
Contract Length
Read more:
• This is the best photo-editing software today
• These are the best laptops for photographers right now
• We help you choose the best desktop computers for photo editing