It really doesn't matter what your favorite genre is or what kind of camera you're using – all photographers are fascinated with mist. And it's no surprise; a foggy haze can transform even the most generic location into a photo opportunity that's dripping with atmosphere.
While autumn and winter months are prime time for fog and mist photography, incredible photo opps can present themselves when you least expect them – so keep your eyes peeled on weather apps, and if you're an early riser we'd recommend keeping your best camera bag loaded so you can take advantage of the often fleeting phenomenon at a moment's notice. Shooting in this attractive type of weather comes with its own set of challenges, though.
• Looking for photoshoot ideas?
Poor visibility can make foggy photographs lack depth, and autofocus systems can struggle to lock focus in conditions with low contrast. Receiving an accurate exposure reading can prove troublesome, too; as with snow, largely white surroundings mean that cameras have a tendency to underexpose images. All of these difficulties really do depend on the conditions you're working in and are, thankfully, easy to remedy.
The real challenge, though, is capturing a shot that stands out from the crowd. Although misty images almost always look fantastic, you'll need perfect conditions and a stunning subject to really rise above the rest. Here's how to get your camera settings spot on when you head out on the next misty morning, so you can focus on finding that marvelously moody shot…
How to shoot a misty scene
1. Create depth
Capture an isolated subject in thick mist, and the background will probably appear quite flat. Minimalist photographers often use this to their advantage, but if you want to add depth to your image, choose a scene with plenty of layers. Trees lining a path are a good example; the evenly spaced vegetation becomes increasingly shrouded, adding a greater sense of depth.
2. Frame game
If you shoot handheld, boost your ISO to compensate. Due to the precise nature of our composition, we used a tripod to compose our shot. Live View enables you to use the grid and virtual horizon overlays to refine your framing further, and a two-second self-timer helps to prevent camera shake at slow shutter speeds.
3. Exposure comp
You can use the Manual or Aperture Priority shooting modes, but the latter has the advantage of allowing you to use exposure compensation. This is particularly handy when shooting in misty conditions, because the white fog can cause your camera to underexpose images (similar to shooting in snow). A stop or two of positive exposure compensation will combat this.
4. Build a bracket
If you don't have time to try different exposure compensation values, you could use bracketing to shoot a sequence of shots at different exposures. The above images were taken in 1-stop increments, but you could try smaller increments or a longer sequence, if necessary. You can then select the best image in post or even combine the sequence as a HDR image.
5. Settings
You can use wider apertures in thick fog as poor visibility will neutralize large depths of field. Since we had relatively good visibility and a tripod we used an aperture of f/11. We had no trouble locking focus in AF, but if poor contrast proves troublesome you can switch to MF. Either way, make sure you zoom into Live View to check your focus.
6. Don't stop me now
Misty conditions can change quickly, so don't be afraid to spend 30 minutes or more at your location. A sudden burst of sunlight could produce attractive rays, or a thick fog might disperse slightly to reveal more of the scene.
• Try a tripod for magic misty shots: Best tripods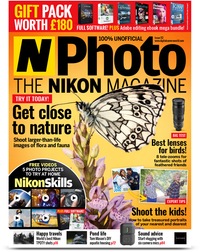 N-Photo: The Nikon Magazine is a monthly publication that's entirely dedicated to Nikon users. For the best news, reviews, projects and more, subscribe to N-Photo today!
Read more
Add realistic mist to your landscapes
The best camera bag for travel
Best cameras for landscape photography
Best camera for beginners