With the Sony FE 300mm f/2.8 GM OSS, the telephoto trinity (encompassing the Sony FE 400mm f/2.8 GM OSS and Sony FE 600mm f/4 GM OSS) is finally complete, covering the bases for professional sports photography.
I've been waiting a long time for this lens, given that the last one from Sony was for the A-mount back in 2008, but the wait has been rewarded with the lightest 300mm f/2.8 ever made. Weighing significantly less than Canon and Nikon's (admittedly DSLR-era) equivalents, the Sony FE 300mm f/2.8 GM OSS really has been designed with handheld shooting in mind.
I had the chance to test this lens with the mighty Sony A9 III, at an Olympic training facility with athletes preparing for the 2024 Paris Games, so I was really able to put it through its paces in a true shooting scenario – all the way up to the crazy 120fps offered by the A9 III. How did the Sony FE 300mm f/2.8 GM OSS hold up?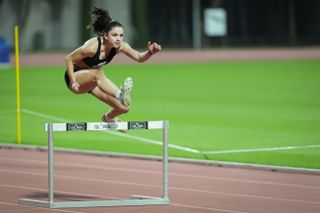 Sony FE 300mm f/2.8 GM OSS: Specifications
Swipe to scroll horizontally
| | | |
| --- | --- | --- |
| Mount | Sony E | Row 0 - Cell 2 |
| Full-frame | Yes | Row 1 - Cell 2 |
| Autofocus | Yes | Row 2 - Cell 2 |
| Stabilization | Yes | Row 3 - Cell 2 |
| Lens construction | 21 elements in 17 groups (incl 1 filter) | Row 4 - Cell 2 |
| Angle of view | 8°10' | Row 5 - Cell 2 |
| Diaphragm blades | 11 | Row 6 - Cell 2 |
| Minimum aperture | f/22 | Row 7 - Cell 2 |
| Minimum focusing distance | 2m | Row 8 - Cell 2 |
| Maximum magnification ratio | 0.16x | Row 9 - Cell 2 |
| Filter size | 40.5mm | Row 10 - Cell 2 |
| Dimensions | 124 x 265mm | Row 11 - Cell 2 |
| Weight | 1,470g (excl tripod ring) | Row 12 - Cell 2 |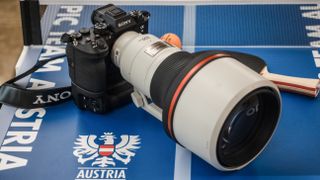 Sony FE 300mm f/2.8 GM OSS: Key features
As the 19th lens in Sony's G Master range, Sony reminded me that GM lenses offer a "supreme blend of high resolution and beautiful bokeh". As such, the Sony FE 300mm f/2.8 GM OSS features 11 aperture blades for circular bokeh and affords "careful control" of spherical aberration.
In order to keep up with cutting-edge AF systems, it features an optimized algorithm and twin XD dynamic linear motors – a setup that drives fast and precise autofocus, with low vibration and minimal noise, all the way down to f/22.
When you need to override the automation, you can take control with full-time direct manual focus. While it doesn't have hard stops at either end of the focus range, the large focus ring is smooth and I found that it offered pleasing bite and resistance.
A fingertip in front of the focus is a customizable function ring. However, unlike the control rings on Canon RF lenses (which are typically clicked and can be turned infinitely), this ring features a rocker motion that offers mouse click-like switching between the settings of your choice – such as toggling between full frame and APS-C shooting, where the equivalent focal length is 450mm.
Speaking of focal lengths, the 300mm f/2.8 is compatible with 1.4x and 2x teleconverters – where it becomes an effective 420mm f/4 or 600mm f/5.6 respectively.
The lens features optical image stabilization, though Sony couldn't confirm how many stops of compensation it offers. The system offers three modes: normal (for still to slow subjects), panning (for lateral movements), and dynamic (for unpredictable shots).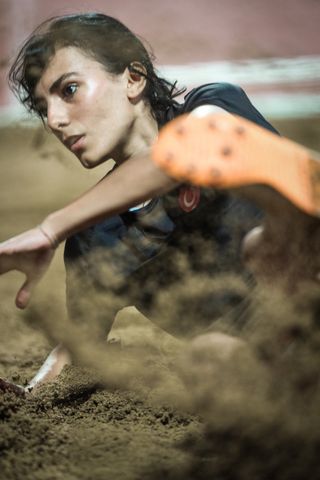 Sony FE 300mm f/2.8 GM OSS: Build & handling
Even though it's marketed as the world's lightest 300mm f/2.8, I was still surprised at just how small and light this lens is (at 265mm long and 1,460g in weight). And that's not just compared to full frame rivals – that even includes the Olympus M.Zuiko 300mm f/4 Pro (227mm, 1,270g), which is a Micro Four Thirds lens!
While it comes with a tripod collar – the foot of which quickly and easily unclips – this really is a lens designed for handheld shooting. The optical formula backloads the heaviest elements towards the camera body, so it feels incredibly well balanced. Long lenses like this can be very nose-heavy, but I found it nimble and easy to pivot even when tipping it up or down along the vertical axis.
On the subject of the tripod collar, I'm always a bit disappointed when there aren't clicks or stops every 90°. These are extremely useful when rotating your camera to shoot in portrait orientation, to make sure that the horizon is exactly level, so it's a notable omission here.
Still, the magnesium alloy construction feels as rugged and robust as you would expect of a premium pro lens, with weather sealing and a fluorine coating. I got a little closer than expected when photographing a long jumper, and ended up with a lens (and a face) full of sand – but the 300mm took it in stride (the same couldn't be said for me).
There is no front filter thread on the lens, but 40mm drop-in filters along with an optional circular polarizer can be inserted at the back of the lens, just in front of the mount. It features a very secure twist latch that was, in fact, so secure that I needed somebody to help me with it the first time.
Sony FE 300mm f/2.8 GM OSS: Performance
I was able to torture test the Sony FE 300mm f/2.8 GM OSS under the most extreme conditions, photographing Olympic athletes as they trained for the 2024 Paris Games. And given that I was testing it with the Sony A9 III, shooting at 120fps, it was being challenged just as much by the hardware behind the lens as the action in front of it.
It kept up every step of the way, though, whether I was panning with athletes as they sprinted from left to right, or keeping them in frame as they raced head-on towards the lens. Those dual XD linear motors are quick as a hiccup, flicking from faraway to close-up subjects as fast as a starter's pistol.
In terms of optical characteristics, ghosting and flare are very well controlled thanks to the Nano AR II coating, though the bokeh balls aren't quite as circular as you might expect and tend to cat's eye towards edges and corners. The rest of the bokeh, though, is dreamily creamy. While this obviously isn't a portrait lens, take a look at the headshot below to see how effectively it renders the background a smear of smush.
Our complete suite of lab testing (coming soon) will tell the full tale, but from my field testing I'm pretty blown away by the sharpness of the 300mm GM. Whether it's the drops of sweat on an athlete's brow or the individual grains of sand kicked up in the long jump pit, everything is pin-sharp from f/2.8 on down – even deep into the corners.
I'm not entirely sold on the customizable control ring, though that might be because I'm not used to it yet. Unlike the fully rotating control rings on Canon lenses, though, which I set to aperture when I'm shooting video, I don't have a personal need in my workflow to use this rocker-switch ring. Maybe it could likewise be used for a video setting but, as more of a binary control than an analog one, I'm perfectly content with the four customizable buttons.
Sony FE 300mm f/2.8 GM OSS: Sample images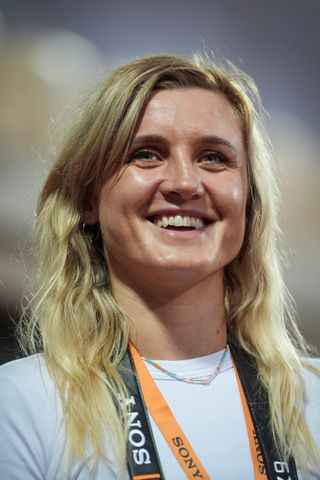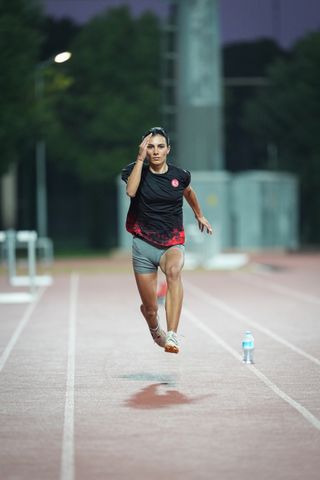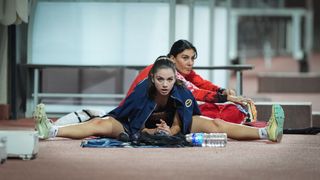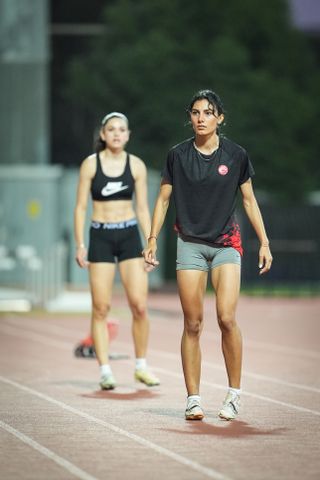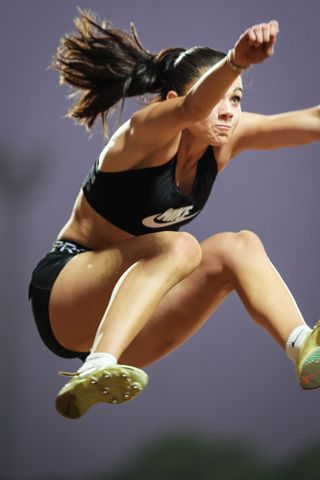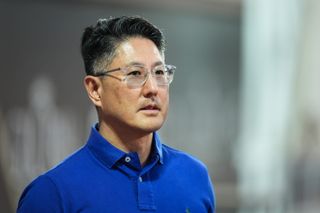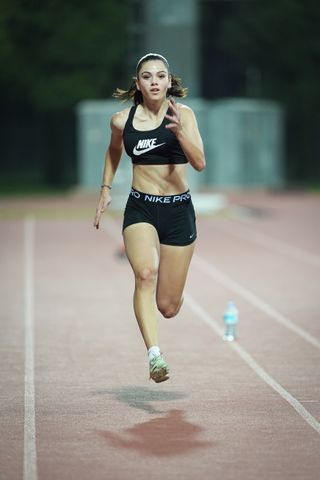 Sony FE 300mm f/2.8 GM OSS: Early verdict
Only an absolute disaster in our upcoming lab tests could change my mind on this – this is a truly phenomenal lens, both in terms of its physical size and its optical performance. Sony may have made me wait 15 years for it, but the Sony FE 300mm f/2.8 GM OSS is so good that I somehow feel okay about that.
Small, snappy and sharp, this might be the best 300mm lens I've ever used. Of course, it comes with a price to match – but remember that this is a professional lens, intended for professional use. And with that caveat, it's worth every one of its many pennies.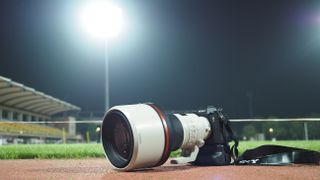 The 300mm f/2.8 is one of the best Sony lenses, along with one of the best telephoto lenses – and obviously one of the best lenses for sports photography, too!