As a 'DG' rather than 'DC' lens, the Sigma 14mm f/1.8 DG HSM Art was originally designed for full-frame Canon and Nikon DSLRs, rather than mirrorless cameras. Like a few other lenses from Sigma's 'Global Vision' line-up, it has subsequently been made available in Sony E and Leica L mount options, making it natively compatible with mirrorless cameras including Sony Alpha and Panasonic S system models, although unlike DC lenses, it wasn't designed from the ground up for mirrorless bodies.

The combination of a short 14mm focal length and bright f/1.8 aperture made the Sigma a world-first when it hit the market back in 2017. Sony followed suit a few years down the line, launching a directly competing FE 14mm F1.8 G Master lens in 2021. The Sony is the same price as the Sigma but an inch shorter, half and inch narrower and less than half the weight, at 460g compared with the Sigma's 1,170g. Naturally, that's a moot point if you're shooting with anything other than a Sony mirrorless camera.
Specifications
Mount: Canon EF, Leica L, Nikon F, Sony E (FE), Sigma
Full frame: yes
Image stabilization: No
Autofocus: Yes
Lens construction: 16 elements in 11 groups
Angle of view: 114.2 degrees
Diaphragm blades: 9
Minimum aperture: f/16
Minimum focusing distance: 0.27m
Maximum magnification ratio: 0.1x
Filter size: N/A
Dimensions: 95x126mm
Weight: 1,170g
Key features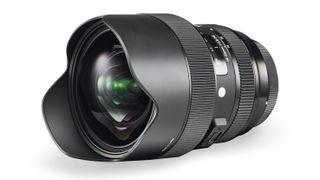 The key features of this lens are its ultra-wide viewing angle and fast aperture. As such, it's particularly well-suited to low-light photography, ranging from dusk, dawn and nighttime cityscapes to a star-studded night sky. But while astrophotography features large in Sigma's marketing of the lens, it's also an excellent choice for architectural interiors, sweeping landscape vistas, and indoor or floodlit sports, where you want a bright aperture to maintain fast shutter speeds to freeze motion, without bumping up your camera's ISO setting too much.

For astrophotographers, its f/1.8 maximum aperture has the instant effect of being able to do in about 10 seconds – and often far less – what normally takes 25-30 seconds. In short, it finds the Milky Way a lot quicker, and even puts it on the camera's LCD screen.
The optical design incorporates three top-end FLD (Fluorite-grade Low Dispersion) elements and four SLD (Super Low Dispersion) elements, aiming to boost sharpness and clarity while keeping chromatic aberrations to a minimum. Following on from the Sigma 12-24mm f/4 DG HSM Art, the 14mm inherits a large-diameter precision-molded glass aspherical element at the front, with an oversized 80mm diameter. It's a technological and manufacturing challenge that pays dividends in terms of image quality.

Typical of ultra-wide-angle lenses, the front element is quite bulbous and protrudes beyond the front of the barrel. As such, the lens features an integral hood that offers physical protection as well as reducing ghosting and flare. However, it precludes the provision of a filter attachment thread at the front of the lens.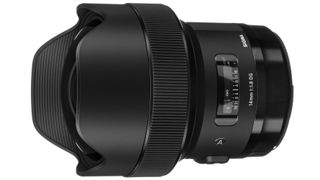 Build and handling
As an 'Art' lens, the Sigma 14mm lens is designed with the goal of ultimate image quality, without any concessions to driving down the size and weight. The Sigma 50mm f/1.4 DG HSM Art and 85mm f/1.8 DG HSM Art lenses in the line-up are particularly big and weighty for their breed, and the 14mm follows suit. Measuring 95x126mm and weighing in at 1,170g, it's a big, hefty lens that's not to be taken lightly.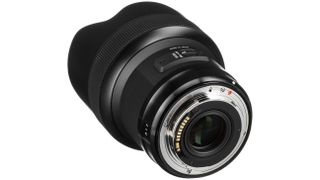 The lens has a really solid-feeling construction and feels beautifully built, right down to its weather-sealed brass mounting plate. Unlike many of Sigma's later lenses designed for mirrorless cameras, the 14mm has a ring-type ultrasonic autofocus system, rather than being based on a stepping motor. This has the handling benefit of a focus distance scale that's mounted beneath a viewing window, and comes complete with depth of field markers which are ideal for zone focusing – a method where you can set the nearest and furthest parts of a scene which will remain nominally sharp, at various different aperture settings.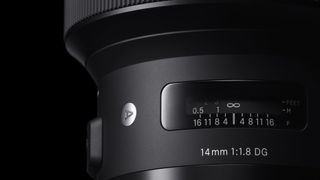 Performance
Autofocus proved fast and reliably accurate in our tests, while the ring-type ultrasonic autofocus system enables full-time manual override. When overriding autofocus or focusing manually, the mechanically coupled focus ring works with smooth precision. Unlike lenses with stepping motor-based autofocus that have electronically coupled focus rings, you don't need the host camera's exposure system to be active to apply manual focusing, as no electronic power is required.

Levels of sharpness are excellent, from the center of the frame right out to the extreme edges and corners. Impressively for such a fast, wide-angle lens, they remain that way even when you're shooting wide-open at f/1.8. Image quality is equally impressive in terms color fringing, which is negligible across the whole frame, at all aperture settings. Barrel distortion can be noticeable when uncorrected but it's of a fairly small amount and of a much lower order than in many more recent lenses designed for mirrorless cameras, which rely heavily on in-camera correction.
Use the Sigma 14mm f/1.8 for astrophotography and concerns about which ISO setting to use pretty much become a thing of the past. Instead of trying to maximise the amount of light coming into a f/2.8 lens by braving higher and higher ISO settings (and thus battling noise in post-editing), having access to the f/1.8 chops of the Sigma 14mm means ISO can be left on a conservative setting.
Used on the Milky Way at f/1.8 for 10-25 seconds at ISO 3200-4000, the results on a full-frame Canon EOS 6D were impressive. Put simply, collecting more light gives you a lot more options. For example, a 25-second shot on a f/2.8 lens gets the Milky Way looking bright, but only after it's been teased-out on Photoshop.
Using the Sigma Art 14mm, the Milky Way is right there in the LCD on the back of the camera, especially if the exposure time is 20 seconds or more. You can frame a shot more easily while out in the field, but the real benefit is a clean image.
Since the shutter is open for less time to capture the same amount of light, it means using a lower ISO. A shorter exposure and a lower ISO means less noise. Shorter exposures also means sharper stars with less trail. It's win-win.
In fact, you can add another win, because its f/1.8 setting also means a shallow depth of field, so when used in daylight it's easy to create shots featuring a clean and seamless bokeh effect. Add to that some fine detail, excellent contrasty colours, and a near-silent auto-focus, and it's quite a package.
However, the Sigma 14mm f/1.8 is not perfect. It chronically weighs down you camera bag, which is galling if you only intend to use it occasionally at night.

The only niggle for astrophotography and nighttime cityscapes with lots of pinprick lights is that, when shooting at f/1.8, coma and astigmatism can be noticeable towards the corners of the image frame, which give stars and lights an irregular shape. Even so, it's not overly bad and these aberrations virtually disappear if you narrow the aperture by a single f/stop.
Sample image gallery
Lab results
We run a range of lab tests under controlled conditions, using the Imatest Master testing suite. Photos of test charts are taken across the range of apertures and zooms (where available), then analyzed for sharpness, distortion and chromatic aberrations.

We use Imatest SFR (spatial frequency response) charts and analysis software to plot lens resolution at the center of the image frame, corners and mid-point distances, across the range of aperture settings and, with zoom lenses, at four different focal lengths. The tests also measure distortion and color fringing (chromatic aberration).

Sharpness: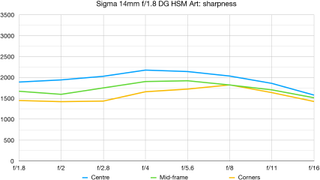 It's no mean feat to create such a wide-angle, fast-aperture lens that's so sharp across the whole image frame, even wide-open at f/1.8. The inclusion of a large-diameter precision-molded glass aspherical element at the front and multiple FLD and SLD elements contribute to the achievement.

Fringing: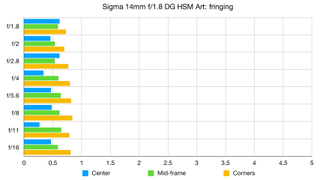 There's only negligible lateral chromatic aberration, even at the extreme edges and corners of the frame. The lens also does very well to minimize axial chromatic aberration, which causes fringing around high-contrast transitions in front of and behind the plane of focus at wide apertures.

Distortion: -2.87
There's a little barrel distortion which can be noticeable when uncorrected in-camera or at the editing stage, but it's of quite a low order.
Verdict
Designed primarily for Canon and Nikon DSLRs, the Sigma 14mm is also available in Sony E and Leica L mount options for compatible mirrorless cameras. Full-frame compatible, it launched back in 2017 as the world's first lens to combine such a wide viewing angle with a bright f/1.8 aperture. We use the word 'launched' advisedly, as Sigma markets the lens as being ideal for astrophotography.
The Sigma records about twice as much light as any other astrophotography lens around, and as such it's so, so useful in creating more impactful night sky photos. In fact, it's as much about taming this light bucket of a lens as it is about getting the most out of it, and generally the best results come from using shorter exposures times and a lower ISO, which means clean and sharp images of the night sky.
It's actually great as a general-purpose ultra-wide prime but, when shooting at f/1.8, noticeable coma and astigmatism toward the corners of the image frame put a slight dent in its otherwise excellent performance.
Read more:
• Best camera lenses to get
• Best Canon lenses
• Best Nikon lenses
• Best Sony lenses