The OnePlus 8T is official, shaking up the line's design and returning to a flat-screen finish, it combines flagship power with a stunning 120Hz display and very fast charging.
Pricing is a touch confusing this time around. In the US, the phone can be had for $749, with 256GB storage and 12GB RAM. In the UK, it's available from £549 with 128GB storage and 8GB RAM, or the higher capacity version (256GB storage and 12GB RAM) is at £649. Confused? Indeed - and we haven't even come onto the regional differences with colors or the price in India.
• The best OnePlus phones in 2021
That means the 8T is a more accessible phone outside the US, and in its entry-level spec, keeps the cost in line with its predecessor, the OnePlus 8. Add to the mix faster charging, a higher refresh rate screen and Android 11 with Oxygen OS 11, OnePlus's latest interface, and the phone's off to a sensational start on paper.
Design and screen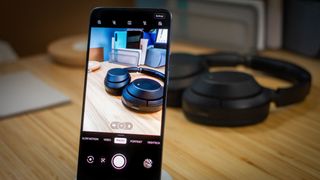 Combining a 6.55-inch screen size and a 2400 x 1080 resolution, the OnePlus 8T is a familiar, but special 2020 smartphone from the front. It's tall, has a tiny punch hole camera, tiny bezels and a seriously premium look to it.
This sense of premium extends to every scroll and swipe with the phone's high refresh rate screen climbing from 90Hz on the OnePlus 8 to 120Hz on the 8T. The Fluid AMOLED panel is deep and inky, and with punchy colors and great brightness levels, not to mention strong viewing angles, it's a hole-punch in one for OnePlus.
Turn the phone around and things only get better, as the buffed metal frame reflects light beautifully. As OnePlus's new take on frosted glass creeps into view, it looks striking. Color options include Aquamarine Green and Lunar Silver, and the finish does a better job of keeping fingerprints at bay than they did on the 8 or 8 Pro.
At the base of the phone, there's a USB-C port. On the right side, a OnePlus trademark: the alert slider and power button, while to the left is a volume rocker. The camera bump on the back is very reminiscent of that of the P40 Pro, only a bit smaller, and the general curve appeal of the whole phone ensures it sits comfortably in the hand.
Cameras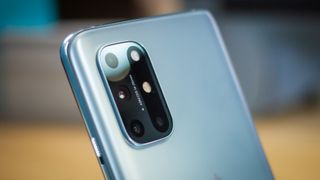 The OnePlus 8T's main camera module features a 48MP setup with a Sony IMX586 sensor, 0.8-micron pixels, OIS and EIS, and an f/1.7 aperture lens.
The Sony IMX481-powered 16MP ultrawide camera sports an f/2.2 lens and a 123-degree field of view. That makes it OnePlus's widest ultrawide to date.
There's no telephoto camera on the 8T, but you do get a 5MP macro camera that grabs photos of subjects as close as 3cm, and there's a 2MP monochrome lens too. With a front camera resolution of 16MP, the IMX471 selfie-sensor sports 1μm pixels, and an f/2.4 aperture.
Shooting modes cover your usual options: Time-Lapse, Panorama, Slow Motion, Video, Photo, Portrait, Nightscape and Pro. Pro mode offers up a max shutter speed of up to 30 seconds, and the manual ISO climbs up to a typical 3200. One element we're big fans of is the ability to customize the camera interface, so you can choose which modes are easily accessible, and which are hidden within a menu. With 4K video capture climbing up to 60fps, and Super Stable video for GoPro-esque smooth shooting, the 8T is also across the board competitive from a video point of view.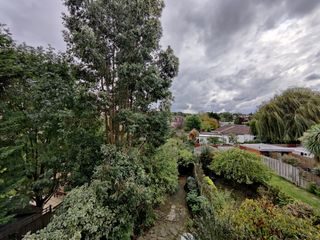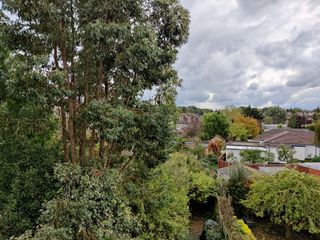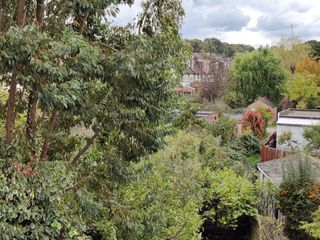 Camera performance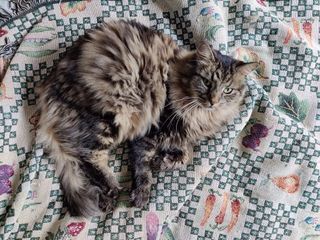 Despite the fact OnePlus has loaded up the 8T with an IMX 586, a sensor we've seen countless times before (most recently on the OPPO Reno 4 Pro), the 8T doesn't fail to impress.
Detail is very good, and the OnePlus 8T's dynamic range in darker areas is better than we've seen on many other implementations of the sensor. The combination of OIS and EIS compensates for handshake well, with photos taken in well to mediocrely lit conditions looking decent.
Colour and saturation are consistent across all three cameras, so that's a boon, and while the white balance can get confused by harsh light sources, for the most part, colors are reliable. Most interestingly, results are noticeably better than those from the almost identically specced OnePlus Nord, which helps the OnePlus 8T justify its higher price.
Dynamic range on the ultrawide camera can't stack up to that of the main module, and the lens correction has its work cut out for it - turn it off and there's some pretty extreme edge pinching going on. That said, it is indeed ultra-wide, capturing a huge amount of information - softer than the primary camera, it's still loaded up with detail.
Noise handling is also impressive on the 8T. The automatic mode puts forward a solid effort to denoise dark scenes, and the Nightscape mode brightens them up dramatically while pulling out significantly more color and tonal detail. The OnePlus 8T isn't Huawei good in low light, but it's amongst the best we've seen from OnePlus to date.
As for video capture, there's something going on with the software that clearly needs an update. When you ramp up the resolution to 4K at 60fps, the viewfinder looks incredibly shaky. Watch it back, however, and everything is much, much better - beautifully stabilized. Drop the resolution to Full HD and things smooth out in the preview, so we anticipate OnePlus will be fixing this quirk down the line.
The selfie camera has a habit of oversharpening shots, which is odd for a front camera. That means on occasion, it's even less flattering than the rear camera.
It's a real shame there isn't a telephoto camera on the OnePlus 8T. The more affordable Realme X50 5G sports one, and in turn, performs better at a distance. Additionally, the macro camera is a bit of a waste of space in all but beautifully lit, perfectly stationary situations, and the black and white camera is 2MP. That's not enough resolution for anything but stylised, retro-esque capture - nice to have, but not essential.
In turn, the OnePlus 8T is definitely one of the better camera phones out there, but it isn't quite one of the best camera phones of 2020
OnePlus 8T: Additional specs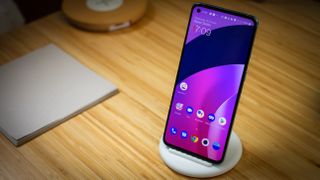 Powered by a Qualcomm Snapdragon 865 chipset paired with 8GB or 12GB RAM, there's no getting around it, the OnePlue 8T is powerful. It's also great value, only really being outdone by the Realme X50 5G, which packs the same chip and similar storage capacities. We're guessing, the upcoming 108MP Xiaomi Mi 10T Pro will also undercut the 8T - though its pricing is yet to be confirmed, so watch this space.
Running Android 11, the OnePlus 8T's as future-proofed as non-Pixel phones go, and with OnePlus's OxygenOS 11 over the top, the series has been given a fresh lick of paint. A newly introduced always-on display, clever one-handed controls bunching UI elements at the bottom of the screen, and simple sharing options are all great things to have. The interface is heavy though. Having used it in conjunction with a Pixel 5, the OnePlus 8T feels markedly clunkier. Additionally, the UI drained a noticeable amount of battery, something more common in overhauled interfaces. While it's very shiny, therefore, OxygenOS 11 definitely doesn't feel like a fully baked desert, or an instant home run compared to past versions.
With either 128GB or 256GB of storage, the OnePlus 8T sports standard capacities but you won't find a memory card slot inside. In turn, pick up the one with enough space to see you through - 128GB should be enough for most, but file hoarders can opt for 256GB.
As for battery, the 4500mAh cell, which charges at up to 65W powers up from zero to 100 percent in around 40 minutes - that's very fast. To get those kinds of charge times though, you have to turn off the battery care feature, which staggers charging. This all makes the phone's messaging feel slightly confused. We do get it - slower charging is better for your battery, faster charging saves you time. What OnePlus is doing by offering both is giving something to everyone, but there's a danger of overcomplicating things for folks who don't get battery tech - or want to take advantage of a headline feature without needing to rummage around the settings first.
As for actual battery life, it's only ever fine if you don't plan on gaming, which is a shame. We think this is down to software, as the numbers just don't match our experiences. The 8T packs a big cell, but it failed to last a full day comfortably, with a 20-minute session of Genshin Impact taking it down by over 15 percent, and then continued regular use knocking it out by 5pm some days.
OnePlus 8T: Verdict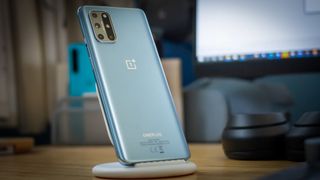 For a phone of its price, the OnePlus 8T is solid option. It combines a really good main camera with Qualcomm Snapdragon 865 power, a 6.55-inch screen and lightning-fast charging.
The 8T's design is also stunning - amongst the best we've seen from OnePlus, and the bump up from 90Hz to 120Hz makes the screen feel that bit more special. That being said, it isn't perfect. There's no telephoto camera, something available on the very comparable Realme X50 5G, which costs less. Additionally, the 8T's battery life falls short for power users, though should suffice for most.
While the pricier version (12GB RAM and 256GB storage) might be harder to stomach, with stiff competition from the likes of Samsung with the Galaxy S20 FE, the more affordable option (8GB RAM and 128GB storage) still manages to compete head-on with the competition, despite any shortcomings. In turn, whether you're upgrading from your 6T or have never considered a OnePlus phone before - the 8T should be on your shortlist.
Read more:
• Best camera phone in 2020
• Best budget camera phones
• Best iPhone for photography
• Best burner phone
• Best 5G phone
• Best phablets
• Best flip phones
• Best phablets