Build and handling
After a diet of compact DSLRs and mirrorless cameras to test for the past few weeks, the D7500's chunky, weighty body is a welcome change. It's not as large as a pro DSLR, but it's a big step up from entry-level DSLRs like the Nikon D3400 or Canon's EOS 800D. A deep grip on the front gives you a good, firm hold on the camera; round the back, the extra height in the body leaves enough room around the big, tilting screen for the buttons.
You pull out the bottom of the screen to adjust the angle, and an extending hinge moves it further away from the body so that it's not partially obscured by the viewfinder eyecup. It also tilts downwards slightly for overhead shots. The Live View button is on the back of the camera at the base, inside a lever to switch between stills and video.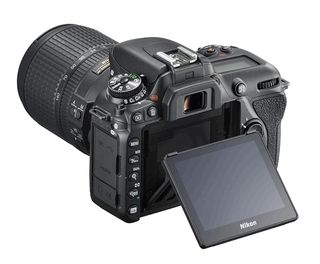 The D7500 doesn't have a hybrid AF system like Canon's DSLRs, so in Live View mode it relies solely on contrast autofocus, which is precise, but slower. Even so, the D7500's Live View autofocus feels a little quicker than previous models – Nikon suggests this could be due to the more powerful Expeed 5 processor.
The D7500's optical viewfinder is very good. It uses a proper pentaprism design rather than a cheaper 'pentamirror', and offers 100% coverage. There is an assumption that optical viewfinders are intrinsically inferior to electronic viewfinders because they don't show the digital image as the sensor will capture it. There is a counter-argument, however. With a DSLR, you can move your eye from the real world to the viewfinder and see exactly the same naked-eye, optical view. You don't get the discontinuity of an electronic viewfinder, and you can still check the image immediately after you've shot it on the rear screen.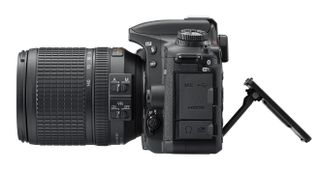 The control layout is much the same as the D7200. On the left of the top plate is a mode dial on top of a release mode dial. You need a little dexterity in your digits to press down the locking button for the release mode dial, but at least this stops you from changing the setting accidentally.
The focus mode control is a lever on the front of the camera on the left side of the lens flange. You use the lever to switch between manual focus and autofocus, and hold down a button in the centre to change the autofocus mode and focus area using the front and rear command dials. If you're not used to Nikon DSLRs, you might find this arrangement a little odd, but if you are then it makes sense – you can hold in the button with your left thumb and change the focus settings with your right forefinger and thumb.
Having an LCD panel on the top of the camera is useful for making settings changes like these, although they're also displayed on the rear screen. This is useful if you're shooting in dark conditions or with the camera on a tripod.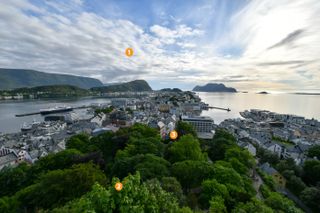 1. Dynamic range
Always a strong point with Nikon DSLRs, the D7500's dynamic range is very good, even in JPEG files.
2. Colour rendition
The D7500 produces rich, natural-looking colours and the auto white balance works well.
3. Fine detail
Nikon has boldly opted for a slight drop down to 20.9 megapixels, but fine detail remains very crisp.
If you're not used to Nikon DSLRs, it might seem as if there's no particular logic to the button placements, so it could be a while before you can change settings fluently and instinctively. If you've used a D7000-series model before, though, you won't have any trouble.
The same goes for the menu system – especially the custom settings options. Higher-end Nikons like this one can be customised to an enormous degree, but you'll need to spend some time with the manual to take full advantage. You can use the D7500 and most of its advanced features without customising a thing, of course, so it's not compulsory.
Overall, the D7500 has a great 'feel'. It might not have the same alloy construction as the more expensive D500, but it nevertheless feels reassuringly solid and 'grippable', helped by its rounded corners and the high-quality materials used on its surfaces.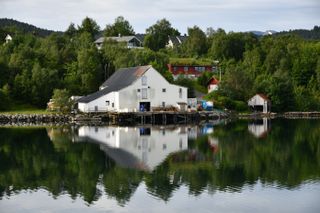 We tested it with the Nikon 18-140mm lens. This is likely to be the standard kit lens for the D7500, though it's also available body-only and some retailers may put together their own camera-lens combinations.
It's a good pairing. The 18-140mm offers a sizeable zoom range over the average kit lens, yet it's not too heavy and its optical performance is good – especially if you switch on the in-camera lens corrections. (which work only with JPEGs – raw files will still need correcting).
Like other recent Nikon DSLRs, the D7500 comes with Nikon's SnapBridge wireless picture transfer and remote control system. This uses a Bluetooth LE always-on connection to automatically transfer 2MP versions of your photos to your smart device, via Nikon's free SnapBridge app. The idea is that this Bluetooth connection can also activate the Wi-Fi connection when required for remote camera control and full-size image transfer. If you're using an iOS device like an iPhone or an iPad, however, you will still need to authorise the Wi-Fi connection manually. This is a security measure built into Apple's operating system, and there doesn't seem to be any immediate workaround.
This means that setting up a Wi-Fi connection still involves a tedious bit of button-tapping, but the automatic image transfer is very useful for social media sharing. Images don't always appear on your smart device straight away, but the fact you don't need to do anything is a major boon.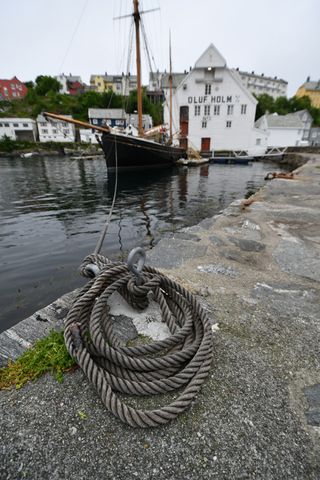 Performance
The two main selling points for Nikon's newest sensor and processing technology are speed and sensitivity, and the D7500 has plenty of both. The 8fps continuous shooting speed may not be quite up there with the 10fps D500 or Canon's EOS 7D II, but it's fast enough for most of us and, more importantly, it has the buffer capacity to cope with extended raw shooting. That's useful not just for burst shooting, but for auto-exposure bracketing for HDR, for example, where you want to be able to rattle off bursts of three or five raw files.
Nikon's Matrix metering produces pretty reliable exposures across a range of conditions and it's easy enough to apply a little exposure compensation for tricky subjects. The D7500's new Highlight-weighted metering mode is especially interesting, however. This adjusts the exposure so that the brightest parts of the scene are recorded without clipping. This can leave the midtones and the shadows quite dark, but if you're shooting raw files it's usually possible to recover darker areas very effectively. This looks like being a really useful feature.
The auto white balance system does an equally good job. It preserves the natural colour of outdoor shots very effectively and copes well under artificial light – though it will still show a bit of a yellow cast under tungsten lighting. Overall, colours are rich, vibrant and realistic. We used the D7500's Standard picture control throughout, but other picture controls are available including Vivid, Portrait and Landscape. At the time of writing, Adobe had yet to update its software to open D7500 raw files, so our raw processing was done using Nikon's own Capture NX-D software.
The fine detail rendition is good, but it did lag very slightly behind the results from the D7200. It's likely that you'd only notice this in direct side-by-side comparisons, however, and the D7500's sensor has many other qualities to commend it.
Its ISO 1,640,000 maximum is spectacular but the cost in image quality is such that you might never use it. However, this high-ISO capability has a knock-on effect lower down the ISO range, and we wouldn't hesitate to use the D7500 anywhere within its standard ISO range. At ISO 51,200, there is some obvious detail loss and some smoothing in fine textures, but the overall contrast, colour saturation and impression of clarity is excellent.