At a time when we're still doing more video conferencing than possibly ever before, picking up the best webcam for your needs is a must.
Although many portable devices such as laptops and tablets have inbuilt cameras, if you've got a more extensive working from home setup, you might be using a dedicated screen which doesn't have one. You might also feel that your inbuilt webcam isn't quite up to scratch, especially if your computer is a slightly older model.
That's where dedicated webcams such as the Nexigo N680E 1080p Full HD webcam come in, giving you the flexibility to place your webcam wherever you need it for better results.
Specifications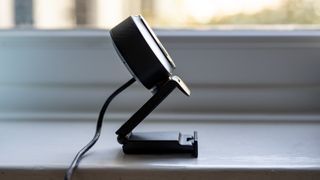 Sensor: 1/2.7-inch 2.0 megapixel CMOS
Resolution: Full HD 1080p (also supports 1280 x 720, 640 x 480)
Lens: 6-layer high-quality glass lens
Field of View: 80 degrees
Frame Rate: 30fps
Digital Zoom: No
Inbuilt microphone: Yes
Privacy cover: Yes (separately in box)
Connection: USB-A
Dimensions: 7.19 x 6.2 x 4.6cm
Weight: 191 grams
Key features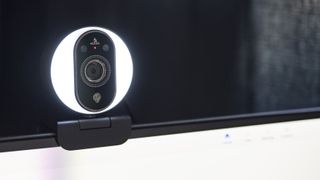 The Nexigo N680E webcam includes plenty of useful features.
It offers Full HD resolution, which should be more than enough for video calls using software such as Zoom, Microsoft Teams and so on. Those who are looking for something to stream vlogs from my find a dedicated camera with streaming capabilities to be a much better (albeit more expensive) option.
The lens has a field of view of 80 degrees, which is reasonably wide, which is useful for including plenty of context and room for framing yourself in the shot. Additionally, the camera will automatically crop to what it detects to be the optimal focal length.
A built-in microphone is included, so you don't need to worry about investing in a separate one of those. Also included is a privacy cover, but you'll need to attach it to the camera yourself as it's included in the box separately.
The webcam is compatible with Windows XP/7/8/10, Mac OS 10 10.6 and higher, Linux 2.6.24 and higher, Chrome OS 29.0.1547 and above, and Ubuntu Version 10.04 and higher.
Build and handling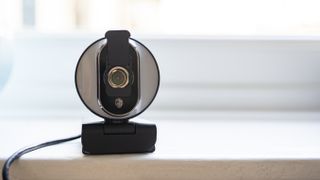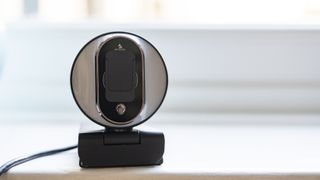 Setting up the Nexigo N680E 1080p Full HD Webcam is extremely quick and easy. It's a "plug and play" device, so you should find that it's simply a matter of plugging it into your computer and it will be recognized by your video conferencing software. You may need to select the camera from a menu the first time you use it.
We tested the Nexigo N680E with a MacBook Pro and it was immediately recognized and worked. The only minor potential niggle here for MacBook Pro users is that the connector cable is USB-A, so if you're using a computer with only USB-C ports, you'll need some sort of adapter. As the cable can't be removed from the back of the webcam, it's not possible to swap it out for a USB-C cable either.
One of the most interesting things about this webcam is the inbuilt ring light. You can adjust the intensity of the light by simply tapping the light itself. There are three different levels, as well as giving it a final tap to switch off the light altogether.
A privacy cover is included in the box, which you can attach simply by sticking it to the front of the camera lens. Once attached, you slide the shutter up and down when in use / not in use.
At the bottom of the webcam is a small adjustable stand. You can place it on any flat surface, as well as as angle it upwards and downwards. It can also be used to clip onto a screen, depending on your preference. There's also a tripod thread at the bottom so you can also mount it completely away from the computer / work setup if you wish - that could make it useful if you're live streaming a workshop or hands-on type video.
Performance
The Nexigo N680E produces crisp and sharp results, while also autofocusing quickly and generally accurately. You can bring your face - or something else such as a product - closer to the camera and it will quickly snap into focus pretty much every time.
An inbuilt ring light comes in handy for dimly lit rooms, as well as for adding a little bit of extra fill-in light for the subject (i.e. you). It also creates a fairly soft / flattering effect, which some may find preferable.
If you're in a very brightly lit room, or perhaps are sitting by a window, you might find that the video feed can appear a little overexposed in certain areas - such as large expanses of pale colors.
The camera is supposed to automatically detect the best focal length to crop shots too, depending on the context and the software used. In practice, we've found this to be true in most scenarios - but it would be nice to have some sort of manual control over that so you can set it up as you'd prefer yourself.
Nexigo N680E: Verdict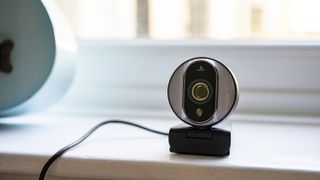 The Nexigo N680E 1080p Full HD Webcam is a very simple and easy to use device, but it comes with a solid set of features that make it appealing for those looking for a step-up from their computer / tablet's inbuilt camera device.
Having the flexible stand so you can position the camera in a number of different angles, as well as being able to attach it to a tripod means you can place it in the most appropriate place for whatever you need - whether that's a simple video call or for something a little more in-depth such as showing off products.
The inbuilt ring light comes in handy, and may be especially appealing for those who are working in fairly badly lit rooms, as well as being useful for adding an extra light to the subject.
Image quality is sharp and detailed, and you'll likely think it's more than adequate for every day video conferencing. Dedicated vloggers may find a dedicated camera with streaming capabilities to be an even better option, though.
As this camera includes a number of useful features, it's perhaps not that surprising that it has a relatively high price tag compared to the many hundreds of cheaper models that have flooded the market in recent times. However, if you want to make sure you're getting a decent performer, it's arguably worth the investment.
Read more
The best webcam
Best conference webcams
The best camera for streaming
Best projection screens
Best film scanners
Best all-in-one printers