Meet the Loupedeck CT (aka the Loupedeck Creative Tool), the latest piece of helpful kit from this relatively small company who pack a punch. The existing Loupedeck+ offers compatibility with a number of leading video and photo editing sofware programs - but didn't offer control over graphics and sound editing software. The CT brings together all your photo, video, music & design software in one great deck.
This powerful, adaptable and highly customizable unit provides editing solutions for the everyday needs of professionals. It's pretty much an all-in-one solution for creatives. Right out of the box you can plug in the CT and it will do all of the basics pretty well, but the main and most important aspect is its ability to be fully customizable, and that really is the big plus here.
It does take a little time to get it working well for you, every creative works in a different way with different needs and go to tools. But that's the great thing about this unit - it can do just that! Once you're up and running, with a little tinkering you'll start to see huge leaps in efficiency and speed to your workflow in all of the following apps: (and it looks pretty great sat on your desk, more later).
• Adobe Lightroom Classic
• Adobe Photoshop
• Adobe Premier Pro
• Final Cut Pro X
• Ableton Live
• Adobe Illustrator
So with all this being said, and with the ability to add a plethora of shortcuts to the keyboard you already own, how could this be any faster? Well, this goes deeper than just adding shortcuts, you can have a dedicated button to add your favorite presets instantly, and you can group your most used tools side by side for speedier edits. It's designed to save you time without sacrificing creativity. A truly premium editing experience.
Loupedeck CT: Handling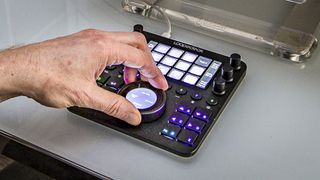 Being content aware means that the Loupedeck recognizes which software you're using and adapts accordingly. You can easily and seamlessly switch between your software and editing tools, with absolutely no interruption to your workflow. The outer dials feel great and turn with the slightest bit of resistance and incrementally so when making adjustments to your sliders you never overshoot your mark and can be highly accurate while editing. The main center dial is a little lighter, and turns faster which can be helpful or slightly problematic depending on the task in hand. I'd like to have seen all the dials working in a similar way. That being said, it still feels like a quality and perfectly functional main control.
Being roughly double the size of your phone makes it easy to unplug and take the deck anywhere with you, and unlike its predecessor the CT will sit neatly alongside or in front of your keyboard. A perfect companion for creatives on the go it even comes equipped with a convenient internal 8GB memory unit for you to store your presets or custom CT layouts, allowing you to edit wherever and whenever.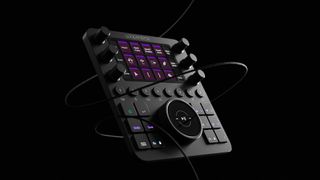 With it's European, minimalistic and slightly retro style it's aim appears to bring back more natural and intuitive editing experience. Ironically we seem to have now come full circle, where software was originally designed to abolish the use of physical dials and buttons bringing everything to our fingertips through the touch of a mouse – we are now back to physical hardware with real buttons and dials. A classic 'if it ain't broke, don't fix it.
Getting into the customizable software was easy, but very quickly became quite complicated to get the deck working just the way I wanted it too, there are a lot of options, avenues and quite a convoluted process to get everything working well. It's essentially got a lot of similar names for different areas of the deck. You have 'dials', wheels (which apparently isn't a dial) and buttons with pages linked to each one of these physical controls. You can get a good basic setup going, but you will probably need to have a good read of the manual before really getting the most from this device.
Loupedeck CT: Verdict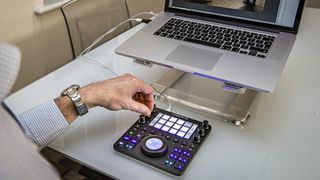 If you are someone who is pretty proficient with a keyboard and mouse you might struggle to find much benefit right off the bat, but we are sure in time there will be plenty of helpful tips and hacks where the Loupedeck CT can help lighten your workload.
Read more:
• The best photo editing tools and accessories
• The best tablets for photo editing
• The best monitors for photographers
• Best graphics tablets for photo editing
• The best photo-editing laptops
• The best desktop computers for photo editing
• The best ultrawide monitors for photo editing