The Ipevo Do-Cam is a visualizer (or document camera) which, for older readers anyway, performs the same role in many a presentation as the lens in an overhead projector. Teachers can position the camera above a page or interesting experiment, plug it into their computer, and relay the live footage directly to the electronic whiteboard (or over the web if teaching remotely).
The Do-Cam is not Ipevo's first product for this market; the V4K was the most recent predecessor, sporting a chunkier base, while the firm's VZ-series offer extra functionality in exchange for more size and bigger physical presence. The Do-Cam, however, sports the same 8 megapixels as its siblings, yet comfortably wins the portability game, at least for customers who will have a USB socket with them.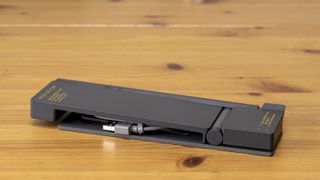 Ipevo Do-Cam: Specifications
Live Resolution: 1080p
Frame rate: 30fps at 1080p
Max Resolution: 3264 x 2448 (USB mode)
Zoom: 12x digital
Size: 8.67 x 2.48 x 0.87" / 220 x 63 x 22mm
Footprint: 220 x 63mm
Max Shooting Area: 13.93 x 10.47"/ 354 x 266mm
Connectivity: USB
Built-in battery: No
Weight: 0.74lbs / 335g
Ipevo Do-Cam: key features
Built with enough body weight and firm enough hinges to support the eight-megapixel camera, slipping the Do-Cam into your laptop bag is no problem at all. Apple users and others in the USB-C only future will need to invest an extra few dollars in adaptors, not included, but this won't come as a surprise and Apple users will at least find the software – called "Visualizer" – is available via the App Store and does work on M1 machines; no trying to circumvent the gate-keepers here!
The Ipevo software features modes for presentation, creation, reading & scanning, meaning (once you've become accustomed to it, at least), it's a simple matter to use the camera for all the tasks you'd expect, plus a few more like shooting your own stop motion movie or capturing slow-motion which might prove handy in some science demonstrations.
Ipevo Do-Cam: Build & handling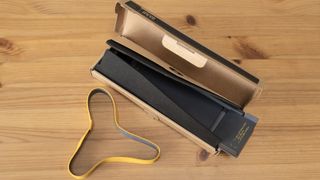 It's not always the case that products are designed with everyday use in mind, but this is definitely one of those. The base plate's metal has good rubber grips, and the device's single button (to rotate the image 90˚) is next to a thumb grip which makes it easy to extend the camera to its full height. Most of the mid-level in fact serves as a hub to wind the USB lead around and this cable is the source of the power as well as the means of communication. If you're careful as you wind, then it's easy enough to push down and the camera head clicks satisfyingly against the base plate; since the lens itself is recessed, it is afforded some protection, though at the other end I've got to admit I didn't always wrap the cable in such a way as the camera folded entirely flat. The extra 1-2mm were not a problem in stowage though!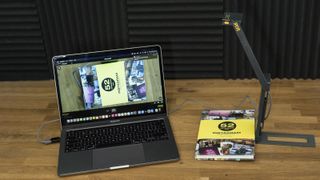 In use, the camera is plugged into the chosen computer via any powered USB socket (if you're an Apple user, the one at the end of the old wired keyboard won't cut it) and can either be accessed as a camera via existing apps or Ipevo's Visualizer. The later adds a lot of features you might not have anticipated, including barcode scanning or text-to-speech. While it's not meant as a complaint – these are useful features – the categorization feels a little arbitrary; say you're presenting something and showing a document and feel the need to magnify a section, you need to switch to 'Read' rather than 'Present' in the top corner of the app. Only in 'Present' is the option to show more than one camera's output side-by-side is available, but it feels like, at the very least, the loupe tool could be available elsewhere.
Ipevo Do-Cam: Performance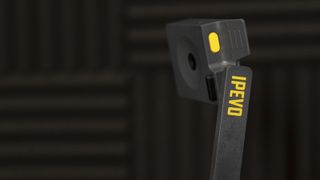 It is easy to carry the camera to a new location and get connected, and none of the machines I tried it on had any trouble recognizing it. In terms on image quality, the camera was good, certainly more than adequate for an audience to see small type on a document. Ipevo's choice of an 8MP Sony CMOS sensor is to be applauded, though the tendency for the autofocus to hunt was a little irritating but switching to Manual Focus in the software is straightforward.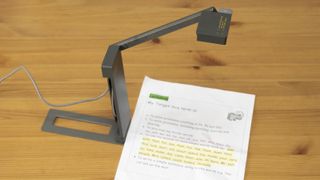 One complaint which becomes more apparent when the light isn't ideal is a tendency to exaggerate contrast when it comes to shadows, and my instinct is that the white balance is about 600K too high by default (making things look a little yellow). There are manual settings for everything and the only time this kind of thing would really be an issue is when compared to a differently set webcam covering the presenter – something Ipevo's app will let you do! In other words, if there weren't so many features in the app, I might not have noticed!
Things are possible in the software but I'd have liked to be a little more include taking scans (or images, at least) of documents without the system attempting to automatically identify it and crop to its aspect ratio. It's a little thing, but I'd have preferred it if the manually define scan area option was the default (at least until the AI is a little better); it's also something not set in hardware!
Ipevo Do-Cam: verdict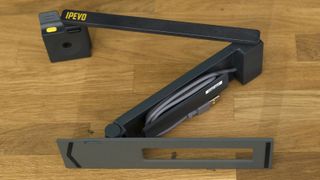 This might not be the camera you choose if you're equipping a new lecture theatre, but if you're adding one to your traveling kit bag then the Ipevo Do-Cam is an excellent choice. It is well set up as a document camera for presentations, and easily adjusted for a good image in most situations, not to mention including a lot of features you might not anticipate. For those who happen to have less-than-ideal webcams in their laptops (the 720P in recent MacBooks, anyone?) a camera like this is also a very useful tool to have to hand, though a little tweaking of settings is to be expected in exchange for a higher resolution camera you can position more freely. The build quality is excellent, and the software – while it certainly has its idiosyncrasies – offers a lot of functionality none of which you need to delve into if you just need a camera.
Read more
Best document cameras
The best webcam
Best conference webcams
The best camera for streaming
Best projection screens
Best film scanners
Best all-in-one printers