The Instax Mini Link SE is a special edition of the standard Instax Mini Link, and both devices stand apart from other smartphone printers by producing prints on real Instax Mini instant film.
Many of the best portable printers use Zink technology ("zero ink", which doesn't require ink cartridges) that is cheaper but produces inferior results. Others use the dye sublimation technique that's more expensive but delivers the best print quality in conventional terms.
In using instant film, the Instax Mini Link distinguishes itself by delivering prints that are utterly unique in how they look. By employing a photochemical process, your images have the same uniquely analog look as you'd get if you took them on the best instant cameras – something that other printers can't emulate.
So how well does the Instax Mini Link SE work with smartphones – and Nintendo Switches – and are the results as good as you'd get on an Instax Mini 11?
Instax Mini Link SE: specifications
Paper type: Instax Mini film
Print size: 2.1 × 3.4 in / 54 × 86mm
Image size: 1.8 × 2.4 in / 62 × 46mm
Resolution: 12.5 dots/mm (318 dpi, 80 μm dot pitch)
Connectivity: Bluetooth, micro USB (charging only)
Dimensions: 3.5 × 1.3 × 4.9 in. / 90.3 × 34.6 × 124.5mm
Weight: 209g (without film pack)
Battery: Internal lithium-ion, approx 100 shots, 80-120 minutes charging time
Compatibility: iOS/Android
Available colors: Ash White (Red & Blue); (standard Instax Mini Link also available in Dark Denim, Dusky Pink, Ash White)
Instax Mini Link SE: key features
The Instax Mini Link SE offers a seamless way to print images directly from your camera phone, or from your Nintendo Switch (via a phone) using the new Instax Mini Link for Nintendo Switch app.
In addition to being a compact and portable printer, the app offers a host of interesting features, including Collage Print (create multi-image collages), Match Test (a personality test when you transfer a photo of you and a friend), Party Print (where you can connect with up to five friends to create unique images) and a facility to photograph and superimpose sketches, signatures, logos or other elements onto your images.
The printer also features a unique motion-control function called Instax Camera Mode, which enables you to control your smartphone camera by tilting the printer (to zoom in and out) and pressing the power button (to take a shot). You can also turn the Mini Link upside-down to reprint the photo you've just printed.
• Read more: How to print Instax photos from your Nintendo Switch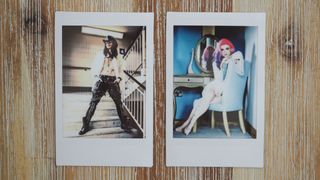 Instax Mini Link SE: build and handling
For all intents and purposes, the Instax Mini Link SE is the same as the standard Instax Mini Link – the only outward difference is that it comes in the new Ash White (Red & Blue) colorway, to match the red and blue Joy-Cons of the Nintendo Switch.
The printer is small but perfectly formed, only a fraction taller than an Instax Mini camera but much slimmer and narrower – it's just about pocket-sized, and will slip easily into a handbag, camera bag or backpack for easy transport. The construction is plastic but doesn't feel at all cheap, light or 'rattly' – if anything, it feels as sturdy as a handheld Nintendo games console, fittingly enough.
Exterior controls are minimal, with just a power button (which doubles as the shutter for your camera phone, in Instax Camera Mode) that illuminates to indicate status and battery levels.
Other than that there's a flap that reveals a micro USB slot, which is solely used for charging (so you can't use it to print from a laptop or computer), which we wish was a USB-C connection. Finally there's the film pack door, which hinges open like an Instax camera in order to insert packs of Instax Mini film.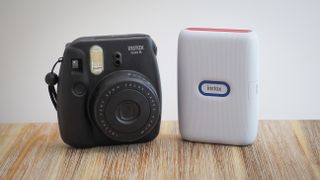 Instax Mini Link SE: performance
It's basically impossible to fault the performance of the Instax Mini Link / SE, since it produces instant prints that are identical in quality to those that come out of an actual Instax Mini camera.
Actually they're better, because you can print out any image that's on your phone – so you can get a snazzy Instax photo of something you shot in a studio, with gels and multiple lights and crazy editing, rather than the often dark and problematic exposures you get from an instant camera flash.
In terms of pure print quality, this is a different proposition to Zink or dye sub printers – both of which offer 'conventional' quality. Here, though, you're introducing the magic of analog chemistry to give your shots an utterly unique look. And it's worth noting that the quality is overall better and much more consistent than the similar instant prints produced by the Polaroid Lab.
While it's easy to overlook the app, which 90% of the time you'll only engage with to transfer your images rather than edit them, it does have some very fun features. Sure, you can do the same or better on other devoted apps, but it offers the ability to make simple edits and corrections, and even scrub video to extract a still frame.
The extra modes can be fun, too, including the ability to create a collage (albeit very small, on the credit card-sized prints) and engage in Party Print fun with your friends. And parties and social gatherings really are where the Instax Mini Link shines, whether it's leaving one on a table at a wedding or bringing it along to a summer party, so everyone can take home a physical memento of the day.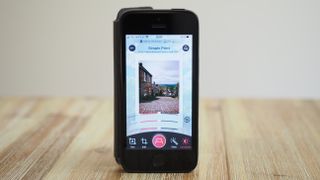 Instax Mini Link SE: verdict
If you want a 'pure' printer that prints out your pics exactly as they look on your phone, the Instax Mini Link SE may not be for you. Zink printers have a better price, and dye sub printers have better quality.
However, if you want to introduce the magic retro look of analog film to your shots, nothing beats the Mini Link. Everyone loves having an instant photograph, whether it's to sit in the front of a wallet or to stick on the fridge, and now any photograph can be turned into an Instax print – even if it wasn't shot on an Instax camera.
This is a straightforward and simple-to-use printer that produces beautiful retro results. And not only can it produce prints directly from your smartphone, it can connect to your Nintendo Switch to print your best shots from New Pokémon Snap (or any other screenshot, for that matter) as well.
Read more:
Best portable printers for your smartphone
Polaroid lab review
Instax Mini 11 review
Best instant cameras
Best digital instant cameras