The Godox V1 is nothing if not well-rounded. Compared with regular flashguns that have a rectangular head, the V1 has a circular flash tube that's designed to give a softer, smoother and more flattering lighting effect. It's not just that the head is round, it also features a panel at the front that spreads the light more evenly, avoiding a hot spot at the center and giving a more gradual fall-off towards the circumference.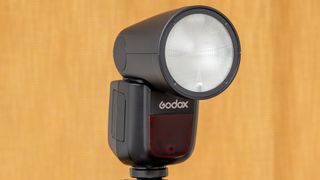 The V1 is arguably more like a miniature studio flash head, packed into a highly portable, hot-shoe-mounting package. Even so, it boasts all of the advanced features that we've come to expect in top-end conventional flashguns. Indeed, it's essentially a round-head adaptation of the Godox VING V860III, which is one of our all-time favorite flashguns. As such, it includes TTL (Through The Lens) automatic flash metering and other camera-specific functions, thanks to the wide variety of dedicated versions to suit Canon, Nikon, Sony, Fujifilm, Olympus, Panasonic and Pentax cameras.
Specifications
Dedication: Canon, Nikon, Sony, Fujifilm, Olympus, Panasonic, Pentax
Max output: 76Ws
Bounce (degrees): -7 to 120 degrees
Swivel (left / right): 150 / 180 degrees
Zoom Range: 28-105mm
Manual Power Settings: 1/1 to 1/256
AF-assist beam: Red lamp/LED
Wireless: Master/Slave RF (100m/330ft)
Additional Flash Modes: HSS, RC, strobe
Supplied accessories: Pouch, stand, charger
Dimensions (WxHxD): 76 x 197 x 93mm / 3.0 x 7.8 x 3.7in
Weight (inc battery): 530g / 18.7oz
Key features
Top of the features list is the V1's round head, more akin to a studio flash than a regular flashgun. Indeed, the maximum output power is quoted as 76Ws, Watt seconds being a more usual rating for studio flash heads, rather than the Gn (Guide number) typically associated with flashguns. Either way, maximum output power is generous and TTL automatic flash metering is available in all of the different dedicated versions, along with +/-3EV flash exposure compensation and fully manual power settings, with adjustments being available in one-third and one-tenth EV increments respectively.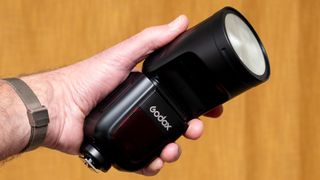 There's a full range of flash modes on offer, from regular font-curtain sync to slow-sync and rear-curtain sync. HSS (High Speed Sync) is also on the menu, enabling shutter speeds much faster than the camera's regular sync speed (typically of around 1.200th of a second) right up to 1/8000th of a second. As usual, this is based on a rapid firing of successive flashes, with the typical drop in maximum output power. You also get the option of programmable stroboscopic output, so you can shoot a sequence of an object in motion at various points along its progress, using a long exposure, with up to 100 flashes at a maximum rate of 199 flashes per second (depending on dedication version).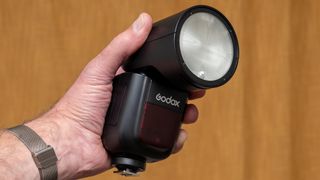 The zoom range is a fairly standard 28-105mm (in full-frame terms), which is rather less than the V860III's oversized 20-200mm coverage. We'll come back to zoom in the next section, along with the fact that the V1's round-head design precludes the inclusion of a catchlight card or wide-angle diffusion panel.

Even the latest, top-of-the-range flashguns from some camera manufacturers, like the Nikon Speedlight SB-5000, lack a built-in RF (Radio Frequency) transceiver. As such, the Nikon's RF 'receiver' can only work in slave mode, not as a master. The V1 covers everything off with an RF 'transceiver' that enables wireless RF master and slave triggering for multi-flashgun setups, in no less than five groups with the option of 32 different channels, and over a mighty transmission range of up to 100m (330ft). Instead of using a compatible Godox flashgun as a master, it's a neat idea to buy the optional Godox Xpro TTL hot-shoe trigger, which is fully featured, available in the same range of dedicated camera options and very cost-effective at around £66/$69. If you'd rather go for cable connectivity, the V1 also features a 2.5mm sync socket.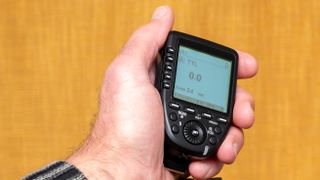 The V1 features the usual red beam AF-assist light. That's good news if you're shooting with a DSLR but it's of no use if you use a mirrorless camera that can't take advantage of it. A plus point is that the V1 also features a secondary LED lamp, with a 2W power rating. It's useful as a modelling lamp as well as for AF-assist, and even in its own right for close-up stills and video capture, with 10 power levels available via the menu system. One slight niggle might be that it has a different color temperature to the flash tube, at 3300K compared with the daylight-balanced 5600K of the flash. Even so, that makes for a better mix with typical room lighting, which will generally be more useful for supplementing ambient indoor lighting with the LED.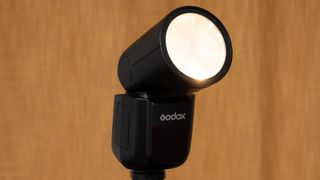 Build and handling
As with regular flashguns, bounce and swivel modes enable you to bounce the light off walls and ceilings. The vertical bounce range is generous at -7 degrees (slightly downwards, ideal for close-ups) to a slightly rear-facing 120 degrees, good for bounding the flash off a ceiling. The lateral swivel stretches from 150 degrees to the left and a full 180 degrees to the right. For a greater rear-facing angle, you can naturally do the usual trick of swiveling the head through 180 degrees and then applying a small amount of vertical bounce.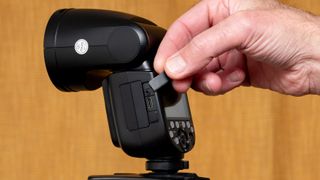 The motorized zoom mechanism keeps track of the focal length or zoom setting of the lens fitted to the camera. As we've mentioned, the zoom range isn't overly generous but should prove sufficient for most scenarios. A handling bonus is that you can set the zoom length manually. For example, for creative effect, you can set the zoom distance to a longer distance than you'd typically use for the focal length of the attached camera lens. This enables you to highlight a smaller area of the subject and the gradual fall off of the circular head gives a much more natural looking result than doing the same thing with a regular rectangular flash head.

To further boost creativity, Godox offers an optional collapsible diffusion dome at around £25/$27. Better still, there's a more wide-ranging Godox AK-R1 Accessory Kit, which is well worth the £58/$56 asking price. The kit includes a diffuser dome, diffuser panel, barn doors, catchlight card, honeycomb, barn doors, snoot and color filters, all supplied in a carry case, as pictured below.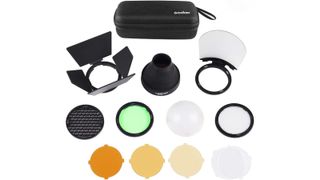 Further handling niceties include a 'quick lock' for the hot-shoe mounting plate, which operates as a simple lever rather than a fiddly thumbwheel. Build quality feels pretty solid overall with a metal rather than plastic hot-shoe plate, but the construction doesn't feature and weather-seals or a rubber shroud over the hot-shoe mounting plate.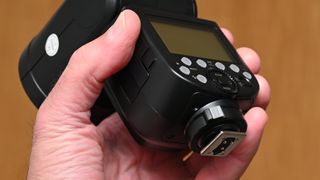 The only real room for improvement to our minds is that the control panel and illuminated rear screen look a little dated and unimaginative. The context-sensitive menu buttons work fine but don't feel of the highest quality. A nice touch, so to speak, is that you can apply exposure compensation or manual power adjustments in one-third/one-tenth EV increments using the rotary dial or, to cut to the chase, in full 1.0 EV increments by pressing the top or bottom of the dial.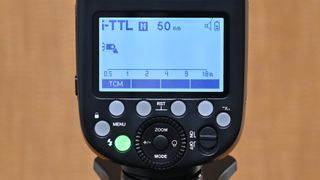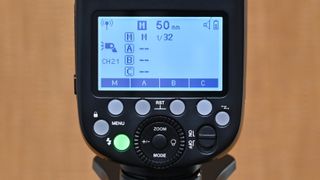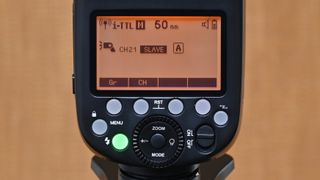 Performance
The power range of the V1 proved impressive and very similar to that of the VING V860III in our tests. That's no surprise as both flashguns run off the same 7.2V 2600mAh rechargeable Li-ion battery, with exactly the same rating of 480 full-power flashes from a full charge. That said, the nature of the diffusing lens and its larger circular head give the V1 a little less maximum power. There's also less power on tap for telephoto shooting, due to the more limited 28-105mm zoom range compared with 20-200mm in the V860III.

Even so, the maximum power is easily sufficient for bouncing the flash off high ceilings and walls, as well as for long reach with direct flash. Another welcome similarity between the V1 and the V860III is that they have very fast recycling speeds, typical of flashguns that run on Li-ion batteries rather than four AA cells. As such, recycling is virtually instantaneous after flashes at power settings up to and including one-quarter of maximum power. It's still very quick at 0.7 seconds after a half-power flash, and much speedier than most flashguns after a full-power flash, at 1.5 seconds.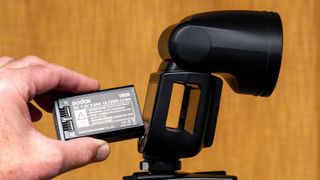 In our tests using the Nikon dedicated version of the V1, we found that TTL accuracy was very good and very consistent, in different shooting scenarios. The quality of light is softer and smoother than from regular flashguns and, naturally, becomes even softer in bounce mode. Performance in creative terms is boosted much further with the addition of the optional Godox AK-R1 Accessory Kit that we detailed earlier. All things considered, the V1 is a top performer.
Lab results
We test all available features for each flashgun that goes through out labs. To test power output, we used a Sekonic flash meter placed at a distance of one meter from each flashgun. We check the complete range of manual power settings, in one-stop increments. Based on a sensitivity of ISO 100, the figures correlate directly with the Gn (Guide number). The results are double-checked by taking shots of a gray card with the appropriate lens apertures and using the camera's histogram display in playback mode. This is done for flash zoom settings of 24mm, 50mm and 105mm (in full-frame terms), where available.

We also check the accuracy and consistency of electronic/intelligent TTL (Through The Lens) flash metering, and the speed with which each flashgun can recycle to a state of readiness after a full-power flash, using both Ni-MH and alkaline cells, or a Li-ion power pack where supplied.

Power output: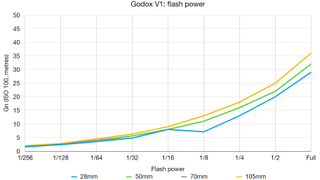 Our measurements of power output throughout the zoom range fell a little short of those from the Godox VING V860III, but that's the price you pay for smoother, more even lighting and a shorter zoom range. Either way, maximum power is very respectable at all zoom settings, and can be adjusted all the way down to 1/256th for really subtle fill-flash.

TTL accuracy: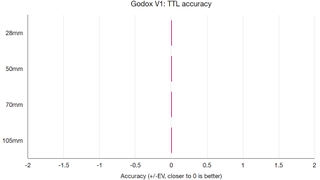 Accuracy for automatic 'through the lens' flash metering proved very good throughout our testing, and reliably consistent.

Recycle speed: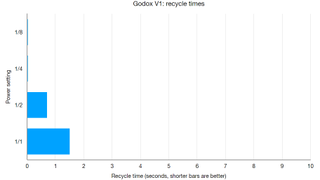 Recycling speeds are typically excellent for a flashgun that runs on a rechargeable Li-ion battery, rather than using two or four AA alkaline or Ni-MH batteries.
Verdict
We often feel that flashguns can be harsh, delivering lighting that's anything but flattering. The Godox V1 has a circular head with a built-in Fresnel-type lens that gives a smoother, softer and more even lighting effect. It's a bit like a cross between a regular flashgun and a studio flash head, yet maintains a compact build, hot-shoe connectivity and i-TTL automatic flash metering in its wide range of dedicated options to suit several makes of camera. We love that it runs on a rechargeable Li-ion battery, giving it great stamina and super-fast recycling speeds. We're also impressed by the full range of flash modes, which include high-speed sync and programmable stroboscopic output. Another ticked box on our wish list is the built-in RF transceiver that enables off-camera master and slave triggering, with a range of up to 100m (330ft). All in all, we reckon it's a fully tricked-up bit of kit and a standout bargain at the price.
Read more:
• Best camera lenses to get
• Best Canon lenses
• Best Nikon lenses
• Best Sony lenses