The DJI Air 2S redefines what's possible with drone photography, putting a 1-inch sensor in a tiny package and surrounding it with sophisticated safety and compositional aids. On the other hand, it could be seen as just taking the already extremely capable DJI Air 2, released only 12 months ago, and bumps the specs a bit.
In a way, both views are true. Looking back at the Air 2, that drone came with a newly designed airframe which tucked between the DJI Mavic 2 Zoom (905g) and Mavic Mini (249g), giving DJI's range of folding drones a consistent design language. The Air 2's half-inch sensor was larger than its own predecessor, but of course some fans insisted the DJI Mavic 2 Pro's 1-inch sensor should have made its way down.
Photo enthusiasts who insist on a big sensor have got what they wanted, but before discussing that in detail, it's also worth mentioning that sensor size isn't everything. . Drone users have ever-growing expectations when it comes to AI when it comes to boosting safety and subject tracking, and many reasonably expect a simplified route to sharing content.
See also: DJI Mavic 3 vs Air 2S (opens in new tab)
What's the camera like?
The Air 2S's immediate predecessor, the Air 2, sported a 48-megapixel camera with quad-Bayer filter, which many would see as effectively 12 megapixels at 1.6 microns. The new camera comfortably beats that with 5472 x 3648 pixels (20 megapixels) at 2.4 microns. Of course the Air 2 gives the option of saving a 48-megapixel file, and to be fair it actually looks pretty damn good, but physics are very much on the 1-inch sensor's side when it comes to image quality.
The other obvious comparison is the Mavic 2 Pro's 1-inch camera, which is has the same 20 megapixels but offers a narrower 77˚ field of view (28mm EFL) to the new Air 2S's 88˚ (22mm EFL) which does make a noticeable difference when you're shooting. Sometimes a wider field of view is marketed as if a higher number is better but the Air 2S seems to be reaching a limit for me; the digital zoom is an option but is available only in some video modes.
(opens in new tab)
The other notable difference between this camera and the Mavic's is the latter has an adjustable aperture (ƒ/2.8-ƒ/11) while the Air 2S's is fixed. This sounds more disappointing than it is – partly because the Mavic's images look a lot better at the wider end and mostly because not much drone work mixes depth of field. Nevertheless it's a good idea to make use of the focus peaking and you will either find yourself tapping on the screen to check focus a little more often than you would with other drones (exactly as with the Mavic 2 Pro) and making sure you have the ND filters (included in the Fly More kit) to hand. Pro tip: keep something to wipe finger grease from your phone screen or it builds up and starts to make it hard to use, especially in bright conditions.
(opens in new tab)
(opens in new tab)
(opens in new tab)
Video quality
Turning specifically to video, the bump to a maximum of 5.4K (5472 x 3078) would impress on any drone, even if, as here, it is at 30fps. Drop down to 4K (3840 x 2160) and not only does the entire image zoom in quite significantly to match the crop, but frame rates available rise to 60fps or (in the version I tested) digital zoom is available at 30 fps or below. Digital zoom is likely to appeal only to those wanting to share quickly, so the fact that it's not available in 10-bit video modes seems unlikely to be an issue; it's also not available at 120fps, which hints at the hardware limits.
My guess is that most of the time 4K shooting, or even one of the lower resolutions preferred by the MasterShots automated shooting, the standard tighter crop without the zoom will be most people's choice most of the time. It avoids the edges of the lens and helps get a bit closer to a subject – if you're using a feature like the automated ActiveTrack to follow a mountain biker, you won't mind them occupying a little more of the screen, while the option of 5.4K (and perhaps some work in post) is always an option for the most dedicated.
Sample video, shot at 4K with the DJI Air 2S
Video quality is remarkable, which the 150 Mbps bitrate (with comfortably surpasses the Mavic 2 Pro's 100Mbps). Video can be recorded in 10-bit D-log, while the image processing algorithms go a long way to make post-editing and post processing largely unnecessary for most. Some might see an advantage in tapping to 'Pro' mode to lock the camera settings before beginning a shot where turns might otherwise force a change in exposure, but the system makes a good job of this, especially at Cine speeds (i.e. slow speeds for filming).
Intelligent shooting
Using a drone to capture interesting action, especially video, is hugely appealing to outdoor enthusiasts and the improvements to the Air 2S felt to me to be making this experience more coherent than previous drones.
The ease of tapping and dragging to frame a subject, or even allowing it to select (it identifies humans all on its own) for the drone to then follow (using ActiveTrack 4) or otherwise focus attention on still surprises even though this isn't new to DJI drones.
Where the Air 2S moves things along significantly is with the addition of its upward-facing obstacle avoidance sensors. By placing them here (in additions to the pairs on the back and underside) the drone can see forward whether it's leaning into speedy flight or moving more sedately. This is a much more effective design than the simple distance sensors at the back of the Mavic 2 series which can do little more than spot a ceiling or branch above the rotors. Perhaps useful lessons were learned developing the DJI FPV (opens in new tab)?
(opens in new tab)
The upshot is that I was able to use ActiveTrack to follow me as a moved around obstacles and the aircraft kept the camera on me and didn't crash into horizontal or vertical obstacles, taking avoiding action even as I turned, and continuing to follow me.
DJI's principle competitor in this area is Skydio, however while the American firm proudly advertises its AI collision avoidance in comparison to a Mavic 2, it seems their lead in this area is closing fast, while the Air 2S has their camera firmly beaten already.
Even in normal flight, the safety sensors offer the option to either stop-and-hover or re-route around an obstacle and this worked for me each time (though oddly I had to land to persuade the system to switch its approach).
(opens in new tab)
DJI calls the improved obstacle avoidance software APAS 4, and are keen to emphasize the sensors in 4 directions. Remaining on the wish list are all-round sensors – there are none on the sides – but the gimbal provides panning which is a partial solution in some cases.
There are quirks in the tools too. That 'MasterShots' drops the system down to 1080P, easily unnoticed, before it begins its sequence of captures might seem cheeky, though the load on the edit which the DJI Fly app will provide will be reduced too. I also find the Hyperlapse manual waypoint flight path tricky to define, but a software update could fix that.
The Drone
(opens in new tab)
It's odd not to discuss the drone itself until this far into the review, but here the camera and the tech supporting the pilot assistance features are the headline grabbers. The Air 2S is, after all, clearly built on the Air 2's frame (with replacement shell elements to accommodate the extra sensors top-front). Depending on your taste, it looks all the better for a few more eyes.
The 3-axis gimbal behaved without issue in my testing. Looking back at the room afforded for the gimbal on the Air 2, a model with a bigger camera seems like it was distinctly plausible, and though the overall weight climbs to 595g (25g more), the drone feels just as nimble in the air. The loss of 3 minutes of flight time, to 31, doesn't sound significant, but I was aware that I was able to get slightly less done in the air.
(opens in new tab)
The drone also features GPS/GLONASS (and made a perfect return-to-home in testing), a downward-facing LED, and an upgraded transmission system – O3 (which is the shortened name for what was to have been called OcuSync 3). This has a range of up to 12km (in FCC areas), and certainly in my testing I didn't experience any video drop out at all.
The controller is the same as introduced with the original Air 2, which marked a significant improvement in terms of battery life and phone grip over those which had come with other DJI portable drones. More time with it has not helped me find a flaw with this device.
Handling the options: DJI Fly
(opens in new tab)
Having experienced DJI's assorted apps over the years, I first thought that 'Fly' was going to be targeted only at the most consumer models – like the Mini – but it now appears to be working its way throughout the range and with each iteration it makes new features accessible while keeping the interface clean and phone like. Long-time drone geeks like me might have a slight preference for the more unsubtle graphical elements of the older app, but I totally concede that things the app is a smooth experience.
The logic of the system is quick to get used to, yet the system provides refresher tips for the features which are less used. I do worry about how long you sometimes need to hover to set some things up, with eyes off the aircraft, but this is a matter of self-control.
Verdict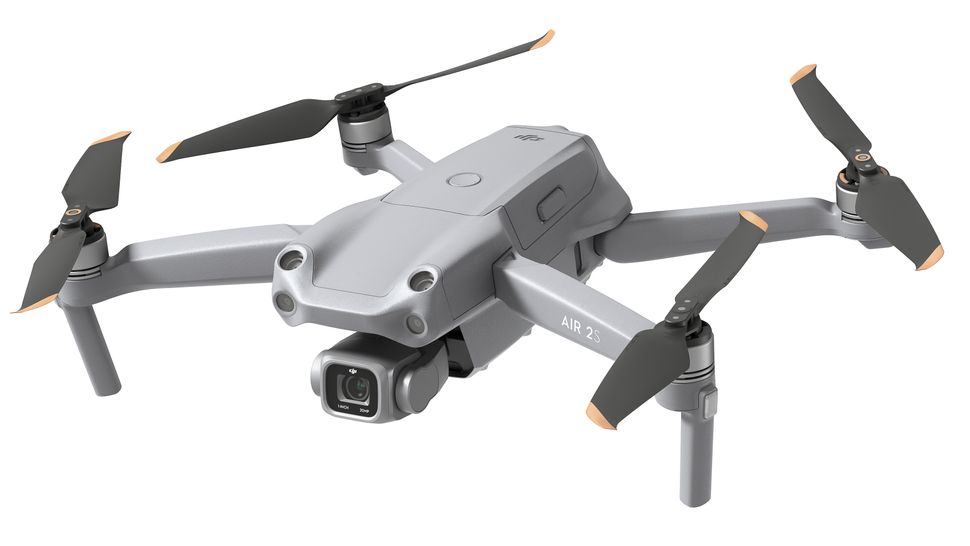 The DJI Air 2S drone feels like something new, not just because the arrival of a distinctly better camera moves the compact drone world on, but because it marks the point that DJI's intelligence systems can really start to fly through a forest, albeit a sparse one. When the world's number one drone manufacturer makes such a significant step in AI the whole market moves forward on.
Read more
• Best camera drones (opens in new tab) in 2021
• Best drones for beginners (opens in new tab)
• Drone flying for beginners (opens in new tab)
• Drone rules: US, UK and beyond (opens in new tab)
• Best DJI drones (opens in new tab)
• Best underwater drones (opens in new tab)
• Best drone accessories (opens in new tab)
• Best drones for kids (opens in new tab)
• Best indoor drones (opens in new tab) for fun
• Make money from a drone (opens in new tab)