No-frills binoculars boasting decent image quality yet little else are everywhere, but what if you want to buy a pair of step-up binoculars with brilliant optics, a bullet-proof build quality and an excellent design? Cue the Celestron TrailSeeker 8x42, a pair of mid-range, full-size binoculars whose compact design and close-up focus make them ideal for travel, birdwatching and safari.
The Celestron TrailSeeker 8x42 is also available in 8x32, 10x32 and 10x42 variants as well as in versions that use the 'ED' moniker, which means 'extra low dispersion'. That refers to elements within the objective lenses that smooth the way for light to enter the optics more directly, reducing colour fringing, most notably around bright objects like the Moon.
Given the quality of the standard glass in the Celestron TrailSeeker 8x42 we're not convinced the upgrade is worth the considerable extra outlay for most people, though there is a very slight issue with colour fringing on the Celestron TrailSeeker 8x42 if you use them for astronomy. However, that's a mere detail on this fabulous pair of binoculars that impress across the board.
Specifications
Magnification: 10x
Objective diameter: 42mm
Field of view at 1000m: 142 metres
Closest focusing distance: 2m/6.5 feet
Eye relief: 17mm/0.67"
Weight: 655g/23.1oz
Dimensions: 141x130x51mm/5.5x5.1x2 inches
Key features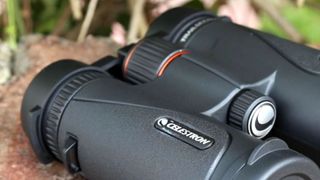 The Celestron TrailSeeker 8x42 uses a combination of roof prism optics and multi-coated BaK-4 glass prisms, both of which add slightly to the price when compared to entry-level binoculars. The latter transmits light more directly while the former is why the Celestron TrailSeeker 8x42 is essentially two tubes (though optically they're more complicated than they look!).
The use of roof prisms generally means a more streamlined design and ultimately a more durable product that's compact and lightweight. That goes double for the Celestron TrailSeeker 8x42, which offers just 8x magnification and 42mm objective lenses. That's about the minimum requirement for full-size binoculars, though on the Celestron TrailSeeker 8x42 it's a crowd-pleasing spec.
For example, those 42mm objective lenses let in just enough light at night to be used for astronomy while also offering a wide field of view. But it's also worth noting that the Celestron TrailSeeker 8x42 can close-focus from just 2m/6.5 feet, which is hugely helpful in your backyard or while on safari.
In case you need it (you likely won't) there's a thread for an L-shaped binocular tripod adaptor hiding behind a logo on the bridge between the objective lenses.
Build and handling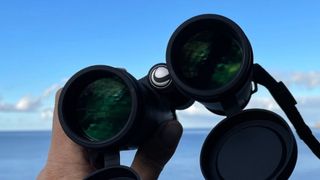 The Celestron TrailSeeker 8x42 has excellent build quality and we have no concerns about their long-term durability. Waterproof and fog-proof (thanks to nitrogen-purging), the Celestron TrailSeeker 8x42 uses magnesium alloy – a step-up from aluminium – and sports a very slim hinge between the two barrels. That helps create an extraordinarily lightweight and compact design that makes the Celestron TrailSeeker 8x42 immediately seem ideal for backpacks and car glove-boxes.
So what about the extras? The lens caps provided with the Celestron TrailSeeker 8x42 seem really good at first; the objective lens caps are attached to the barrels and simply drop-down for use. So they're impossible to lose, right? In theory, though during our test they did come loose a few times. Personally we would prefer them to have a more permanent attachment so they cannot ever fall off.
Performance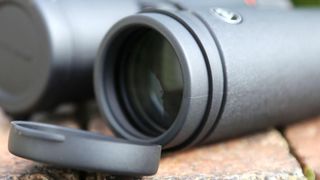 The Celestron TrailSeeker 8x42 is perfect for travel. If you're off hiking then they offer sharp wide-angle views, with their durable and waterproof design adding peace of mind. They lack the light-gathering abilities to be peerless at night, but for casual stargazing they're hard to criticise, offering clear views of the Beehive Cluster and the Orion Nebula in our test. Sure, there's a tiny purple line visible close to the bright side of the Moon, but that's a mere detail.
Most importantly the Celestron TrailSeeker 8x42 impresses in daylight, with clean, clear and colourful views guaranteed. It also proved really useful to be able to focus on birds close to us while using them in a garden.
In the box is also a neck strap and a fabulous pouch that's not only got some padding to protect the Celestron TrailSeeker 8x42, but even has a small zipped pocket. We also noticed a small stuff sack attached to the pouch that houses a harness. It's not the best binocular harness around, but it helps avoid neck-pain and proved particularly helpful when out on a nature walk.
Verdict
Offering the perfect balance between portability, durability and image quality, the Celestron TrailSeeker 8x42 manages to straddle the divide between affordability and quality. They offer good views across the board, with the optical highlight including a wide field of view and a close focus.
We were also impressed by the extras in the box, particularly a harness housed in a small stuff sack. If you're after a step-up pair of full-size binoculars with a slice of quality then the Celestron TrailSeeker 8x42 is a great candidate.