The EOS M50 looks and feels very much like a miniature DSLR, right down to the viewfinder housing on the top where a DSLR pentaprism would be. There's a grip on the front for a secure one-handed hold, though you do have to crook your index finger slightly to rest it on the shutter-release button and the surrounding control dial. A camera this small is bound to feel a little cramped here and there, and Canon has done well to keep the controls reasonable well spaced and accessible.
The top plate is noticeably more sparse than the EOS M5's, a reminder that this is a more beginner-orientated model. The main mode dial is smaller and there's no exposure compensation dial, but neither of those is likely to matter very much for this camera's intended audience. It's aimed at first-time mirrorless camera users rather than experts.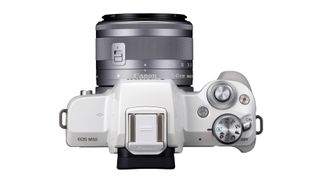 Round the back there's a small four-way controller with a central Q/SET button. Canon hasn't included a rotating control dial here, as it has on models like the EOS M5, which is a relief because these are usually tricky to spin without accidentally pressing them at the same time.
The four-way buttons are used for menu and settings navigation, but they double up as shortcuts to the auto/manual focus setting, EV compensation, flash mode and delete functions. The 'down' button, which is used for the latter function when in playback mode, has no function while shooting at default settings, but you can program this to access a feature such as drive mode or Auto Lighting Optimizer if you wish.
If you press the central Q/SET button you'll see common camera settings arranged as icons on the left and right sides of the screen with settings for each display horizontally along the bottom. This display is superimposed on the scene you're photographing, so you can make changes while still watching your subject, either using the navigational buttons or by tapping the screen.
The EOS M50's touchscreen interface works very well indeed. It responds instantly to the lightest touch and the icons are large enough that you don't need pinpoint accuracy when tapping. You can tap anywhere on the screen to set the focus point in an instant, or drag it around the screen with a fingertip. This works especially well when you're looking through the viewfinder, as you can use your right thumb to drag the focus point around without even shifting your grip.
Vari-angle screen mechanisms can sometimes feel a little flimsy, but not this one. The EOS M50's rear screen has a firm pivoting action with little play, and it can also be folded back in reverse so that it's protected by the camera body, this rear panel lined with a smart leather-like covering.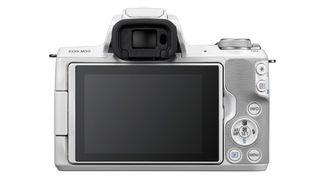 Opinions here are divided about the available colour schemes. To some, the EOS M50 looks very attractive in white, and the finish has a smooth and glossy high-quality feel. Others think it's pretty dreadful and that the black version is the one to go for.
Whichever camera colour you choose, the aforementioned 15-45mm kit lens comes in a semi-matt, mid-grey colour. Its retracting design makes it much smaller than the kit lenses on Canon's DSLR cameras, and goes well with the EOS M50's compact body. This is a camera and lens combination you could comfortably fit in an everyday bag where a DSLR would be too big.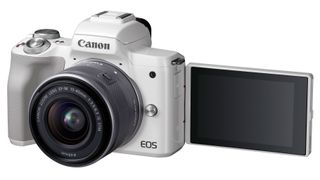 Having to manually release the lens for shooting, however, does become a rather annoying chore. It's achieved with a spring-loaded catch on the lens barrel that's almost flush with its surroundings, so it's not always easy to operate in a hurry. It is nice to have a manual zoom action once the lens is extended, but, on balance, we'd probably prefer an electrical power zoom lens such as the Olympus M.ZUIKO DIGITAL ED 14-42 mm 1:3.5-5.6 EZ 'pancake' zoom, or Sony E 16-50mm f/3.5-5.6 PZ OSS. Both are a little smaller than Canon's option too.
Overall, the EOS M50 is fast, responsive and very satisfying to use. The lens's manual retraction is something of a pain, however, while its finish is at odds with the rest of the camera.