AOC is renowned for producing well-specced monitors at very competitive prices, with its main focus being on entry-level and business displays, as well as gaming panels under its AGON sub-brand. But now AOC is branching out into premium designer monitors, and what better way to ensure your new screen stands out from the crowd by commissioning a premium design studio to come up with the exterior.
That's right, the AOC U32U1 has been designed by Studio F.A. Porsche - that is indeed the same Porsche that does the sports cars. However the design consultancy division pens much more than automobiles, and even monitors for that matter - with everything from trains, to cutlery, to gym equipment appearing in their portfolio.
AOC already has Porsche-designed 24-inch and 27-inch monitors in its range - the PDS241 and PDS271 - but for sheer wow-factor, this 31.5-inch version is the one to have.
The U32U1 also boasts solid screen specs to back up the stylish exterior:
Specifications
Display area: 31.5 inches
Aspect: 16:9
Panel type: IPS
Panel bit depth: 10-bit
Display colors: 1.07 billion
Resolution: 4K (3840 x 3160)
Pixel density: 139 ppi
Refresh rate: 60Hz
Response time: 5ms
Brightness: 600 cd/m2
Contrast ratio: 1300:1 (static)
Color space coverage: 135% sRGB, 100% Adobe RGB, 98% DCI-P3
Video inputs: HDMI 1.4 x 1, HDMI 2.0 x 1, USB-C (DP Alt Mode), DisplayPort 1.4x1
Key features
Even if you ignore the design heritage of the AOC U32U1, this monitor still impresses on paper. It boasts a 4K (3840 x 2160) resolution - pretty average by today's standards - but more notable is the color space coverage of this 10-bit, wide-gamut display. Its 1.07 billion colors are said to cover 135% of the sRGB color space, 100% AdobeRGB and 98% of the DCI-P3 color space - all mighty impressive figures, Which should in theory make this an ideal monitor for photo editing.
And the stunning specs don't stop there. The monitor also conforms to the VESA Display HDR600 standard, so it's capable of going brighter and darker than an average panel in order to accurately display HDR content.
To ensure maximum device compatibility, the U32U1 is generously equipped with a host of I/O ports, including an HDMI 1.4 port, an HDMI 2.0 port, 1 DisplayPort USB-C, 1 DisplayPort 1.4, a conventional USB-C input, a USB hub, along with an audio input and headphone output. There are even 2x 2w speakers at the back.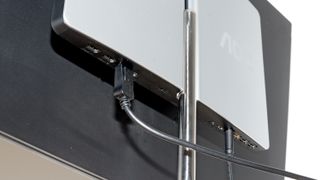 Build & handling
Unboxing the U32U1 is a treat in itself. Where most monitors include a stand as more of an afterthought, this AOC display perches on a piece of modern art. The tripod design is manufactured from beautifully machined, highly polished metal. If it is hollow tubing, then the tube gauge is very thick, as each leg feels as though it's completely solid - there's no flex here whatsoever, and the overall feel is supremely high quality and completely stable on your desk.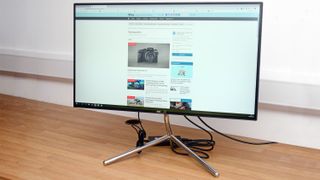 Follow the path of the rear 'leg' and it seamlessly angles upward to becomes vertical, where it extends up and into the rear body of the display to become a height adjustment rail for the monitor to slide up and down. Around 12cm of height adjustment is available, with the action being smooth and perfectly balanced for the weight of the display. You also get the usual tilt and 90 degrees of rotation, should you wish to view the display in portrait mode. However, while the metal stand is totally solid, the hinge between the monitor display and separate I/O backplate does introduce some screen wobble if you nudge your desk.
AOC advertises the U32U1 as 'zero edge' and 'four-sides frameless'. Sure, the screen bezels are impressively slim, but there is still a black border around the active screen area, albeit only 9mm on the sides and the top, and 10mm along the bottom bezel.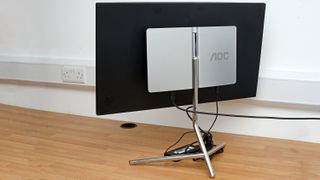 The back of a monitor isn't something most people pay much attention to, but it hasn't escaped the attention of the Porsche design team. The monitor's power circuitry and ports are housed in a slim silver box that slides up and down the height adjustment leg, while the actual display panel is almost entirely separate, attached only by a mostly concealed hinge. The effect is that the display appears from most angles to be floating in front of the rest of the monitor, adding even more eye-catching design flare. There's also the added benefit that, as only the display moves, (and all the ports stay static) all your connected cables also stay put - very tidy. It's also possible to wall-mount the display using a conventional 100x100mm VESA monitor arm, though that'd mean removing the sexy stand, and who'd want to do that?!
As you'd expect, there are no unsightly buttons cluttering up the clean lines. Instead, there's a single rear-mounted button. However, AOC's implementation also doubles as a four-way jog toggle, letting you navigate and select within the on-screen display menu.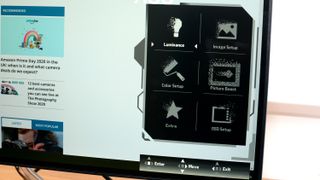 If there's one thing that lets the premium feel down, it's this. The menu is a typically dated, low resolution and mono affair which is light years behind the external design aesthetic. The toggle action of the control joystick also takes some getting used to. However since most of us spend more time looking out the outside of a monitor than fiddling with its OSD, we can forgive AOC for these shortcomings.
Performance
The U32U1 gets off to an impressive start, with rich colors and punchy contrast, while its 31.5-inch size and 4K resolution make for a stunning combination of sharpness and sheer screen real estate. Background bleed is also practically impossible to spot, though this has a lot to do with the anti-reflective matte coating on the screen, which causes a screen 'glow' to be visible when viewing the display at anything but a perpendicular angle. It's only really distracting when viewing very dark content in a dark room, but here it causes blacks to appear almost reflective.
Delve into the on-screen display and you'll find all the usual color/brightness/contrast/gamma adjustments that you'd expect, as well as some color presets like warm, normal, cool, sRGB and user-defined. Strangely there's no Adobe RGB or DCI-P3 presets though - a pity, as these do tend to be present on high-end monitors that also display all - or most - of these color spaces.
Each U32U1 is factory color calibrated and comes with a datasheet to show how it performed before it was boxed up. Our test sample had a claimed sRGB Delta-E average of 0.49 (zero being a perfect score, and a score of anything below 1 being excellent for any monitor). Luminance uniformity was also tested, with a deviation between 98.5% and 100.6% across the entirety of the display - an equally impressive result.
We broke out our trusty Datacolor Spyder X Elite colorimeter to verify these results. However, we had trouble matching AOC's color accuracy and brightness uniformity for our particular review sample monitor. Out of the box with no calibration, we recorded a disappointing Delta-E accuracy of 6.83. Once calibrated, this improved significantly to 2.59, but still a long way off AOC's claimed 0.49 Delta-E accuracy for our sample monitor. We also found it hard to match AOC's luminance uniformity of a 2.1% variation between the darkest and brightest regions of the display, as our testing recorded a 15% variation. Finally, while we were able to verify the panel's 100% sRGB and 98& DCI-P3 color space coverage, we could only achieve 87% AdobeRGB coverage - significantly down on the 100% advertised coverage.
Verdict
If you're in the market for a big-screen monitor that goes large on style as well as screen real estate, the AOC U32U1 is very hard to beat. Its Studio Porsche design and the stand's luxurious build quality are truly impressive to behold, plus you get a decent selection of video and data ports to maximize computer and device compatibility.
The monitor is equally impressive once it's powered up, with exceptional brightness and a sharp 4K screen res. It makes for a jaw-dropping viewing experience to the naked eye, but if you need to edit color-critical image or video content, this is not the screen for you. Whether due to an isolated issue with our particular sample monitor or something else, we just couldn't get close to AOC's claimed color accuracy or luminance uniformity. We reached out to AOC for assistance, but didn't receive a conclusive explanation.
Unless style ranks above image quality on your monitor wish list, it's tough to recommend the AOC U32U1 when other monitors are available for similar money that are significantly more color-accurate.
Read more:
The best photo editing tools and accessories
The best NAS drives
The best cameras you can buy right now
The best monitor calibrators
The best photo editing software
The best desktop computers for photo editing
The best ultrawide monitors for photo editing
Best video editing monitors