Zhiyun-Tech has launched the Zhiyun Smooth-Q3, the third iteration of its consumer-oriented Smooth-Q smartphone gimbal and the first smartphone stabilizer we know of to incorporate an adjustable fill light.
The addition of a fill light turns the Zhiyun Smooth-Q3 into the perfect tool for vlogging, offering three levels of brightness for better lit video footage and more flattering selfies. The 4,300K warm-toned light features touch-button control for instant front or rear lighting.
• Read more: Best gimbals
The Zhiyun Smooth-Q3 is lighter than its predecessor, the Smooth-Q2, weighing 340g compared to 450g. It is also easier to fold and boasts a higher maximum payload of 280 grams compared to 260 grams, although battery life is a little shorter, at 15 hours compared to 17 hours. The Zhiyun Smooth-Q3 can charge from empty in three hours.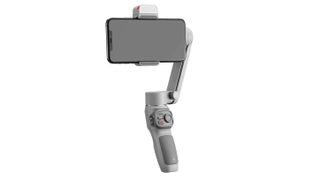 Like its cheaper Zhiyun Smooth X and Zhiyun Smooth XS siblings, the Zhiyun Smooth-Q3 uses the ZY Cami app for video, giving you access to new features such as SMART templates, which lets you use music, special effects and filters to create professional-looking videos in an instant.
Other features include gesture control, SmartFollow 3.0 Object Tracking, an instant Dolly Zoom, and MagicClone Pano, which is operated using a single press trigger button to mark the target and activate smart following. Other neat tricks include triple tapping the trigger to instantly switch between portrait and landscape modes.
The Zhiyun Smooth-Q3 is available priced at $89 / £85 or $109 / £105 for the combo pack, which includes the Smooth-Q3, charging cable, tripod, protective bag, VIP card and wrist strap. At this price it looks to be in direct competition with the likes of the Feiyutech Vimble 2, the Feiyutech VLOG Pocket and the Moza Mini-S.
Read more
Best camera phones
Best gimbals
Best smartphone tripods
Best selfie sticks
Best add-on lenses for phones
How to capture atmospheric portraits