Official renders of the Xiaomi 14 have been posted on Weibo, just hours ahead of the phone's official launch on October 26th. These mark the first time images of this more mainstream phone model have surfaced, as until now only renders of the flagship Xiaomi 14 Pro have been leaked. The new images confirm a triple rear-facing camera array in a square housing, along with punch-hole selfie camera set into a 6.36-inch display. The polished metal frame of the phone bears more than a passing resemblance to that of an iPhone.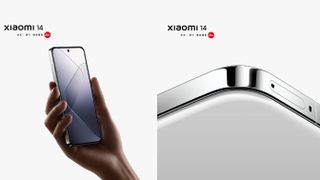 In a separate Weibo post, Xiaomi also confirmed the specs of phone's camera set-up. The primary (wide-angle) camera looks set to be based around a 1/1.31-inch sensor from a "new image sensor brand". Since the previous Xiaomi 13 utilised a Sony sensor, it's likely this "new brand" simply means a switch to a Samsung sensor for the Xiaomi 14, with the sensor size pointing to the 50MP Samsung GN1 as a possible candidate. The sensor will be fronted by a Leica Summulix lens, with an f/1.6 aperture. This is larger than the f/1.8 lens used on the Xiaomi 13, so we'd expect the extra light-gathering capacity to improve the camera's low light performance.
We've yet to see any credible rumors about what kind of camera hardware the flagship Xiaomi 14 Pro might feature. But with the 13 Pro already packing a big 1-inch sensor for its primary camera, the new model is sure to at least follow suit. We won't have long to wait to find out though, as both phones are set to launch on October 26th.
Story credit: Android Authority
Read more:
The best camera phones
The best burner phones
Which is the best iPhone for photography?
The best budget camera phones