It's the run-up to the carnival of Christmas – which means that it's also the run-up to the new Star Wars spectacular! Which, in turn, means that there has been a fair bit of Star Wars camera news mixed in with this week's photographic happenings. 
If you're a fan of classic cameras, especially ones that were used to film classic space opera movies, or a fan of sci-fi themed special editions of brilliant camera phones, then this was definitely a good week for you. 
Similarly, if you've been waiting for news on Canon's next EOS R camera or Sony's A7S follow-up, then the past seven days probably made you happy. However, if you ever need your Nikon camera serviced or repaired, this might not have been the jolliest week. 
So, let's fire up our Lightsabers and wave them at this week's five biggest camera news stories…

George Lucas' $625,000 Panavision camera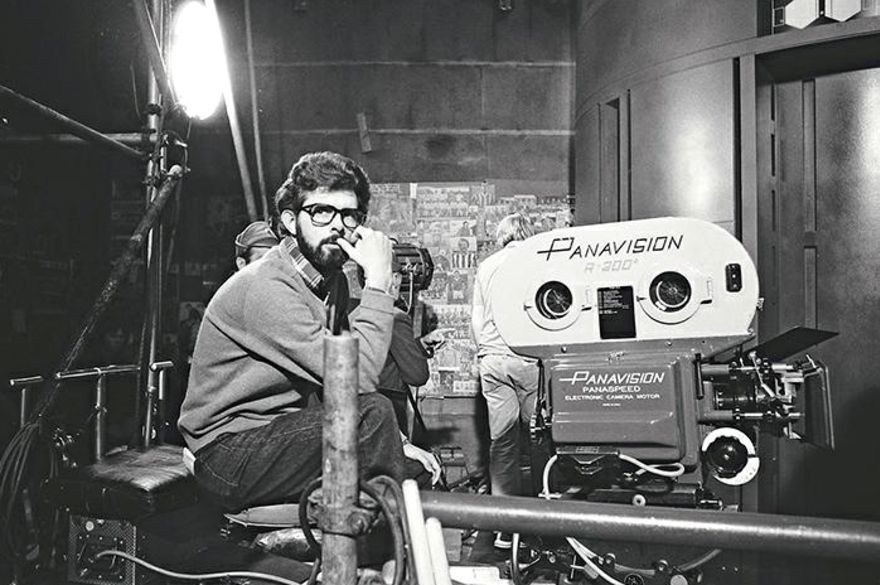 In case you've somehow managed to avoid the hype train, Star Wars – Episode XI: The Rise of Skywalker hits the big screen next week, so Lucasfever is at a fever pitch (as is the backlash… but that's another story). 
Something that many fans may not be aware of, however, is that the second most expensive piece of Star Wars memorabilia ever in the galaxy is none other than the Panavision camera used by George Lucas to film the very first film, Star Wars – Episode IV: A New Hope. 
George Lucas' Panavision PSR-200 35mm camera was used to shoot the original Star Wars back in 1976. Some 35 years later it was sold at an auction in Beverly Hills, fetching a cool $625,000 (£474,360 / AU$918,774) – but it has recently been knocked off its pedestal as the most expensive piece of Star Wars memorabilia… 
Read more: George Lucas' $625,000 Panavision camera: the second most expensive Star Wars item in the galaxy!

Samsung Galaxy Note 10+ Star Wars edition
Hot on the heels of the Panavision camera that shot the original Star Wars (along with the Star Wars instax camera and film), you can also celebrate the conclusion of the Skywalker Saga with the Samsung Galaxy Note10+ Star Wars Special Edition – complete with a Dark side Lightsaber S-Pen. We guess the 'S' must stand for 'Sith'!
This ultra-collectible phone comes in a specially designed Kylo Ren box, a metal badge of 'shattered helmet Ren', the aforementioned Sith Pen, and Galaxy Buds in a Dark Side-inspired case – along eith exclusive Star Wars-themed content including wallpapers, shutdown animations, icons and sounds.
As for the phone itself, the Samsung Galaxy Note 10+ is one of the best camera phones out there. We rated it a mighty 4½ stars for its quad-camera performance, packed with clever features like Live Focus, Live Focus Video, Pro, Food, Night, Instagram, Slow Motion, Super Slow-mo, and Hyperlapse – not to mention that videos can be recorded at up to 60fps in 4K resolution…
Read more: Sith happens: Samsung Galaxy Note 10+ Star Wars Special Edition

Sony A7S III spotted in the wild?
For months it seemed like we couldn't open our inboxes without Sony A7S III rumors spilling all over the place… then all of a sudden, it went deathly quiet. However, the eagerly anticipated camera now appears to have been spotted out in the wild! 
The Sony A7S III – if that is indeed the camera in the image – possesses a body that is much thicker than standard Sony cameras. This would seem to give weight to the rumors that the A7S III would require additional depth to accommodate a heating vent – which, in turn, is required to facilitate the rumored 4K video at 120 frames per second. 
This would not be the first time that our first look at upcoming cameras comes courtesy of paparazzi-style images; the Panasonic GH5S was famously first spotted in the hands of Casey Neistat, and Jared Polin was papped while using the Olympus OM-D E-M1…
Read more: Sony A7S III spotted in the wild? Image reveals much thicker camera (for 4K 120?)

Canon EOS R Mark II to be announced May 2020?
While 2019 isn't even over yet, it already looks as though Canon will be kicking off the new year with a busy schedule. After reports that the Canon EOS Rs will be out as soon as February, we've now heard whispers that the true follow-up to the EOS R will be announced before Photokina in May as the Canon EOS R Mark II. 
With the original Canon EOS R only having been released in October 2018, this is a pretty fast turnaround for the Mark II – especially when you consider that the Canon EOS Rs is meant to be released only a few months before that. Does such a quick follow-up indicate a lack of faith in the original EOS R? 
There were quite a few complaints about the EOS R's lack of dual card slots and in-body image stabilization when it was first launched, so perhaps this is what made Canon fast-track the Mark II. However, this still doesn't quite explain why Canon would announce two high-spec mirrorless cameras so close to each other…
Read more: Canon EOS R Mark II to be announced May 2020 – but why so soon?

You'd better hope that your Nikon doesn't break…
Nikon USA has announced that it will officially be ending its authorized repair program in early 2020, which means that if you want to get your Nikon camera fixed your options will have dwindled from a healthy bounty of fifteen independent shops to an anaemic choice between two facilities located at either end of the US. 
This is because each of the 15 Authorized Repair Station members are about to become non-authorized repair shops, which Nikon stopped selling genuine parts to in 2012. It seems unlikely that these independent shops will continue to have access to the speciality components, software, tools, manuals and model training that Nikon has previously given - although, it's worth mentioning that Nikon hasn't actually clarified this as of yet. 
In an exclusive scoop by iFixit, Cliff Hanks, the parts manager for Kurt's Camera Repair in San Diego, California, says, "We need more information before March 31. We can make contingency plans, start stocking up on stuff, but when will we know for sure?"…
Read more: You'd better hope that your Nikon camera doesn't break now…

Christmas gift guides:
• Photography lover gifts for Christmas: Quirky & unusual Christmas camera gifts
• The 47 best Christmas gifts for photographers
• The best stocking stuffers for photographers