Video: The Infinix Concept Phone 2021 fast charging in action
Infinix is a Chinese smartphone maker with a strong portfolio in Africa, Asia, and the Middle East, so what's it doing sending us its latest phone? Simple – this is the headline-grabbing Concept Phone 2021, the fastest charging smartphone in the world. The brand has never launched smartphones in the UK or US – so don't be too hard on yourself if you've never heard of Infinix before. That said, its handsets have historically matched impressive value imaging, decent specs, and a low price tag in regions you can readily buy Infinix Android phones.
With its latest Android phone, the Concept Phone 2021, Infinix is making waves on and off home turf. This is a real smartphone we've been using; it features a curved AMOLED screen, a mighty-looking camera module that pulls focus, and the world's fastest charging on any phone we've ever tested.
How fast does the world's fastest charging smartphone charge? With its 160W power brick, it powers up the phone's 4000mAh battery in 10 minutes, according to Infinix.
Read also: Best wireless chargers
World's fastest charging eh – how does the competition stack up?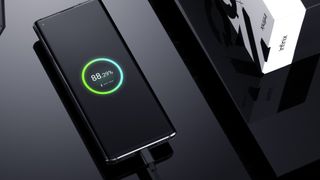 Adding some context to just how fast the Infinix Concept Phone 2021 powers up, with its 160W speeds, it bests the current fastest charging smartphones, the Vivo iQOO 7 and Xiaomi Mi 10 Ultra, which charge at a mighty 120W. When you start to go more mainstream, the OnePlus 9 Pro powers up at 65W, as do the OPPO Find X2 Pro and Find X3 Pro 5G, and the Xiaomi Mi 11 Ultra reaches 67W speeds. On average, speeds of around 65W deliver a full charge in around 30-40 minutes, while 120W charging fills up a battery in around 20 minutes. Now, while in our tests, the Concept Phone 2021 powered up in 11 minutes and 53 seconds, you can still color us impressed.
Venture into even more mainstream territory, and things really slow down. Take the Samsung Galaxy S21 series – it caps out at just 25W. The Google Pixel 5 charges at a modest 18W, while the iPhone 12 Pro powers up at a not much faster 20W. In turn, you'll be waiting for around an hour and a half to charge your iPhone up fully with a fast charger. So how does Infinix wipe the floor with such big hitters like Apple and Samsung?
The tech behind the spec
There are a few reasons mainstream tech doesn't boldly go to the 160W fast charging speeds on concept devices. One reason is heat management. Another is battery degradation – fast charging is worse for long-term battery health. There's also the issue of size, which is related to heat. To power up quickly, a battery needs room to breathe, and the Infinix Concept Phone 2021 has that, measuring a hefty 9.7mm thick. Nevertheless, it's a marvel powering this thing up.
To achieve 160W fast charging, Infinix throws a lot of words our way: Ultra Flash Charge (UFC) technology; Innovative Super Charge Pump; 60 security protection mechanisms, and an 8C cell that enables the smartphone's 4000mAh battery to be fully and safely charged in 10 minutes. We don't know what it all means, but it sounds exciting.
In English, and in the context of fast charging hurdles all phones face, the Concept Phone 2021 is able to reach a 98.6% charging conversion efficiency according to Infinix, while avoiding overloading and overheating caused by large currents. No one wants an exploding smartphone on their hands, and by using 20 temperature sensors and intelligent control algorithms, charging power is adjusted to keep the smartphone under 40 °C/104°F. When reviewing the Galaxy Note 20 Ultra (Exynos version), we found it frequently went above this temperature when gaming for context.
Additional specs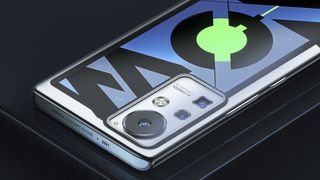 Now, take everything in this section with a pinch of salt. After all, this being a concept device, Infinix doesn't have to actually deliver on anything it claims to be on the handset. That it has enabled the 160W charging is a feat in itself. However, the Concept Phone 2021 we're using does have the following: a 6.67-inch FullHD+ AMOLED display, with a super-curved screen almost identical to that of the Motorola Edge. It also benefits from MediaTek power, with a Helio G95 chipset, so is a modest flagship, and that oomph is matched with 128GB storage and 8GB RAM.
The phone's front camera is 32MP in resolution, while around the back is a 64MP primary camera, an 8MP ultra-wide, and an 8MP periscope telephoto camera. In our review sample, the periscope camera was disabled, and the camera was probably the most rough-around-the-edges part of the phone. Additionally, the under-display fingerprint scanner wasn't working. That said, the Concept Phone 2021 runs full Android with the Google Play Store supported, and played back shows on Netflix and games downloaded with ease.
What does this mean for cameras?
The Infinix Concept Phone 2021 has a 4000mAh battery. A Canon EOS R5's battery is just 2,130 mAh. A Sony A7S III battery is only slightly larger, at 2280mAh. With 160W fast charging, the notion of spare batteries for your camera gear could be a thing of the past. An ultra-fast charging power bank or base station could see you simply cycle between two batteries whether on a long shoot or a weekend away, with just a five-minute charge giving you all the power you need.
This charging technology has implications much further afield when it comes to photography and videography – lights, monitors, microphones. In fact, virtually all on-location shoots without a power source would benefit immensely from lightning-fast charging, as demonstrated by the Infinix Concept Phone 2021.
So while we can't recommend anyone buy an Infinix Phone off the back of our time with the device – this is not a review and the Concept Phone 2021 definitely isn't the best camera phone we've tested; it's clear Infinix is investing in R&D, is intent on getting noticed, and has sent us a sneak peek into a time-saving future that could change the way we interact with technology at large.
Read more
Best camera phone in 2021
Best 5G phone
Best Sony phone
Best iPhone for photography
Best fold phone
Best camera for TikTok
Best TikTok lights
Best student laptop