Thanks to a global pandemic and the subsequent mass migration workers around the world took from their office desks to their kitchen tables, the world of working may have changed forever. For some, this adjustment will be a temporary blip. But for others, working from home may have become the new normal. If you're an employer or employee wondering how to make the most of this new system, the Working From Home Show could be your answer.
Swapping smart shoes for comfy slippers, the grimy office kettle for a home brew, and suit trousers for jogging bottoms are certainly some of the perks of working from home, but how can businesses make it a sustainable and effective model for the future?
• Read more: Everything photographers need to work from home
The Working From Home Show is a two-day virtual event for SMEs, corporate organizations, startups and individuals to discover the most effective ways to work from home. The virtual event will showcase insights from thought leaders, IT experts, HR professionals and companies who have already rolled out working from home successfully.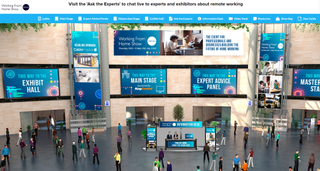 Spanning two days, the Working From Home Show will have 25 speakers, three keynotes, four stages and 25 exhibitors. The Main Stage will have leaders and consultants speaking on how they have adopted working from home successfully. Meanwhile, the Masterclass Stage will have top brands in the industry showcasing their products and services, from connectivity to hardware, management tools and workspace options.
To attend the virtual event all you need to do is register here for free. The event will begin on Thursday 30 July and will run until Friday 31 July, opening at 10AM each day and closing at 5PM. Visitors can log in to the event as much as they like over the two days to see keynote speakers, masterclasses and chat live with exhibitors.
Read more
Best photo-editing laptops: top laptops for photographers
Best laptop stands: Prop up your laptop with these helpful lap desks
Best tablet for photo editing and photographers in 2020