UPDATE:
Fujifilm has answered calls from PetaPixel and DPReview to explain the recent issues Fujifilm X-Pro3 users have been experiencing with their electronic viewfinders.
Fujifilm says, "Our customers are always our number one priority. We take feedback to heart and always strive to provide the highest possible quality in our products. We are aware of the phenomenon affecting the viewfinder in a very small percentage of X-Pro3 units. We advise our customers to contact Fujifilm customer service directly to solve any questions or concerns they may have about the camera."
ORIGINAL STORY:
Fujifilm has found itself in hot water, after some Fujifilm X-Pro3 users have taken to popular online photography forums to complain that their camera's electronic viewfinder has been malfunctioning.
When the Fujifilm X-Pro3 was first announced, it's fair to say that it initially divided opinion. Some welcomed the back-to-basics approach of hiding the LCD screen, designed to help prevent 'chimping' (the practice of checking your screen after having taken a photo). However, others were bemused at the implementation, wondering why Fujifilm would create a limiting flip-down screen rather than a fully articulated screen.
• Read more: Best Fujifilm cameras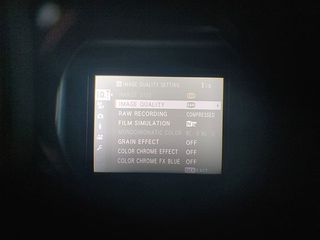 And now, in what feels like the very definition of irony, multiple Fujifilm X-Pro3 users are complaining that their electronic viewfinder isn't working correctly. As reported by PetaPixel, the issue was first outlined on the DPReview forums by photographer Etienne Waldron, "I just went out shooting with the X-Pro3 under light rain and suddenly noticed that my EVF was misbehaving, showing me a (way) overexposed view when shooting, and brightness issues in both the menus and the 'Play' mode as well.
"Things look normal through the LCD, but everything looks (very) overexposed through the viewfinder, almost plain white…"
While this would be a significant issue on any camera (and does highlight the potential drawbacks when using electronic viewfinders over optical viewfinders), it's particularly problematic for the Fujifilm X-Pro3. Its flip-down screen design means that it's more difficult for users to work around the problem than usual.
Fujifilm X-Pro3 users experiencing this problem will likely either have to shoot from waist-level or use the camera at eye-level with the LCD screen flipped down - neither of which will be ideal for every shooting situation.
Etienne Waldron isn't the only photographer experiencing these issues, with multiple other users confirming that they'd also had the same issue. While it's not clear how many other X-Pro3 cameras are affected, if this is a particularly widespread problem then we can't help but wonder whether a recall could be on the cards…
Read more
Best Fujifilm lenses: the best lenses for X-mount cameras
Cheapest mirrorless cameras: great bargains for careful shoppers!
Best camera batteries: best deals on replacement camera batteries