Before the iPhone 15 Pro was revealed in all its glory I wrote about the extensively trialed Action Button, which has replaced the mute switch with a customizable button.
I was skeptical and, after a few days with my new phone, remain so. According to MacRumors, though, it seems that Apple might already be working on a solution for the iPhone 16.
• Read our iPhone 15 Pro Max review
The rumor is that the iPhone 16 will keep the Action Button (sadly, for me at least, there is no way they can roll back on all the hype of the user-definable button) but Apple will also add a 'Capture Button'. Hot on the heels of filling the camera app with equivalent focal lengths, it feels like Apple is really talking the language of photographers – which feels pretty good. I for one like Apple's huge customer base to be nudged toward thinking photographically, rather than just 1x and 5x zoom!
Like many photographers I'm experimenting with my iPhone 15's Action Button as the camera trigger, to save me a few valuable moments launching the app, so I've gone from the ultimate in tactile mute switches to having to swipe down and bring up an on-screen menu. In exchange, I can open the camera app faster and the button then becomes a shutter… but, well, pressing a physical button can jog the phone.
That, though, might also be solved by Apple's "Project Nova", reported by MacRumors. The report tells us that the additional Capture Button will be capacitive – meaning it doesn't physically move, but senses pressure – and likely feeds back using vibration (or the Taptic Engine as, Apple prefers to say) like the iPhone SE's Home button. So if (and it's a big if) Apple gets it right, then a more gentle press could make for a perfect shutter without causing camera shake – and feels very Pro.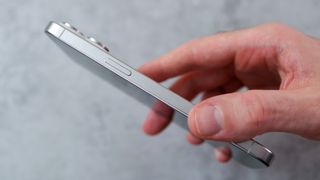 According to the rumor, the button will appear across the entire iPhone 16 line, which seems a bit unlikely to my mind – Apple has traditionally introduced things with the Pro series, like the Dynamic Island on the iPhone 14 Pro, then filtered them down with the next generation.
What could be more "Pro" than a potentially confusing extra button? One, though, that would let me have a physical mute switch back (albeit one not quite as good as on my iPhone 14) plus a better, quicker, camera activation option.
This is an early rumor, before the design is set or distributed to case makers, so nothing is guaranteed, but it is an exciting possibility. There is also discussion of a meaningful change in design, including a 0.2-inch bump in screen size across the line. We'll have to wait and see.
Of course, if successful this button – expected to sit below the power button on the opposite side to the action and volume buttons – could also spell doom for all physical buttons. Many have spoken of the advantages of eliminating them; it would prevent dust and water ingress to the device interior, and some people even expect Apple to ditch any kind of physical port for the same reason. It's easy to paint the increments out in your mind that would see no 'real' buttons or ports by, say, the iPhone 19.
Just after getting USB 3.0 transfer speeds on the iPhone 15 Pro this doesn't feel like a great prospect for photographers, but at least the iPhone 16 sounds like it might be an improvement!
See our guide to the best iPhones for photography and, crucially if you've jsut upgraded, the best cases for the iPhone 15 Pro Max.