The iPhone 15 Pro is the epitome of a safe bet. The phone is expensive, but not the most expensive; its cameras are specced out, but they don't rock the boat too much, and its screen is expansive without being oversized. Packing all of Apple's latest iOS highlights and a wonderfully refined design with its titanium build, as well as that coveted USB-C port, we really (really) like this iPhone.
If you dare to dream beyond Apple's iPhone line, though, much of what we love about the iPhone 15 Pro can be had for less in an Android alternative. Compact options like the Asus Zenfone 10 and Sony Xperia 5 V also offer flagship power and advanced camera tech. Apple's refined design feels great, but Android takes design further, with phones like the Samsung Galaxy Z Flip 5 and Oppo Find N3 Flip literally folding in half, and lower-cost camera phones like the Pixel 7 Pro serve up more range as well as Google's imaging smarts.
We know if you have an iPhone, you'll probably want to upgrade to an iPhone, so despite plenty of Android competition, let's get into what makes the new iPhone 15 Pro our choice unless you fall into three categories: gamer, zoomer, or forgetful charger.
iPhone 15 Pro: design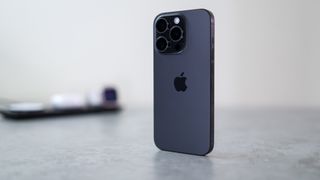 Apple's Pro line has always kept things palm-friendly, and the 15 Pro is no exception; with its 6.1-inch screen and lightweight 187g body, it's comfortable to use with one hand, and even with a case, it isn't unwieldy.
Unlike past iPhones, the 15 Pro has a stronger and lighter titanium frame that's better at fending off fingerprints than polished iPhone rims of old. The edges of the Pro's frame also curve in to meet the glass back and front, making for a much more comfortable hold when compared to the stark angles we're used to from Apple.


Around the back of the iPhone 15 Pro is a glass panel that curves up to form the camera surround with three large rings framing each lens. With smaller bezels than last year's 14 Pro, the 15 Pro has less border than any iPhone before it, making for a more immersive canvas for your content.
The 15 Pro and Pro Max are available in four color options: Natural Titanium, Blue Titanium, Black Titanium – the option we tested, and White Titanium. Apple's Ceramic Shield glass protects the front of the phone, and all of Apple's 15-series is IP68 dust and water-resistant.
We've mentioned the new USB-C port – one of two significant differences between the 15 Pro and past iPhones – and the other switch-up is the customizable Action Button. This replaces the alert slider on the left side, and you can choose what happens when you press it, with options including changing focus mode, launching the camera, torch, Voice Memo app, Magnifier, an accessibility feature, or firing up silent mode.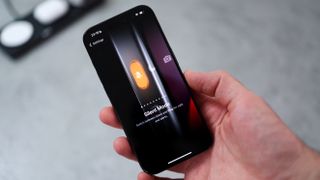 To summarise, the iPhone 15 Pro looks fantastic. It also feels a bit more precious than most phones, so if you're like us, you'll definitely want to get it in one of the best iPhone 15 Pro cases on offer.
We settled on the Mous Iridescent Clarity 2.0 case during our review period, pictured below. What we particularly liked about it was its smooth finish, with other more rubberized textured cases gripping to our pocket lining as we tried to slide the phone in. It's also poised to power up with MagSafe and adds color-shifting oil spill meets Malibu Barbie chic styling to our otherwise traditional, black iPhone.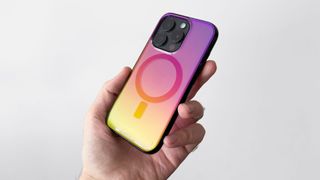 iPhone 15 Pro: screen
The 6.1-inch Super Retina XDR display on the Pro won't be as immersive as the 6.7-inch panel on the iPhone 15 Pro Max, but it still enjoys the best quality display tech of any iPhone. At the heart of the viewing experience is OLED screen technology, and as you might expect, blacks are inky, and colors pop with panache.
The iPhone 15 Pro has a 120Hz refresh rate for smooth scrolling and features HDR support with a DCI-P3 wide color gamut and Apple's True Tone display tech, so it dials warmth up or down based on ambient lighting.
Like the 14 Pro series, the 15 Pro has a Dynamic Island, which plays host to the front camera system and Face ID technology, and the screen supports Apple's Always-on Display feature too.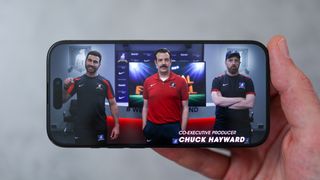 Smartphone screens really have hit an excellent standard at the premium end, and the iPhone 15 Pro is no exception. It gets super bright with up to 2,000 nits peak brightness outdoors, 1,600 nits in other environments, and a 1,000 nits typical max manual brightness.
If you want a bigger view of your content, you can also project your iPhone 15 Pro to a TV or monitor using the USB-C port or AirPlay, and we tested our review unit with a standard USB-C to HDMI dongle to great effect.
The iPhone 15 Pro does a brilliant job of creating a big-ish screen experience in a small package. By shaving down the bezels, almost all of the phone's front is screen, so watching movies or TV shows that beam in glorious quality or editing photos is a pleasure on it.
The main limitation for anyone with larger hands is gaming – the display can feel a little cramped when you add on-screen controls to the mix, but that caveat aside, the 15 Pro's screen is pretty much perfect to our eyes.
We also tested out a couple of iPhone screen protectors, settling on the Belkin UltraGlass 2.
Before picking up the Belkin protector, a local shop sold us a lower-cost 15 Pro protector with a visible lip around the edges when fitted. The shop assistant assured us this was normal owing to the slightly curved glass of the new iPhone screens. But we contacted Belkin shortly after, and that isn't the case.
As a result, we went to an Apple Store, where a staff member fitted the UltraGlass 2 protector on our 15 Pro Max using a dedicated machine that applied it perfectly. While it's pricier than options from lesser-known brands, the perfect fit and promise of a better-shielded display made us realize a quality option like the UltraGlass 2 should have been our first port of call.
iPhone 15 Pro: camera specs
Last year's iPhone 14 Pro camera is back for round two, with a wide, ultra-wide, and 3x telephoto set-up on the 15 Pro.
The iPhone 15 Pro's primary camera has a 48MP resolution matched with a 1/1.28-inch sensor and a 24mm f/1.78 aperture lens. Using Apple's second-generation sensor-shift OIS and capturing 48MP and 24MP photos, it's clear that Apple's switched up its computational photography even if the hardware specs look familiar.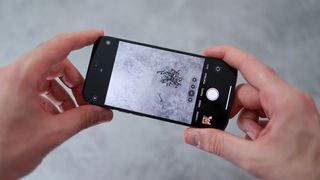 The 12MP ultra-wide camera has a 13mm focal length and an f/2.2 aperture lens, while the 12MP 3x telephoto camera has a handy 77mm focal length and a fast f/2.8 aperture.
The telephoto camera has the smallest sensor of the three around the back, and it isn't a periscope module like the 15 Pro Max, or other phones, including the Honor Magic 5 Pro or Huawei P60 Pro.
As a result, we're not expecting class-leading reach or noise handling, but in a specific focal range in abundant light, having a 77mm camera is a very handy addition. This is illustrated in the grid below, demonstrating the iPhone 15 Pro Max's weakest focal length – 4.9x zoom – just before the periscope camera is engaged. The 15 Pro, however, clearly outperforms the Pro Max before its telephoto camera kicks in.
In the specs on the iPhone's product page, Apple cheekily suggests there's a 12MP telephoto lens with a 48mm f/1.78 lens, but this is just a reference to the primary camera and a digital crop. Yes, it can capture a native 12MP image at 48mm owing to the high-resolution sensor, but it wouldn't deliver the optical performance of a dedicated, high-quality 48mm camera, so don't let Apple's optimistic marketing suggest otherwise.
Selfies are captured on a 12MP front camera with an f/1.9 aperture lens loaded up with autofocus and a wide field of view.
One area the iPhone 15 Pro camera looks set to best its predecessor is video capture. Specifically, thanks to the new USB-C port, it's now possible to capture ProRes video at up to 4K resolution, 60fps recording directly to an external drive. This is potentially game-changing for mobile filmmakers.
iPhone 15 Pro: camera review
The iPhone 15 Pro's picture quality is quintessentially Apple, with characteristics including a balanced take on noise reduction, a fair bit of sharpening and contrast, and a warmth to photos that produces generally flattering shots.
In bright environments, the 15 Pro pulls out stacks of detail across all three cameras, though with the main camera able to capture at a higher resolution, you'll want to lean on it if you plan on cropping or blowing up your shot.
We wish Apple included higher-resolution ultra-wide and telephoto sensors like Google has for the Pixel 8 Pro. This would have added a smidgen of extra flexibility beyond the wide camera.
That also means when it comes to zoom, the iPhone 15 Pro isn't best-in-class, with the Pixel 7 Pro and 8 Pro both out-performing it for the same price or less, as the iPhone relies purely on optical reach and can't combine it with a lossless digital crop. Nevertheless, with OIS, the telephoto sensor does a good job in well-lit scenes, as you can see below, with the photo of the chimney reflecting a maxed-out 15x zoom.
The iPhone generally does a good job in mixed-lighting environments, embracing warmer tones, while still balancing colors. Saturation and vibrancy are more boosted than Google Pixel shots, but less so than Samsung Galaxy photos, and while Apple doesn't offer manual white balance, RAW and RAW+ capture help things along, as do the four additional looks: cool, warm, rich contrast, and vibrant.
The iPhone 15 Pro's wide camera's large sensor means shots are packed with natural depth and detail when a subject is under a meter away. The telephoto camera can also pull up a pleasing amount of depth, with a nearest focus distance of about 70cm, and the ultra-wide can get super-close to an object for macro photography.
Drop the lights, and the iPhone 15 Pro holds its own with Apple's night mode kicking in automatically. Below are examples across the telephoto, wide, and ultra-wide cameras of a scene with a modest amount of light flooding in on one side and almost no light on the other side.
Apple doesn't boost exposure for the whole scene as much as Google and its Pixel 8, preserving shadows while still enhancing detail in the brighter areas. The telephoto and ultra-wide cameras lose a bit of detail, so they aren't best-in-class at night, but the wide camera is strong.
The iPhone's Portrait Mode is powerful. As you can see in the photo below, the telephoto camera matched with Apple's computational smarts creates an impressive detail fall-off. While it doesn't quite look natural, the fact such a faraway subject produces such a clean portrait is still impressive.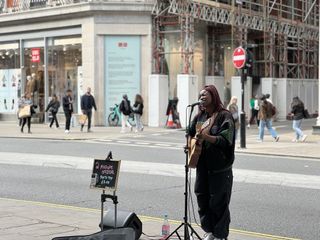 Video from the 15 Pro looks mighty, with stabilization and detail all impressing, though audio wasn't always as clean as we wanted it to be, with the mic struggling with wind more than some other phones.
iPhone 15 Pro: Additional features
Running with an Apple A17 Pro chip, the 15 Pro should have more grunt than any other smartphone around, and it's the first phone to benefit from a 3nm manufacturing process.

Practically speaking, that means you can expect gaming phone power from the 15 Pro, though without gaming phone cooling, battery capacities, or screen size, gamers should still curb their expectations.

As for storage, the 15 Pro has a 128GB starting capacity, or you can pick it up with 256GB, 512GB, or 1TB. This could sway some in favor of the 15 Pro versus the Pro Max given the Max misses out on a lower-cost 128GB version.
If you plan on using the phone for over a year, we would suggest picking up the 256GB version. A few game and app installs, 4K video recordings, and a WhatsApp backup could wipe out 100GB in a matter of weeks.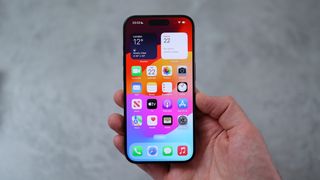 The iPhone 15 Pro runs the latest version of iOS out of the box, and being an iPhone, it's guaranteed for an excellent six years of software updates. Compared to phone makers like Sony, with two years of software updates and three years of security updates, this bodes well for anyone considering picking up an Apple phone as a long-term investment.


If you've used an iPhone, you'll know what to expect from iOS 17. The core navigation is familiar, but some flourishes help make personalization and day-to-day use more seamless. This includes making a sticker for messaging from any photo in your gallery – a really fun feature – AirDrop with a tap, and more.
The phone unlocks with Face ID and brings back tools like Apple Pay, the LIDAR scanner for advanced depth mapping, Siri, and all of Apple's pre-loaded apps like FaceTime, Pages, Keynote, and iMovie, to name a few, leaving you with a relatively complete app suite before you even fire up the app store, though many services like Apple Music, News, and TV's full functionality live behind a subscription paywall.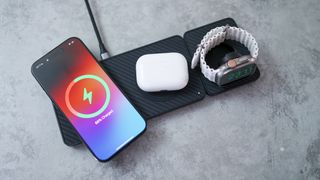 The 15 Pro is also one of the best-sounding small phones around, with stereo speakers that emulate depth while holding onto detail better than some larger flagship alternatives.
As for the new Action button, we never found ourselves using it, and in turn, we missed the alert slider of old. This isn't surprising as we've spent years getting used to one way of doing things, and we're not sure Apple's new way is better, though it is more customizable.
Power users might struggle to get through a whole day if they're hammering the 15 Pro Max with photography, video capture, and gaming, though casual use left us with about 20% power by the end of the day once we turned off the Always-on Display.
The phone brings back MagSafe wireless charging and powers up with any Qi wireless charger like the Mous modular charging system pictured above. Unfortunately, the new USB-C port doesn't deliver faster charging, so expect roughly 30W speeds and a charging time of 100 minutes.
iPhone 15 Pro: verdict
The iPhone 15 Pro is an excellent shout for iPhone users looking to upgrade.
There are some caveats to who we'd suggest the 15 Pro for. Gamers will find the screen a bit small and the battery to be lacking. In fact, unless you're happy with a daily charge and occasional top-ups throughout the day, you might struggle with the 15 Pro's battery life in general. Finally, anyone who wants maximum zoom should go for the 15 Pro Max.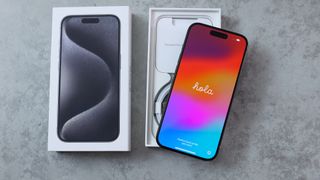 If none of those caveats phase you, the iPhone 15 Pro is a powerful phone with a reliable camera, a slick user experience, and excellent display and sound performance in a pocketable, great-looking, and feeling package.
Check out our guide to the best iPhone 15 Pro cases