The trouble with regular standard zoom lenses is that often they just don't go wide enough, forcing you to swap lenses for wide landscapes, cramped streets and tall landmarks.
The Sony FE 20-70mm F4 G is designed to fix that, offering a much wider angle of view at its shortest focal length without compromising on longer zoom settings.
• Read our hands on Sony FE 20-70mm F4 G review
Most standard zooms have a minimum focal length of 24mm, which is already reasonably wide, but while the 20mm minimum focal length of Sony's new lens might not sound a dramatic improvement, it really does open up a far wider range of subjects, literally.
It's not one of Sony's celebrated G Master lenses, and it has a constant maximum aperture of f/4 not f/2.8, but for many that will be a price well worth paying to get the increased wide-angle capability.
Besides, even though it doesn't carry the G Master branding, Sonly has clearly put a lot of effort into this lens's design and construction, claiming superb corner-to-corner resolution and fast and silent AF. And while it's designed to be light and portable, the new FE 20-70mm F4 G is nevertheless dust and moisture resistant and has a fluorine coated front element.
Its focal range alone makes it potentially one of the best Sony lenses, and more useful to many, perhaps, than the mighty Sony FE 24-70mm f/2.8 G Master II. The best standard zoom lenses don't have to be the fastest, simply the most useful.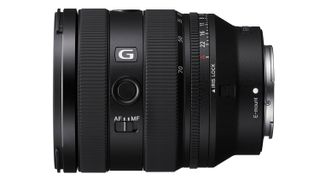 Sony FE 20-70mm F4 G design and features
Inside the barrel is a sophisticated optical construction including two advanced aspherical and one regular aspherical elements, three extra-low-dispersion and one regular ED element, a 9-bladed circular diaphragm mechanism and dual XD Linear motors. Sony says this makes the 20-70mm 60% faster and twice as fast at tracking as its predecessor, though it is using the older Zeiss 24-80mm f/4 as a comparison, not Sony's newer own-branded lenses.
It also focuses down to 0.25m to give what Sony describes as a "half macro" capability, though with a maximum magnification of 0.39x, that's stretching it a bit.
The Sony FE 20-70mm F4 G is designed for video as well as stills, with a de-clickable aperture ring, linear response manual focus and an iris lock switch. It's also designed to suppress focus breathing optically, though it also works with the focus breathing compensation feature on the latest Sony Alpha bodies.
This does look an extremely tempting two-lenses-in-one proposition for landscape, travel and event photographers, as well as a great vlogging lens. The concept is not all that new, however, as we've seen it before in Panasonic's far cheaper Lumix S 20-60mm kit lens, and the very good OM System 8-25mm (16-50mm equivalent) which goes wider still.
Sony FE 20-70mm F4 G price and availability
Given its ambitious optical construction and features, it's no surprise that the Sony FE 20-70mm F4 G will be expensive, at least in the UK, with a price of £1,399. US buyers are better off, with a current list price of $1,099, while Aussie Sony users will be set back AU$1,999. What's more, it's not due to go on sale until February/March 2023.