SmallRig has provided another reason to add your name to Apple's waiting list, by teaming up with filmmaker Brandon Li to produce a video kit for the iPhone 15 Pro Max.
The iPhone 15 Pro Max was released earlier this year and, as expected, has been extremely popular – especially with content creators and filmmakers, as it has a powerful 48MP camera system. SmallRig has capitalized on this by collaborating with Li, creating a kit that turns your phone into a legitimate filmmaking option.
The SmallRig x Brandon Li Mobile Video Kit for iPhone 15 Pro Max Co-Design Edition is designed around an all-metal compact, lightweight, and form-fitting cage that also incorporates built-in pads to prevent shocks and scratches.
A 'one-click' locking system keeps your phone secure yet accessible. The cage is the catalyst, allowing for multiple setups with the included accessories, and SmallRig's quick-release design connects accessories more instantly, making on-the-go arrangements easy.
This new quick-release ecosystem provides a faster, tool-free installation of accessories. The kit includes two side handles that can attach to the cage in several different locations; top handle mode allows for steady, fast-paced filming from a low angle, and side handle mode enables a secure grip for selfies, but ultimately it allows for quick and easy configuration to adapt and fit your filmmaking needs.
One of the quick-release side handles includes a wireless controller, allowing for easier management of camera operations.
Small Rig continues its Swiss Army knife approach to camera equipment, including a multitude of accessory options and room for expansion. A lens adapter enables the use of external lenses and filters, including the magnetic 52mm 5-stop variable ND (in the kit) for adapting to any light situation.
A pair of cold shoe mounts and no less than 10 1/4"-20 threaded holes enable the attachment of an array of filmmaking equipment.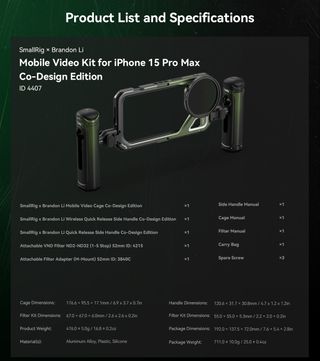 The cage is designed to keep access to all camera buttons and ports, and is also Magsafe compatible. This is a useful feature that will enable you to attach added power for those shoots that last a little longer.
I do not own an iPhone 15 Pro Max, but this kit is making me think about upgrading to one. It is super stylish, allows for a huge selection of kit, and it looks very easy to use. This kit is designed for the filmmaker on the move who gets quick inspiration when out in the world. The SmallRig x Brandon Li Mobile Video Kit looks perfect for content creators, travelers, and vloggers, and coupled with the 15 Pro Max serious filmmaking can be achieved.
The full kit is available for pre-order now on the SmallRig website for $118.90 (approximately £98.14 / AU$187.81). Each component is also sold separately.
If you've got one of the best iPhones for photography, take a look at the best lenses for iPhones and the best smartphone gimbals to level up your filmmaking.