The Nikon Z6 is one of our favorite cameras on the market – and you can currently save a cool £337.62 when you buy the body, standard lens and adapter bundle from Amazon UK!
You can pick up the Nikon Z6, 24-70mm f/4 lens and FTZ mount adapter for just £2,051.38, giving you a ready made imaging solution for both stills and video that also enables you to use existing Nikon F lenses with your new mirrorless setup!
This perfect pairing gives you a small, lightweight system that's great for run-and-gun shooting. Combined with the in-body image stabilization of the Z6, you can even get steady handheld shots without the need for a gimbal!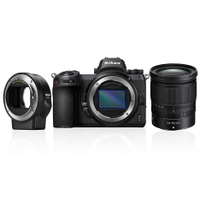 We awarded this brilliant body five stars in our Nikon Z6 review, and we actually favor it over the hi-res Z7 in some ways. This 24.5MP camera is cheaper, has a wider ISO range, uncropped 4K video and an even faster 12fps frame rate – and its oversampled 6K makes it an ideal video shooter.
The Nikkor Z 24-70mm f/4 S lens is an excellent companion, being compact to match the Z6's form factor, but offering impressive performance across its standard zoom focal range. Like the camera, it's equally capable at stills and video – particularly with its minimal focus breathing.
And with the FTZ Mount Adapter included in the package, you can use any of the existing Nikon F mount glass that's out there, so it's easy to upgrade from your DSLR or unlock the full range of Nikon optics!
Read more:
The best Nikon camera in 2020: including Nikon DSLRs, Nikon Z and Coolpix
Nikon Nikkor Z 24-70mm f/4 S review
Nikon Z6 vs Z7: Which should you buy?