The Datacolor SpyderX Pro is our favorite monitor calibrator at the moment - and we have just spotted that the price of this essential photo-editing accessory has just been slashed in this one-day special offer from New York retailer B&H Photo. The price of the SpyderX Pro has been reduced from the normal $170 down to just $99.99.
A monitor calibrator is the secret weapon that ensures that your computer monitor or your laptop screen are showing you the right colors. Edit your images without a calibrated screen, and you could be tweaking tones and correcting color casts completely unnecessarily - and could well mean that your pictures will just look wring when seen by someone else online, or when you print them out. And as screens can change color as they grow older, regular calibration is at the heart of good color management.
For basic monitor calibration, the SpyderX Pro is all you need (and more)... it is the latest and improved version of what has been a tried and tested popular model for years.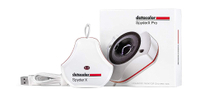 Datacolor SpyderX Pro was $169.99, now $99.99
Save $70 in this B&H Photo one-day deal. This is the fasted Spyder model ever, and can calibrate your screen in under two minutes – which will encourage you to use it regularly (every month or so is best). The unit comes with some advanced features such as features like ambient light monitoring and multi-monitor support.

US deal. Ends midnight EDT, 09 September
Read more:
The best monitors for photo editing
The best photo editing tools and accessories
The best monitor calibrators
Best video editing monitors
The best photo editing software