Whether you're already using your camera for filmmaking, or you're looking to pick up one of the best cameras for vlogging, if you want to get professional results then you'll need a dedicated microphone. So we were very pleased to get hands-on with two of Røde's newest products in The Photography Show: Burst Mode studio.
The Røde Wireless Go is already a known quantity to us, as we awarded it the full five stars in our review and rank it highly in our list of best microphones for vlogging and filmmaking.
There are two main components to the Wireless Go: the transmitter and receiver. The transmitter, which measures just 44 x 45.3 x 18.5mm and weighs 31g, has a built-in omnidirectional mic and clip that enables it to attach to your clothes. Alternatively, it can be clipped to a back pocket or a belt and then used with a cavalier microphone connected via its 3.5mm TRS input.
The receiver, at 44 x 46.4 x 18.5mm and 31g, looks very similar to the transmitter, but its clip slots into a camera hotshoe (or coldshoe) and connects via the supplied 3.5mm TRS cable. Alternatively, it can connect via an adapter to an audio recorder, GoPro, iPhone or Osmo Pocket – and its three-stage output pad (-0dB, -6dB and -12dB) enables the signal to be tailored to suit the camera or recorder.
Both units have a built-in rechargeable Li-po battery (USB-C cables are supplied for charging), and you can expect to get up to about seven hours of use from a single charge. If you need more juice, you can use an external power bank.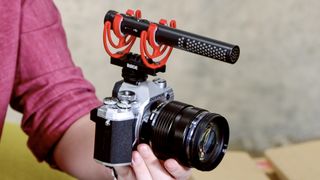 The Røde VideoMic NTG is the company's latest audio product. A broadcast-grade shotgun microphone designed for on-camera use, it's set to serve as a halfway house between two existing product lines: the NTG series of pro shotgun mics, and the VideoMic line of smaller vlogging-friendly microphones.
The VideoMic NTG boasts the same acoustic design as the NTG5 broadcast mic, promising unmatched transparency and natural uncolored sound, with flat frequency response, highly directional supercardioid polar pattern and low self-noise. In short, it aims to deliver a compact on-camera mic with performance on par with pro-level products.
It also features digital switching to provide access to a high-pass filter, -20dB pad, high frequency boost, and safety channel, with infinitely variable gain control to fine-tune the output as you need. Better still, the 3.5mm output automatically detects whether you're connecting to a camera or mobile, removing the need to faff with adapter cables.
For ultimate versatility, the VideoMic NTG also functions as a USB microphone for use with desktops and tablets. In USB mode the 3.5mm jack works as a headphone output to monitor audio levels. And the mic also features a new a dB peak warning light to indicate when audio levels are clipping.
For more information, visit the official Røde website.
Read more:
Welcome to The Photography Show: Burst Mode!
The Photography Show 2020: What's on, when, and everything you need to know
The 10 best pro video accessories in 2020