Instant cameras are great, but they gobble up expensive film like nobody's business. Thankfully, this Prime Day camera deal enables you to stock up on film at a fraction of the price!
Right now you can pick up an Instax Mini Film Value Pack of 120 Photos for just $67.99. That's 12 packs of film – which, if you bought individual film packs, would cost you $113.22. Which gives you an enormous saving of $45.23!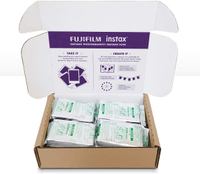 Instax Mini Film Value Pack | was $81.04 | now $67.99
SAVE $13.05 On paper it's a saving of 13 bucks on this already-great offer, but as noted above you're actually saving 45 dollars compared to buying 12 packs of film separately. An absolute no-brainer!
US DEAL
You'll be needing this film for any of the Mini line of products, including the Instax Mini 12 and Instax Mini Evo cameras as well as the Instax Mini Link and Instax Mini Link 2 portable printers.
Other instant cameras also use this stock, including the Leica Sofort and Lomo'Instant as well as the Jollylook Pinhole camera.
You can never have too much instant film, and you never regret buying it when it's cheap, so trust us – stock up now!
If you're an Instax fan, check out the best instant cameras, along with the best digital instant camera hybrids and the best portable printers. And make sure to study our What type of instant film do I need? guide to make sure you get the right stock!