They may look like something off the starship Enterprise, but the new Packshot Compact and Packshot Start Mark II are actually portable photo studios.
Designed for product photography, the new studios are designed to streamline the process of product photography as much as possible. The all-in-one systems use a unique LED lighting technology which Packshot says allow them to produce an enormous colour range and excellent colour accuracy.
Somewhat counter-intuitively, the Packshot Compact is the much more advanced and sophisticated of the two (not to mention larger), with 9 separate light sources dimmable from 1 to 100%, powered by 2,394 LED crystals diffusing their light on a shooting surface of 1,33m³. The Start Mark II has three light sources – front, back and underneath – also dimmable from 1 to 100%.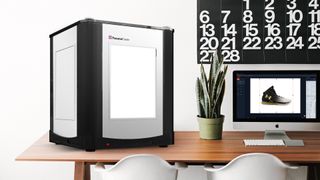 While the Start Mark II uses a simple black curtain to shield its subject when you're shooting, the Compact can be fully hermetically sealed, ensuring you capture your subject in absolute pristine condition with no interference from outside light. Both systems offer compatibility with an optional 360-degree turntable, allowing you to capture your subject from every conceivable angle.
The Packshot Start Mark II has dimensions of 61 x 61 x 71.5 cm, while the Packshot Compact is significantly larger (yes, we know), measuring 100 x 100 x 120 cm. Both are only fully compatible with certain Canon and Nikon cameras – see here for a complete list.
The process is driven via Packshot's Creator software, which allows for full control of camera settings and lighting. This can be accomplished on a Mac or PC or using a tablet.
The Packshot Start Mark II and Packshot Compact are available for order now, priced at €4,480 (about £4,025 / $5,025) and €9,980 (about £8,966 / $11,980) respectively.
Read more:
Studio portrait lighting: essential tips and setups explained
The best lighting kits for home studio or location photography