At last week's NAB show AI camera specialists Obsbot demonstrated their first prototype of a new Tail Air streaming camera with PTZ (pan-tilt-zoom) functionality.
Obsbot is known for its AI-powered webcams which keep subjects in the frame, and the Obsbot Tail – now sold out – was a powerful model designed for real-time streaming. We've covered the impending Tiny 2 before, and we'll review it when it arrives, but what of the Tail Air? Why is this successor to the original Obsbot Tail so interesting?
As shown at NAB, the Obsbot Tail Air boasts more sophisticated AI for streaming sports, live music, live classes, and other vlogging as well as traditional recording. It features much broader connectivity, with HDMI, USB, and Ethernet, with support for NDI and VISCA meaning it can slot into more serious systems, including Blackmagic Atem video switchers, and will no doubt worry some serious PTZ players.
It looks like we're seeing more and more of a cross-over between the creator-broadcaster and the pro end of the scale, and the Tail Air seems to bring the AI enjoyed by YouTubers to a more serious stage.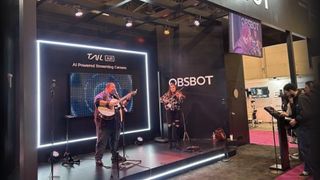 Obsbot's expertise is not limited to live-streaming devices. They have adapted and developed their AI tracking tech to a series of pan-tilt webcams, including the Tiny 4K and the upcoming Tiny 2, which boasts a 1/1.5" sensor. They have even ported the subject tracking tech to more traditional fixed web cameras – the Meet 4K and Meet.
Historically, Obsbot has a habit of launching products using crowdfunding campaigns, and we don't yet have a start date for Tail Air, so we can't put a precise date on it, but Obsbot tell us the end of June. It's also fair to say that they don't usually seem to have much problem raising the funds needed for a first production run.
This new Tail Air looks high spec, which means it'll be vying for a spot on our best PTV camera list, and perhaps the best cameras for streaming too.