Fed up with the measly 20GB storage that comes with Adobe's standard Photography Plan? ON1 360° will arrive in late June, with "10x the storage amount for 20% less cost compared to competitive plans available today". ON1 doesn't name its rival in the photography cloud storage market, but we can guess.
The lowest tier of the new ON1 360° service will come with 200GB storage, but there will also be a higher tier 1TB plan. Both will cost less than their Adobe equivalents, and will be available as service add-ons for ON1 Photo RAW 2020, or as a combined software/cloud synchronisation subscription.
ON1 Photo RAW is an all in one photo cataloguing, editing and effects program with layers and masks, HDR merge, panorama tools and more. It's like Adobe Photoshop and Lightroom combined, and while it's not aimed at quite the same high-end market, it's a lot cheaper. It's also on our list of the best photo editing software you can buy.
ON1 is proud of the fact that it still offers ON1 Photo RAW as a perpetual license and that users will never be forced to swap to a subscription, though it does offer subscription packages too and the ON1 360° service will be subscription based too, which is inevitable with any kind of cloud storage.
When we first reported on ON1's plans for 2020, it was hoped that users would be able to pick their cloud storage provider; ON1 now says that to get the performance and features needed it was necessary to set up its own bespoke servers.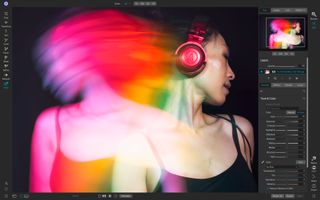 How ON1 360° will work
Like Adobe's Creative Cloud system, ON1 360° is designed to offer seamless cloud-based synchronisation between your computers and mobile devices, with an "end-to-end photography workflow solution for capturing, editing, and accessing photos". It will work with Mac and Windows versions of ON1 Photo RAW 2020, and with both Android and iOS mobile devices, which will get a free Photo Mobile app.
Like the Lightroom mobile app, Photo Mobile will offer editing tools which synchronise adjustments with your other devices, and will come with its own camera mode.
It's not just images which will be synchronised with the new ON1 360° service, but image metadata and editing adjustments, together with albums and catalogued folders on computers, devices, external hard drives or network drives.
Unlike Adobe's cloud-based Lightroom CC setup, it looks as if your images will be (or can be) stored locally and you will be able to choose which folders and photos are synchronised. With Lightroom CC, all your images are stored in the cloud, which brings significant extra cost, but ON1 is promising that ON1 360° will not only let you choose what to sync, but will also offer an optional compressed raw format 75% smaller than the original file.
ON1 360° pricing and availability
ON1 will be rolling out its ON1 360° slowly from today, but leading up to a full release in late June 2020, when the full range of purchasing options will become available. Current owners can take out a prepaid 1-year subscription to the service for $100 with extra bonus offers. New customers can get a 50% discount on the price of ON1 Photo RAW 2020 in the lead-up to the ON1 360° launch in late June.
After the official launch, the ON1 360° plans will include monthly subscription plans including ON1 Photo RAW 2020, the ON1 Photo Mobile connectivity, and the 360° syncing service. ON1 Photo RAW 2020 will continue to be available as a standalone program, without the ON1 360°, for a single perpetual license fee.
Swipe to scroll horizontally
ON1 360° pricing options

| | | |
| --- | --- | --- |
| Row 0 - Cell 0 | 200GB Plan | 1TB Plan |
| Service add-on (software bought separately) | $59.99 billed annually | $109.99 billed annually |
| Software and service | $89.99 billed annually | $179.99 billed annually |