Olympus has officially announced the launch of the Olympus OM-D E-M10 Mark IV, the latest iteration of the entry-level OM-D E-M10 line. The Mark IV features a new 20MP Live MOS sensor, 15 fps high-speed sequential shooting and improved Continuous Autofocus precision for focusing on moving subjects. With a lightweight body that weighs as much as a single 500ml bottled beverage with its lens, and a secure and comfortable grip, the Mark IV looks set to impress.
There have also been improvements made to the 5-axis in-body image stabilization, with the Olympus OM-D E-M10 Mark IV now providing up to 4.5 EV steps of stabilization, compared with the Mark III's 4 steps.
Read more
• Best Olympus camera
• Olympus OM-D E-M10 III vs E-M5 III vs E-M1 II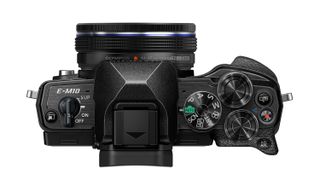 One of the most interesting upgrades to the Mark IV is the addition of a flip-down LCD monitor, which is perfect for capturing selfies or self-facing vlogging footage. Combined with the E-M10 Mark IV's ability to capture 4K video, this will likely make the Olympus OM-D E-M10 Mark IV a tempting proposition for anyone looking to take their first steps with video (although it must be noted that the Mark IV doesn't have a mic input, so vloggers would have to rely on the internal microphone).
If you're fond of snapping portraits, you'll be interested to hear that the Face Priority / Eye Priority AF is now able to focus on faces either in profile or downturned. We put the Eye Priority AF to the test in our Olympus OM-D E-M10 Mark IV review – and enjoyed pleasing results. Meanwhile, the Mark IV also has a wide range of challenging photo techniques made simple with the Advanced Photo (AP) mode. This enables you to capture multiple exposures, light trails and other difficult techniques quickly and easily.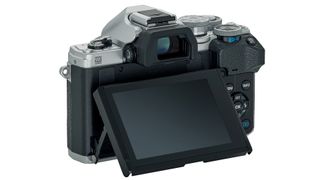 Of course, no modern entry-level camera would be complete without WiFi and Bluetooth to help make transferring your images as easy as possible. The OI.Share smartphone app can not only be used to import photos and video to a smartphone, but can also control the camera remotely.
The Olympus OM-D E-M10 Mark IV will be available in black or silver from mid-August (mid-September in Australia) with body only price of $699 / £699.99 / AU$1,299.
It will be sold with the M.Zuiko Digital ED 14-42mm f/3.5-5.6 EZ lens as a kit for $799 / £799 / AU$1,499. A second kit with the M.Zuiko Digital ED 14-150mm f/4-5.6 II zoom lens will also be available to buy in Australia from September for AU$1,799 (about $1,280 / £980).
• Pre-order the Olympus OM-D E-M10 Mark IV from Adorama (USA)
• Pre-order the Olympus OM-D E-M10 Mark IV from B&H (USA)
• Pre-order the Olympus OM-D E-M10 Mark IV from Park Cameras (UK)
• Pre-order the Olympus OM-D E-M10 Mark IV from Wex (UK)
• Pre-order the Olympus OM-D E-M10 Mark IV from Ted's Camera (Australia)
Read more
Best Micro Four Thirds lenses: lenses for Olympus and Panasonic
Best Olympus OM-D E-M10 Mark III deals
Best mirrorless camera: for beginners, enthusiasts and professionals