The AF-S Nikkor 120-300mm f/2.8 FL ED SR VR, to use its full name, is designed for professional sports and wildlife photographers who need long range, a fast maximum aperture AND the flexibility of a zoom.
The first two we've seen plenty of times before, but not very often the third. Nikon does already make an AF-S Nikkor 180-400mm f/4E TC1.4 FL ED VR constant aperture telephoto zoom, but while it does offer longer focal lengths, it's a stop slower at f/4 rather than f/2.8. This new lens slots in between this and the shorter 70-200mm f/2.8 that most sports shooters keep in their kit bag – and for sports pros offers more flexibility than a 300mm f/2.8.
The new lens fits Nikon's DSLR camera, though it could also be used on Nikon mirrorless models via the Nikon FTZ adaptor. Its specs and its price put it firmly in professional camera territory. It's most likely to be used with cameras like the Nikon D850 or the upcoming Nikon D6, also likely to make its debut at the 2020 Olympics.
Fast telephoto primes offer the magnifying power, speed and optical performance pros demand, but they're restrictive. Their fixed magnification means you have to be in the right place with the subject at the right distance. But the 2.5x zoom range of the AF-S Nikkor 120-300mm f/2.8 FL ED SR VR means you have all the telescopic power of a regular 300mm f/2.8, but with the ability to zoom back out if the action moves closer to the camera.
This kind of flexibility will be hugely useful in sports like soccer or basketball, where the subject distance is changing all the time, or in motorsports or athletics, where it means you can track subjects as they move closer and further away without having to swap lenses or cameras.
Specs… and pricing!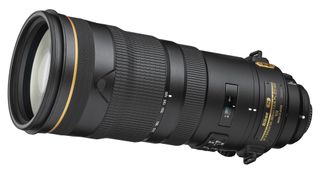 Typically for a pro sports lens, the emphasis is on performance rather than cost. The AF-S Nikkor 120-300mm f/2.8 FL ED SR VR has no fewer than 25 optical elements in 19 groups, including one SR (short wavelength spectrum) element and 1 ED element to minimise chromatic aberration, and a combination of Nikon's Arneo and Nano coatings to control flare and internal reflections – two elements also have fluorine coatings.
Inside is a 4-stop VR (Vibration Reduction) system with 'sports' mode, SWM autofocus and an electromagnetic diaphragm for more consistent exposures during high-speed burst shooting.
The new 120-300mm f/2.8 will also be compatible with Nikon's 1.4x and 2x teleconverters (to offer an effective 168-420mm f/4 lens or 240-600mm f/5.6 respectively. It goes on sale in early spring 2020 and will cost… wait for it… $9,499 / £9,499.
Preorder the AF-S Nikkor 120-300mm f/2.8 FL ED SR VR at B&H Photo
Preorder the AF-S Nikkor 120-300mm f/2.8 FL ED SR VR at Wex Photo Videeo
Read more:
• These are the best cameras for professionals right now
• Which are the best Nikon lenses to get?
• These are the best Nikon cameras today