15 years ago, the Motorola Razr was one of the most sought after mobile phones around. But back then the clamshell design, that folded open to take calls, was the norm. In the intervening decade or so the flip phone has all but disappeared... but the iconic design is set to make a comeback from company that made the clamshell handset famous.
The Motorola Razr 2019 is more than just a new take on one of the companies most famous phones from the past. The new Razr provides Motorola's take on the fold phone... a new breed of smartphone that has a big screen that folds in half to make it fit more easily in your pocket. The pioneering Samsung Fold Phone has just gone on sale, after some teething issues with its hinge mechanism, which opens up more like a book than a traditional clamshell.
The Razr 2019 is set to go on sale in January in the USA at a cost of $1500, with preorders opening at the end of December. As such this will be one of the most expensive handsets on the market, but will undoubtedly becoming one of the most desirable camera phones, particularly amongst those who remember the Noughties. Avaialability and pricing in other countries has yet to be announced.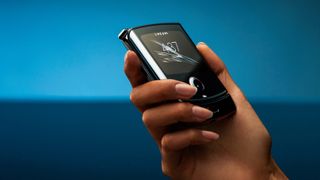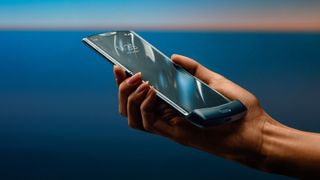 The new Razr does not need to be opened for all uses, as there is a front LCD screen too. The internal fold screen extends to 6.2-inch 2142 x 876 pixels POLED (plastic OLED with a 21:9 aspect ratio.
The smaller Quick Display external screen is 2.7-inch GOLED (glass OLED), with 800 x 600 pixels and 4:3 aspect ratio. This functions much like a smartwatch, letting you see text messages, say, without unfolding the phone.
The phone uses a Qualcomm Snapdragon 710 processor with 6GB RAM, and comes with 128Gb of storage. The batter is a 2510mAh, which still promises a day's worth of use, as the fold design an mid-tier processor means the phone is designed to be energy efficient.
The camera capabilities are rather plain compared to other recent handsets from Motorola and others. There is just one rear camera - a 16MP f/1.7 affair - although thanks to the fold can be flipped to be used as the main camera or as a selfie cam. There is a secondary 5MP internal camera that is used for things as facial recognition to unlock the phone.
Video: Motorola Razr doing its flipping thing!
Read more:
Which is the best iPhone for photography?