The Nikkor Z 28mm f/2.8 Special Edition lens is a compact fixed focal length prime lens which matches the size and design of the new Nikon Z fc. With a maximum aperture of f/2.8, it sacrifices maximum aperture for compactness, and for travel or street photographers who want to travel light, that's a compromise worth accepting.
In fact, Nikon is offering the Nikkor Z 28mm f/2.8 Special Edition as an alternative 'kit' lens with the Nikon Z fc, instead the regular Nikkor Z DX 16-50mm f/3.5-6.3 VR lens. The 16-50mm zoom will be more versatile for most users, but the 28mm f/2.8 will give users a taste of classic 'prime lens'. photography.
On an APS-C camera like the Nikon Z fc, the 18mm focal length corresponds to a focal length of 42mm, which is close to what many might consider an ideal semi-wide 'walkaround' lens for everyday photography.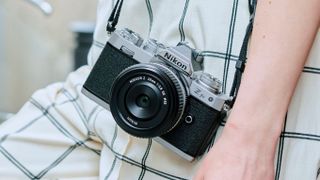 Full frame compatibility
But eagle-eyed lens watchers may spot that there is no 'DX' in the name of this lens. It's true – the Nikkor Z 28mm f/2.8 is actually a full frame lens that can be used equally on APS-C cameras like the Nikon Z fc and older Nikon Z50, but also on full frame cameras like the Nikon Z5, Z6 II or Z7 II if you decide to upgrade to a full frame camera later.
• Read more: Nikon Z fc vs Nikon D50
At launch, the Nikkor Z 28mm f/2.8 is being offered solely as an alternative kit lens for the Z fc, but we expect it to be made available separately for owners of full frame Nikons looking for a cheap and compact prime lens.
The Nikkor Z 28mm f/2.8 adds around $300/£300 to the price of the Z fc camera on its own, and costs approximately $100/£100 more than the Z fc/16-50mm kit, so it's not a particularly expensive lens, as revealed by the use of a plastic lens mount rather than hard-wearing metal.
We expect the Nikkor Z 28mm f/2.8 to be available at the same time as the Nikon Z fc itself, on July 28 2021.
Read more:
• Best lenses to buy
• Best Nikon Z lenses
• Best Nikon cameras
• Best mirrorless cameras
• Best vlogging cameras