Have we exceeded all reasonable boundaries of clickbait? Well, we'll let you decide. While we would have loved to have seen some juicy Sony camera news from CES 2020, it appears as if we'll have to wait later in the year for that. However, there are still some fascinating pieces of Sony tech being showcased. No, unfortunately Sony hasn't announced a flying car in lieu of the Sony A7S III. However, that doesn't mean that the concept car they did announce is any less interesting.
Sony have developed a concept car that uses CMOS image sensors and distance measurement technology to provide the ultimate in safety and comfort. One of the most interesting aspects of this vehicle is the Time-of-Flight (ToF) in-cabin sensing solution, which can detect and recognize people and objects inside the car.
Read more: Best Sony camera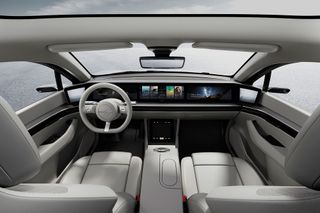 According to Electric Fun, this information is then used to provide an optimized infotainment system with intuitive interfaces, such as gesture control. Personally, we're hoping that a Jedi-like "these are not the droids you're looking for" wave is one of the recognized functions. The Time-of-Flight function can also be used to improve the comfort and safety of the passengers inside the car.
Another feature that will prove particularly interesting to camera enthusiasts are the 33 Sony CMOS image sensors that are placed around the car for autonomous driving. Using these CMOS sensors have given the car the benefit of high sensitivity, high definition and high dynamic range. They're also able to suppress LED flicker to deliver accurate object recognition. Sony says that they can even do this in situations where detection has traditionally proved difficult.
These sensors are merged together with special sensor fusion technology to enable early and accurate recognition, even in challenging conditions such as backlit situations, fog or driving at night.
Sony's press release says, "Sony's efforts in the area of mobility – such as pursuing safety, reliability, comfort and entertainment – are being positioned as a new initiative, named "VISION-S"… This prototype [vehicle] incorporates Sony's imaging and sensing technologies, as well as on-board software regulated using Sony's AI, telecommunication and cloud technologies, in order to continuously update and evolve its features…
"Sony's '360 Reality Audio' provides a deep and immersive audio experience through speakers built into each seat to encapsulate passengers in sound. The front seats face a panoramic screen on which rich and diverse content can be enjoyed through an intuitive user interface."
This Sony car certainly sounds impressive, but we won't be seeing it on the market any time soon (or, in all likelihood, ever). However, this concept car is another example of the boundary-pushing technology being showcased at CES 2020 this year.
Read more
Best full frame mirrorless camera: Sony vs Canon, Nikon & Panasonic
Best lens for street photography: best 35mm lenses for Canon, Nikon & Sony
Sony A7R IV vs A7R III vs A7R II: pixels vs price, and how to choose the right model