The Laowa Argus 33mm f/0.95 CF APO is the first of four ultra-fast f/0.95 lenses from Laowa, the lens brand of Venus Optics. It's for APS-C mirrorless cameras, where it offers an effective focal length of 50mm, but it can also be used on full frame Nikon Z and Canon RF mount cameras in crop mode, or for shooting video in the Super35 format.
This is not to be confused with another similar-sounding Laowa Argus 35mm f/0.95 full frame lens, which is still on the list of upcoming Argus lenses but yet to be released.
Laowa already has a formidable reputation for affordable and often spectacular ultra-wide and macro lenses, and now it's pushing the lens design envelope in a new direction, with these ultra-fast primes.
Laowa says the Argus 33mm f/0.95 CF APO will be perfect for portraits, low light and everyday photography and astrophotography too. It's also been optimised for video, with internal focusing (handy for gimbal balancing and matte boxes, for example), low focus breathing, a long 300-degree focus throw and a stepless aperture ring. We've already caught a glimpse of the Laowa Argus 33mm f/0.95 in use.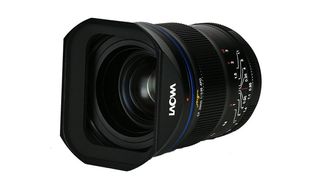 f/0.95 image quality and bokeh
Laowa is very clear that this lens has been designed to be used wide open. Its APO (apochromatic) lens design uses one ED element, one aspherical element and three Ultra High Refraction Glass elements to suppress both lateral and longitudinal chromatic aberration (color fringing and 'bokeh fringing').
The company also claims this lens will offer "exceptional" sharpness across the frame and a 9-bladed circular aperture for "buttery smooth and exquisite bokeh rendering". This is in addition to a short minimum focus distance of 0.35m.
Fast lenses are usually big, heavy and expensive, but the Argus 33mm f/0.95 CF APO looks relatively manageable, with a length of 83mm and a weight of 590g. It also uses relatively common 62mm filters.
It's a manual focus lens, and does not appear to have the electronic camera communication of the Laowa 10mm f/2 Zero-D MFT lens, so you will have to activate the camera's zoom feature manually to check for sharp focus. The price, however, is way below that of competing own-brand lenses of similar speed.
Laowa explains that the 'Argus' name was originally from the Greek mythology and was the name of a vigilant guardian with a hundred eyes and an "all-seeing" sight!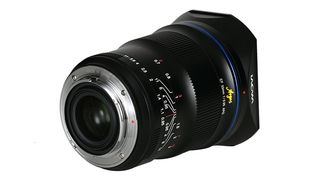 Laowa Argus 33mm f/0.95 CF APO specifications
Focal Length: 33mm
Format: APS-C (50mm equivalent)
Mounts: Fujifilm X, Sony E, Nikon Z, Canon R
Autofocus: No
Image stabilization: No
Aperture: f/0.95 - 11
Angle of View: 46.2°
Lens Structure: 14 elements in 9 groups
Aperture Blades: 9
Min. Focusing Distance: 35cm
Filter Thread: 62mm
Focus: Manual Focus
Dimensions: 71.5x83mm
Weight: 590g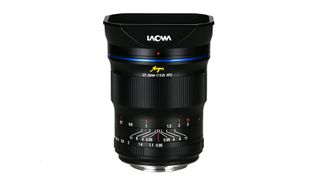 Laowa Argus 33mm f/0.95 CF APO price and availability
The Fujifilm X and Sony E mount versions of this lens will be available from early May 2021. The Nikon Z and Canon RF versions will be available from mid May. The price will be $499/£499.
See below for pre-order links:
• Buy the Laowa Argus 33mm f/0.95 direct from B&HPhoto (USA)
• Pre-order the Laowa Argus 33mm f/0.95 lens at Wex (UK)

Read more:
• Best lenses for bokeh
• Best portrait lenses
• Best Fujifilm lenses
• Best Sony A6000 lenses
• Best Nikon Z lenses
• Best Canon RF lenses