Are we finally going to get the true wide angle lens from Canon for its APS-C cameras that we have been begging for since the launch of the RF-S mount? If this patent makes it to production, that might well be a reality.
The patent (discovered by Canon Watch), shows Canon's optical formula for a very exciting sounding new wide angle lens for its RF-S mount APS-C cameras – a Canon RF-S 10-14mm f/3.5-4.
Despite Canon producing some of the best Canon RF lenses, so far it has not managed to fill out its RF-S lens lineup for its APS-C range of cameras nearly as well as many photographers hoped at this stage. Despite releasing three APS-C bodies (R10, R50, and R7), Canon has only offered up a paltry three RF-S lenses to go with them, compared to bumper 28 RF lenses.
While any Canon APS-C shooter can use any RF lens on their camera, the purpose of Canon producing separate lenses in an RF-S variant was to achieve much smaller, lighter, and more affordable lenses that would pair better with its more miniature camera designs like the Canon EOS R50, with a lot of Canon's RF lenses dwarfing the entry-level R50 in size, and often costing several times more than the camera!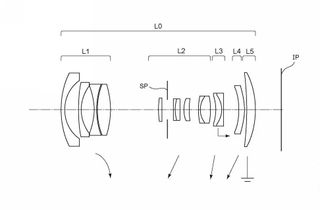 With video an increasing focus of Canon's entry-level cameras, having a wide focal length is important, especially for vlogging where the camera is often held at only an arm's length. Currently, the widest lens Canon makes in the RF-S mount is the Canon RF-S 18-45mm f/4.5-6.3 IS STM lens, this lens has a full frame equivalent of approximately 29mm at its widest point when the 1.6x Canon APS-C crop factor is taken into account.
You can get a little wider using the Canon RF 16mm f/2.8 STM lens, with an equivalent 25.6mm focal length, although at the expense of lens-based optical image stabilization.
If an RF-S 10-14mm f/3.5-4 lens does make it to market this will fill a much needed gap in Canon's lens lineup, offering landscape shooters, street photographers, and vloggers a proper wide angle view equivalent to 16mm on full frame. Although this patent does not include if any eventual lens would include Canon's lens IS.
However, take all this with a pinch of salt, Canon does file a lot of patents for various lens formulas, the majority of which, never see the light of day in a consumer product. But hopefully, with the demand that this lens would fill, this is a lens that we see Canon follow through on and announce soon.
Find out more about the latest from Canon in our Canon rumors hub. You can also check out the best from Canon in our guides to the best Canon camera and the best Canon lenses.